What a day! Paddleboarding pilots' trip around Vashon Island
The photo and report are from Margot Newman:
Paddleboarders successfully circumnavigated Vashon Island in one day! Is this a "world record??" Has it been done? :)

West Seattleites:
Alec Newman
Pat Ninburg

Seattleites:
Nick Moore
Severin Knutsen

Left Point Beals, Vashon Island at 07:00. (East side) Headed south to portage at junction of Vashon and Maury. Headed around south end (past Tahlequah) then up west side. Got off boards for brief lunch break at Lisabeula Park on west side. Headed north until hit north end. Crossed ferry path, then along east side to return to Point Beals. Arrived at 16:45,

Only got off boards twice – to portage and for lunch/ bathroom break at Lisabeula.

Careful navigation of the waters, including reading current and wind, was paramount to their success. All four paddlers are Puget Sound Pilots and have extensive knowledge in navigation, current, wind, etc.
RETURNING: West Seattle Monster Dash 5K, with registration deal right now
(WSB photo, 2018 West Seattle Monster Dash)
The full-fledged West Seattle Monster Dash 5K & Kids' Dash – a fun(draiser) for West Seattle Cooperative Preschools – is returning this year, and you can sign up at a discount rate through Friday! Here's the announcement:
Join us this year as the 11th Annual Monster Dash returns IN PERSON to West Seattle's beautiful Lincoln Park! This race is a costumed 5k trail run/walk and kids dash. Registration includes a t-shirt featuring our iconic Monster.

Monster Dash 5K and Kids Dash
October 29, 2022, 9 am – noon
Lincoln Park, 8011 Fauntleroy Way SW
Register: runsignup.com/Race/WA/Seattle/WestSeattleMonsterDash

Early Bird Pricing (through Friday, September 30th)
$35 Adult 5K Registration (Age 17 & over)
$20 Youth 5K Registration (Age 16 & under)
$15 Kids/Little Dashes Registration (Age 10 & under)

All funds raised benefit our Parent Advisory Council initiatives across our program, including outreach, equity, and tuition assistance.
Highland Park, Riverview, South Delridge: HPAC would love to see you Wednesday night!
Summer's over and community groups that went on summer hiatus are reconvening. Next one: HPAC – the community coalition for Highland Park, Riverview, South Delridge – meets Wednesday (September 28th) night online. Transportation (farewell, bridge-detour traffic) and safety – an SPD rep is expected to be there – are hot topics. So is the West Duwamish Wet Weather Storage Facility that's being planned in the area. All are welcome – more details, and the info for attending by video/phone – can be found here.
MAYOR'S MONEY PLAN: Here are key points from Mayor Harrell's first proposed budget
That's the budget speech Mayor Bruce Harrell gave earlier this afternoon, with our area's big shoutout coming when he talked about transportation spending and noted the reopening of the West Seattle Bridge. From the audience assembled at SDOT's Charles Street yard, District 1 City Councilmember Lisa Herbold yelled out, "You can't have One Seattle without West Seattle!" echoing what the mayor said a week and a half ago when politicians gathered for pre-reopening speeches.
But transportation was not at the top of the list in the mayor's speech, marking his release of a budget proposal for 2023-2024. What was: Public safety, followed by homelessness. Those two topics took up a big chunk of the speech. He promised major investments in police and fire, as well as money toward "diversifying 911 response" and a third public-safety department aimed at that goal. He also announced he'd be undoing a controversial move made before he was elected – taking Parking Enforcement Officers out of SPD and moving them to SDOT. You might recall that the move was so bungled, millions of dollars in tickets had to be voided. As for SPD staffing, the budget summary expresses a hope that the trend of losing officers can be stopped and reversed, to post a net gain over the next two years.
One thing that's not in the public-safety section of the proposal, according to a summary we received: Continued funding for SFD Ladder 13 and Medic 26, added in West Seattle/South Park for the bridge closure. We reported earlier this month on the fact they only had guaranteed funding through year's end. So the only way to keep them now would be a council amendment to the budget; Herbold said in her most-recent weekly update that she'll propose one if necessary.
Regarding tackling homelessness, the mayor declared: "Lack of housing is the source of homelessness." He promised to get more housing built – saying he's proposing an added quarter-billion dollars toward affordable housing – and to remove red tape that slows the construction-permitting process. He also said the city would increase its funding for the Regional Homelessness Authority by 13 percent, including more than $2 million for new tiny-house villages and $5 million for residential-vehicle "safe lots." The Unified Care Team, a multidepartmental group that has worked on outreach, cleanup, and sweeps, will be turned into geographically based teams, Harrell said.
When he got to transportation, Harrell spoke about electrifying the city fleet and supporting the Vision Zero program (which new SDOT director Greg Spotts has said he's thoroughly reviewing). Besides a mention of the bridge and the importance of infrastructure, he also said the city will step up its work related to the West Seattle-Ballard Link Extensions light-rail program, hiring "a team" including engineers. One note of interest for those who live in West Seattle's two Residential Parking Zones:
The proposed budget is also making changes to the Restricted Parking Zone fees. The fees will increase from $65 per two years to $95 per two years, along with other fee changes for guest passes and temporary passes. Low-income passes will remain the same.
Other key budget points are in the news release from the mayor's office, including links to "fact sheets" in areas of emphasis. A more detailed budget summary is here; the full "budget book" is here. Various city departments are all publishing their own takes on what's in it for them; you can find those aggregated here.
WHAT HAPPENS NEXT? Starting tomorrow, the City Council reviews and amends the mayor's plan over the next two months. Councilmember Herbold's most-recent weekly update summarizes how that'll work and how you can get involved, including key dates – scroll to the last section here.
WEST SEATTLE CRIME WATCH: Repeat mail theft
One reader report in West Seattle Crime Watch today, from Kellene, property manager of a townhouse complex in the 5400 block of Delridge Way SW:
We have had a mail thief stealing our tenants' mail. He has hit our mailboxes 8 times in the last month and we have filed reports with the police department and the postmaster general. He rides a bike and comes through in the early hours of the morning between 4:00 and 5:30 am. We are asking for help from the West Seattle neighborhood, to be on the lookout for this thief, and help in identifying this guy. We also want to help community members watch their own mailboxes.

The Police report #'s are 2022-917855, 2022-920590, and 2022-920959.
FOLLOWUP: Will Metro Route 37 ever return?
(WSB file photo of closed Route 37 stop)
When Metro announced plans for its fall "service change" earlier this month, it did not include the revival of West Seattle's Route 37, suspended in March 2020. Readers wondered if it's gone forever, so we followed up with Metro spokesperson Jeff Switzer, who replied, "No final decision regarding the future of Route 37 has yet been made. Metro will continue to work with community and stakeholders to consider options for growing Metro service as resources become available and following adopted policy." He added a side note of interest: "Any permanent route deletions or other major changes to Metro service are subject to approval by the King County Council." Metro has revived other suspended routes, notably West Seattle's Route 22, which was brought back last year.
15 options for your West Seattle Tuesday
Here's what's happening in West Seattle for the rest of today/tonight, mostly from the WSB West Seattle Event Calendar:
BLOCK DROP DIY CLEANUP: Until 6 pm today, Cormorant Cove Park (3700 block of Beach Drive SW) will be the pickup/dropoff spot for equipment and bags for your DIY cleanup.
(Photo from last week, courtesy Postcards to Voters organizers)
POSTCARDS TO VOTERS: A local way to take national action – participating in the 10:30 am weekly gathering at C & P Coffee (5612 California SW; WSB sponsor).
COVID VACCINATION POP-UP: Noon-5 pm at Southwest Library (9010 35th SW).
MAYOR'S FIRST BUDGET: You can watch Mayor Bruce Harrell present his first budget proposal, noon via Seattle Channel.
CHESS CLUB: Play at the Senior Center of West Seattle (4217 SW Oregon), 1:30 pm. Beginners welcome!
CITY COUNCIL: 2 pm, the weekly full-council meeting is happening online and in-person – here's the agenda, with information on how to comment.
(added) SPORTS: Chief Sealth IHS and West Seattle HS girls' soccer teams face off at Nino Cantu Southwest Athletic Complex at 4:30 pm. (2801 SW Thistle)
DEMONSTRATION FOR BLACK LIVES: Longstanding weekly 4:30-6 pm sign-waving demonstration at 16th/Holden. Signs available if you don't have your own. (Organizer Scott says they'll continue in this spot for a while even though it's not high-traffic any more.)
ART EXHIBIT AT WEST SIDE PRESBYTERIAN: That's one of the paintings by local artist Jeff Benesi that you can see at West Side Presbyterian (3601 California SW) today 5-8 pm or Wednesday/Thursday 9 am-1 pm each day. The exhibit is titled "There is Always a Light: Faces of Hope & Struggle."
AUDITIONS: The West Seattle Community Orchestras' auditions start at 5:30 pm at Fauntleroy Church (9140 California SW) – details in our calendar listing.
STORYTIME IN THE GARDEN: Bring your little one(s) for a story followed by a garden activity, at the Delridge P-Patch, 6 pm (5078 25th SW).
SCRABBLE NIGHT: 6-10 pm, go play Scrabble at The Missing Piece (9456 35th SW).
FAMILY GAME NIGHT: Meeples Games (3727 California SW) welcomes families 6-8 pm to this weekly hosted game-playing night.
TRIVIA X 3: Three of the venues where you can play Tuesday nights – 7 pm at Ounces (3809 Delridge Way SW), 7 pm at Admiral Pub (2306 California SW), 7:30 and 8:30 pm at The Lodge (4209 SW Alaska).
BELLE OF THE BALLS BINGO: Play bingo with Cookie Couture at The Skylark (3803 Delridge Way SW), 8 pm. Free, all ages!
You can always see more on our calendar – and if you have something to add for the future, please email info to westseattleblog@gmail.com – thank you!
BIZNOTE: Dream Dinners West Seattle open house Saturday
Local businesses continue to celebrate the reopening of the West Seattle Bridge, and there's one more "Reunited" celebration this Saturday (October 1st):
Like the bridge, Dream Dinners West Seattle (a longtime WSB sponsor) is a time-saver, enabling you to serve home-cooked meals while dramatically reducing the prep time. If you haven't been to their West Seattle storefront before, it's on the east side of outer Jefferson Square at the corner of 41st SW and SW Alaska. Stop by between 11 am and 1 pm Saturday to get in on the deals and fun.
TRAFFIC, TRANSIT, WEATHER, ROAD WORK: Tuesday info
6:00 AM: Good morning. It's Tuesday, September 27th.
WEATHER
Here's the forecast – sunny, hazy, high in the mid-70s. (Monday set a record for the date, with a high of 82 at Sea-Tac.)
TRANSIT INFO
Metro buses are on their regular schedules; watch @kcmetroalerts for trip cancellations/reroute alerts.
No changes in ferries (check here for alerts/updates) or West Seattle Water Taxi service (which will continue at all-day/every-day levels through fall and winter).
ROAD WORK
-Any day now, Seattle Public Utilities will close Sylvan Way between Home Depot's eastern access and SW Orchard, as SPU works on a "natural drainage" project that will take about two weeks. This notice explains. (We checked late Monday morning; work hadn't yet begun.)
-Just south of the city-limit line, King County is scheduled to continue repaving Myers Way between 99th and 108th.
BRIDGES
High Bridge – here's the lone reactivated camera atop the span.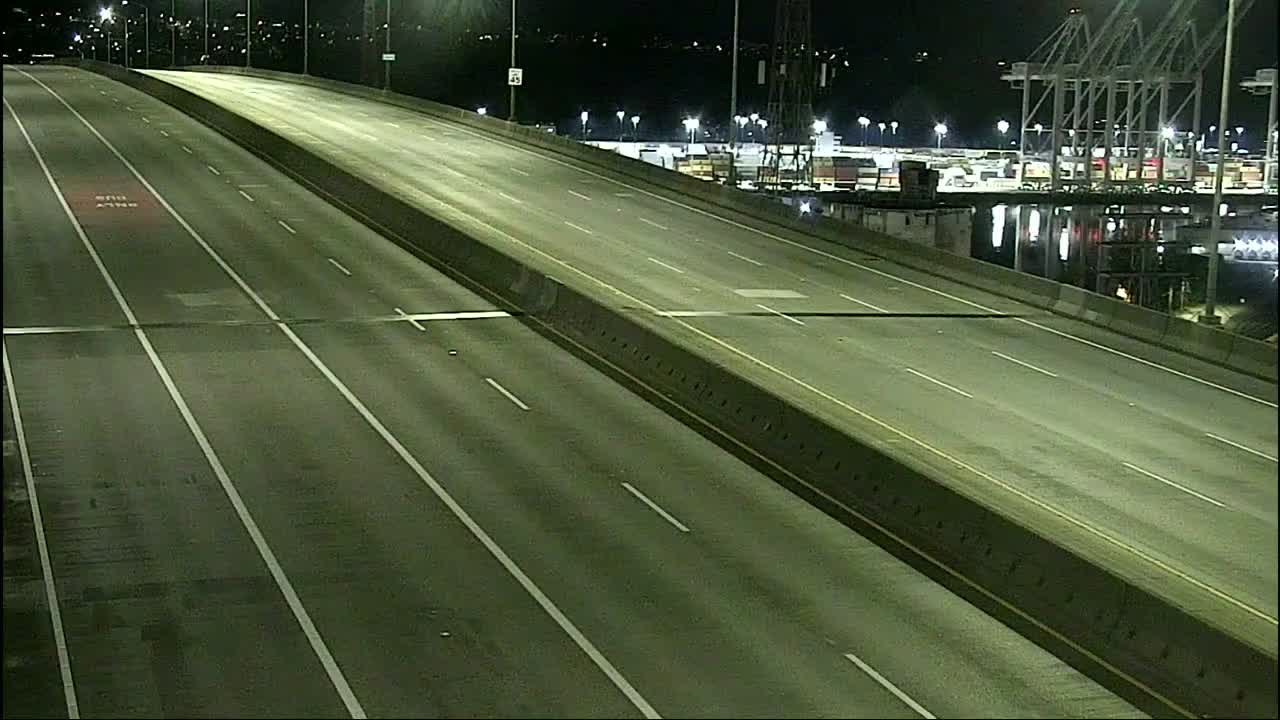 Low Bridge: Open to anyone who wants to use it.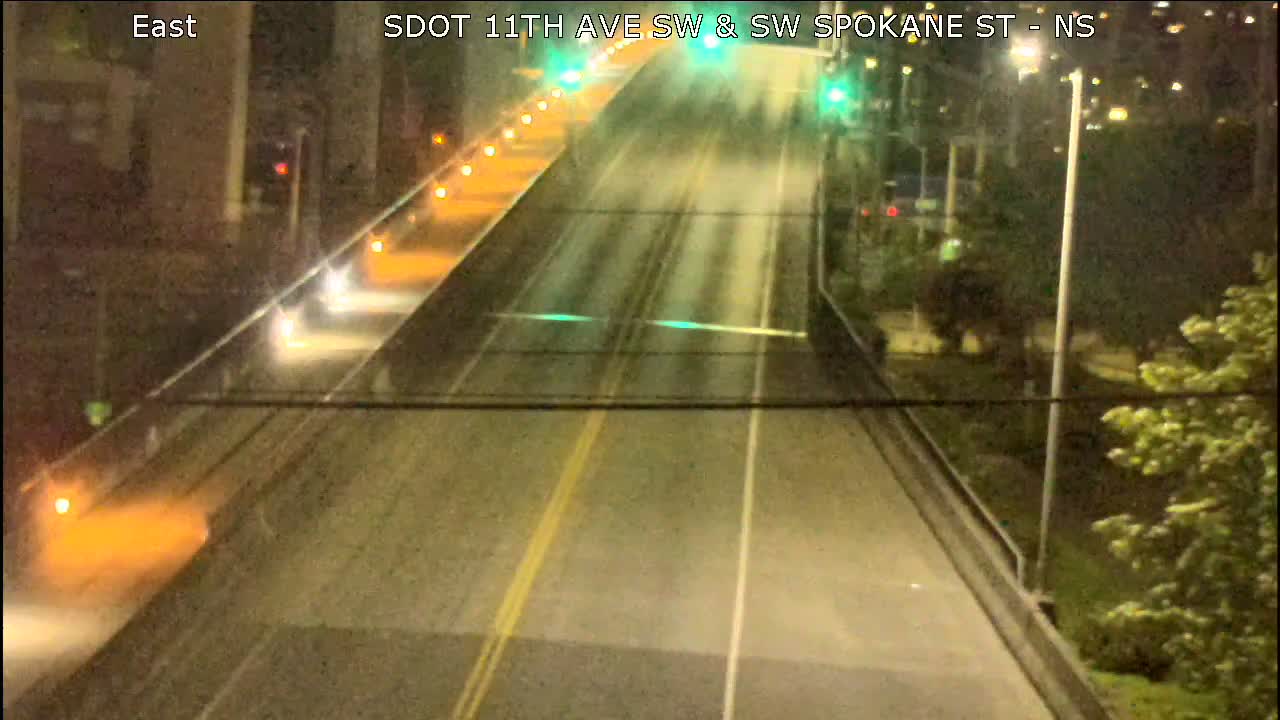 1st Ave. S. Bridge: For those still finding it more convenient.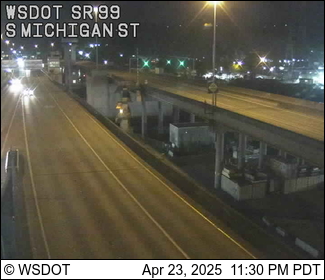 Highway 99: Whichever bridge you're using to get to it, here's a look at northbound traffic on 99 at Lander. All currently functional city traffic cams can be seen here, many with video options; West Seattle and vicinity-relevant cameras are also on this WSB page … Are movable city bridges opening for vessels? Check the @SDOTBridges Twitter feed.
If you see trouble on the roads/paths/water, please text or call us (when you can do so safely) – 206-293-6302.