CRIME WATCH FOLLOWUP: New info about Alki shooting investigation (more added Thursday)
(Monday night photo by Christopher Boffoli)
9:09 PM: Two nights after two people were shot on Alki, we have a bit of new information. This emerged at the District 1 Community Network meeting tonight, which – as we mentioned in last night's followup – usually has a Southwest Precinct leadership representative in attendance. Tonight it was night-shift commander Lt. Nathan Shopay, who was asked about the investigation by a D1CN attendee. To the question of whether the shooting was indeed random, as preliminary information indicated on Monday night, Lt. Shopay said it still seems to be that way, and might even have been a case of someone else being targeted and the shooters missing their mark. There was "another group" in the area at the time, and that group "ran away" once the shooting started, he said. He also noted that the two victims were apparently there because they were "Pokémon-hunting." Still no information on how the victims are doing. (The rest of the D1CN meeting focused mostly on port issues, and we'll have that report separately tomorrow.)
10:22 PM: A commenter notes that a TV story tonight identifies one of the victims. It also includes a link to this GoFundMe page set up to help cover her expenses.
ADDED 1:53 PM THURSDAY: City Councilmember Lisa Herbold relays additional information from Southwest Precinct commander Capt. Martin Rivera:
(Gun Violence Reduction Unit) Detectives are actively searching for relevant video evidence and contacting witnesses for follow-up interviews. They also plan to speak with the victims today, now that they are in stable medical condition. The 32 casings that were recovered at the scene are being processed for NIBINS [database] hits.

Our best information at this time is that the victims were caught in the crossfire between at least three individuals who were shooting at each other. We have no information at this time that the victims were connected to the shooters in any way.
WEST SEATTLE WEATHER: Snowplow testing Thursday
(WSB file photo)
No, there's no snow in the forecast, but SDOT crews need to do some test driving before it arrives, so they're planning to do that tomorrow (Thursday, November 3rd). You might see snowplows on the streets as drivers test the equipment and familiarize themselves with plow routes, which you can see on this map. SDOT asks that while it gets ready for winter weather, you do the same, and has some suggestions here.
Your thoughts about crime, policing, more sought in 8th annual Seattle Public Safety Survey
If you haven't responded to this year's Seattle Public Safety Survey – academically administered, with results summarized for SPD – we're reminding you that it's open now. This is the 8th annual survey; it's not a quick survey, but rather a thorough questionnaire asking you about everything from your opinion of Seattle Police to what kinds of crime, disorder, and even traffic issues are problematic and/or feared in your neighborhood. It's available in 11 languages. Seattle University, which is administering the survey again this year, adds, "A report on the survey results will be provided to the Seattle Police Department to help them better understand your neighborhood's safety and security concerns and community-police dialogues will be held in May-August 2023 to provide opportunity for police-community engagement about the results." This is linked to the SPD Microcommunity Policing Plans, which you can see here. To respond to the survey, start here. The survey's open until the end of this month.
WEST SEATTLE CRIME WATCH: Auto-theft attempt; creek-overlook vandalism
Two reader reports in West Seattle Crime Watch:
AUTO-THEFT ATTEMPT: From Jessica:
I'm writing to share about attempted auto theft/car prowlers out early Nov 1 around 2:30 AM. They prowled several cars in the garage at 1156 Alki Ave and attempted to steal our car (the keyhole and ignition were both tampered with).
The images show the car they were driving, Jessica explains. No police report # yet.
CREEK OVERLOOK VANDALIZED: Volunteers have been working to clean up tagging damage to signage at the Fauntleroy Creek overlook after one salmon-watching volunteer reported seeing this:
At 5:41 pm (Monday) at the fish ladder viewpoint, I saw the trio high five each other. They saw me approaching and left in a hurry. I saw all the signs there full of graffiti.

They ran down the stairs to the bus stop. I followed and one kid had a marker in his hand, apparently ready to tag a sign at the bus stop.

They saw me and ran back up the stairs and proceeded to run northbound on upper Fauntleroy Way SW, then crossed the street and ran into Lincoln Park.
Police have the full images; incident # is 2022-923487.
FOLLOWUP: City budget schedule changes after new prediction of lower revenue
On Tuesday we published an update on the city budget-review process, as it's in the heart of public-feedback time right now, if you want to let city leaders know where you think money should be spent over the next two years. This afternoon, the City Council's budget chair, West Seattle-residing citywide Councilmember Teresa Mosqueda, announced a few schedule changes after a new revenue forecast showed the city will be taking in less money than expected. Instead of announcing her "balancing package" next Monday, it'll be a week later. But the Tuesday morning (November 8th) public hearing is still on, and ongoing feedback can be sent any time to council@seattle.gov. Here's more information on the new schedule and the revised income forecast.
WEST SEATTLE THANKSGIVING: Salty's on Alki opens reservations
When Thanksgiving gets closer, we'll be compiling our annual list of which restaurants plan to be open on the holiday. But there's one place we already know for sure will be open,
and it requires reservations that are usually booked up well in advance: Salty's on Alki (1936 Harbor SW; WSB sponsor). They're now taking Thanksgiving reservations online or by phone (206-937-1600). No buffet again this year, so it's a three-course plated Thanksgiving dinner (see the menu here), with seatings between 11 am and 5 pm. They're also again offering take-home kits, to be picked up the day before Thanksgiving.
BIZNOTE: New West Seattle Junction store And Arlen celebrates grand opening Saturday
The space at 4130 California SW that used to be home to Fogue Gallery has a new tenant: The jewelry shop And Arlen. They're welcoming you to a grand-opening celebration Saturday (November 5th), 4 pm-8 pm: "We are a women-owned, sustainably focused jewelry brand and are excited to join the West Seattle community!" Though the storefront is new, And Arlen is not – they've been selling jewelry online for eight years. At Saturday's celebration, And Arlen says, "We will have snacks, champagne, a raffle, and other handmade goods from small businesses around Seattle." After the grand opening, the shop's regular hours will be Tuesdays-Saturdays, 10 am-4 pm.
District 1 Community Network and more for your West Seattle Wednesday
(Seine fishing off Alki Point, photographed Tuesday by David Hutchinson)
Here's what's on the list for today/tonight, mostly from the WSB West Seattle Event Calendar:
SOUTH PARK GRAFFITI CLEANUP: They would love to see West Seattle neighbors join in! 1-3 pm, at Duwamish Waterway Park.
The Community Service Officers in collaboration with South Park community organizations are working to build a graffiti abatement program. Our hope is to create more awareness and empower residents and local businesses to reclaim their neighborhood, and have a more immediate, safe, and effective response to remove graffiti tagging around the neighborhood. Our graffiti clean-up kickoff is scheduled for Wednesday, November 2nd, from 1-3 PM. Meeting location will be at the Duwamish Waterway Park, 7900 10th Ave. S. All are welcome to volunteer, paint and mingle with the community.

Link for sign-up and more info: forms.office.com/g/uwJFPjN3Qz
LIVE AT LOCOL: Locöl Barley & Vine (7902 35th SW) spotlights live music 6:30-8:30 pm Wednesdays, no cover, 21+, rotating artists.
DISTRICT 1 COMMUNITY NETWORK: This coalition of community advocates for West Seattle and South Park meets online at 7 pm, all welcome. Guests are scheduled from the Port of Seattle/Northwest Seaport Alliance to talk/answer questions about Terminal 5, among other issues. Video/call-in info is in our calendar listing.
MUSIC BINGO: Play weekly at The Good Society (California/Lander), 7 pm.
TRIVIA x 4: At 7 pm, you can play trivia at the West Seattle Brewing Mothership (4415 Fauntleroy Way SW); Larry's Tavern (3405 California SW) hosts Wednesday-night trivia starting at 7:30 pm; trivia starts at 8 pm at Beveridge Place Pub (6413 California SW); at 8:30 pm, trivia is back at Talarico's (4718 California SW) with Phil T.
SKYLARK OPEN MIC: 7:30 pm signups @ West Seattle's longest-running open mic – no cover to watch. (3803 Delridge Way SW)
Have an event – one-time or recurring – to add to West Seattle's only comprehensive event calendar? Please email westseattleblog@gmail.com – thank you!
YOU CAN HELP: Pre-Thanksgiving food drive
Thanksgiving is just three weeks from tomorrow. A food drive under way right now at Daystar Retirement Village (WSB sponsor) will help more of your West Seattle neighbors have a holiday meal. Here's the wish list:
Daystar is at 2615 SW Barton, across the street from the south side of Westwood Village.
TRAFFIC, TRANSIT, WEATHER, ROAD WORK: Wednesday info
6:00 AM: Good morning. It's Wednesday, November 2nd.
WEATHER
After a rainy night, another cloudy, possibly showery day is forecast, high around 50.
ROAD WORK
–Two continuing closures: The outer southbound lane on West Marginal Way between 17th SW and the Duwamish Longhouse … The east end of Sylvan Way.
TIME-CHANGE REMINDER
Time to start noting that Saturday night/Sunday morning, we "fall back" an hour as Daylight Saving Time ends.
TRANSIT STATUS
–Metro buses are on their regular schedules; watch @kcmetroalerts for trip cancellations/reroute alerts.
-Still a 2-boat schedule for WSF's Triangle Route (check here for alerts/updates).
-The West Seattle Water Taxi is on its fall/winter schedule (still daily, all dayparts, but no late Friday/Saturday runs).
SPOTLIGHT CAMERAS
High Bridge – here's the camera at the top.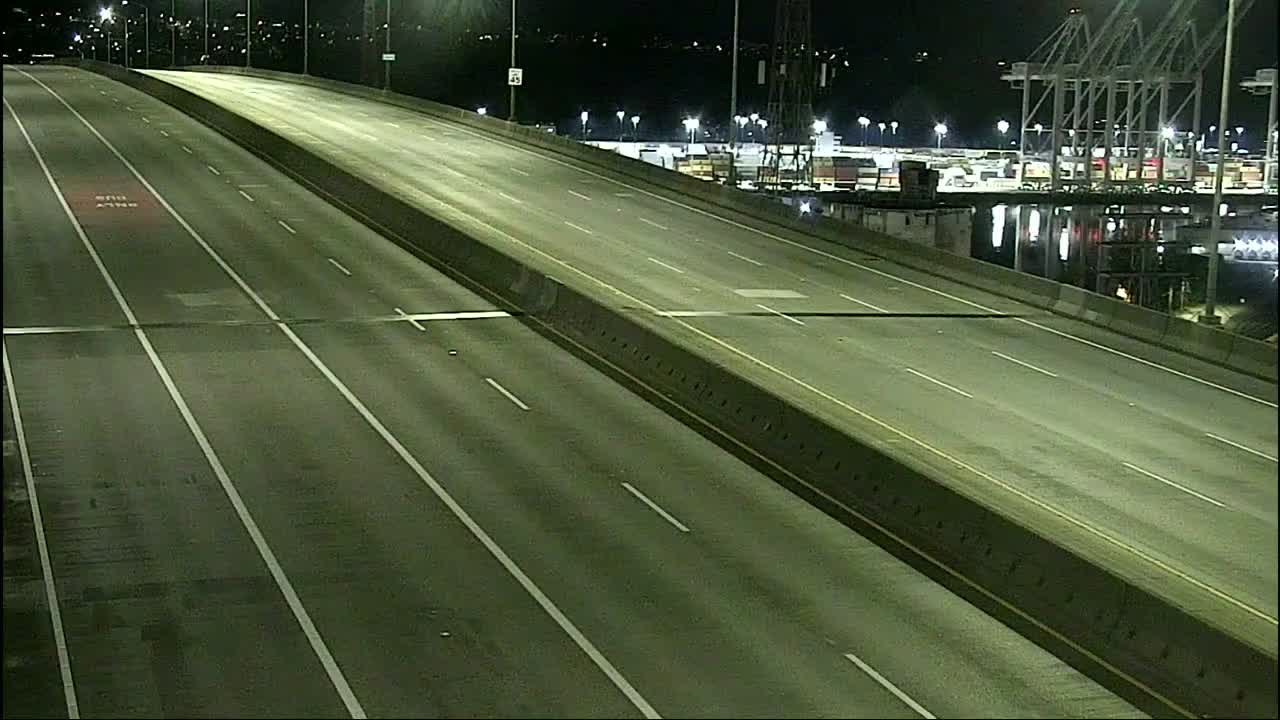 High Bridge – the view from its southwest end (if SDOT points the 35th/Avalon/Fauntleroy camera that way).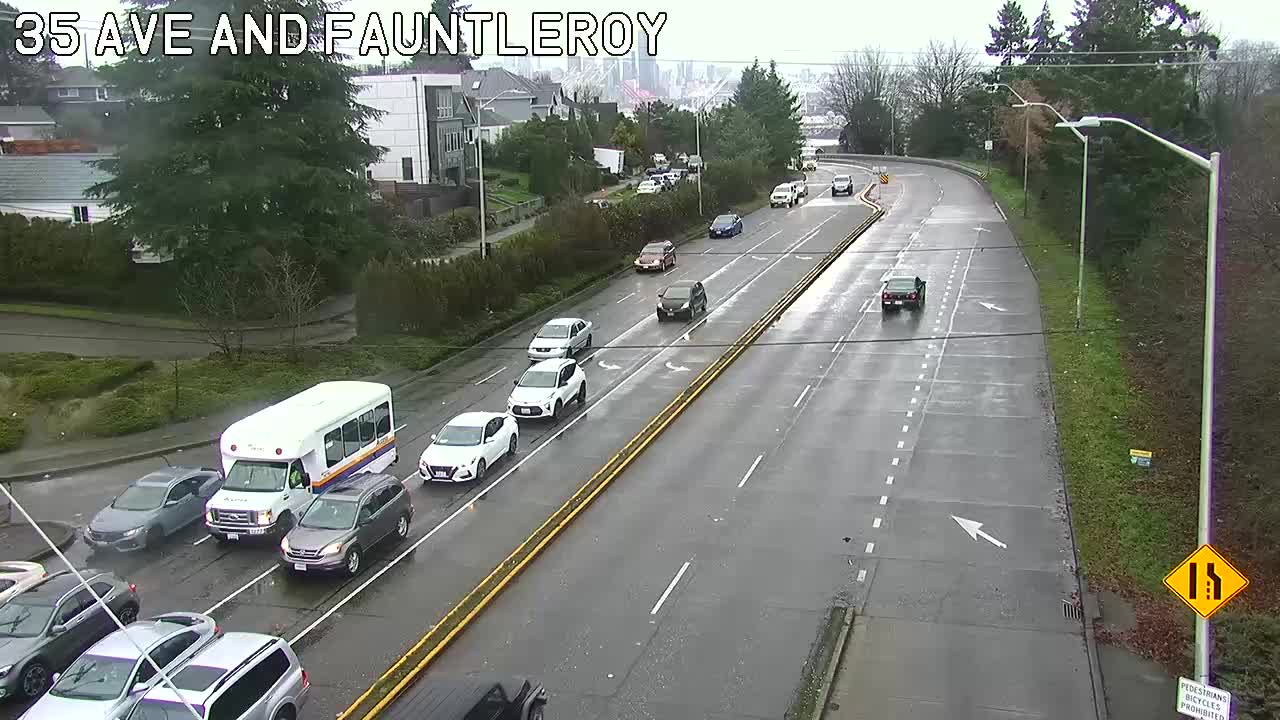 Low Bridge: Open to all.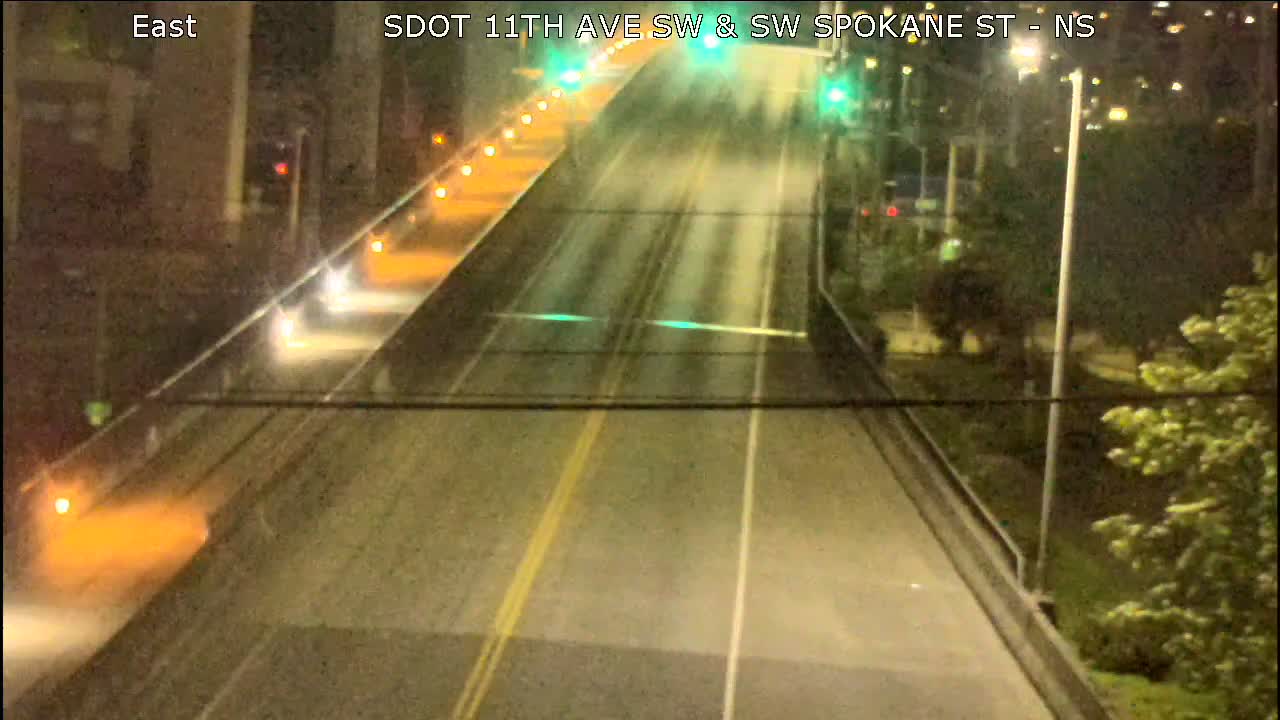 1st Ave. S. Bridge: The alternate route.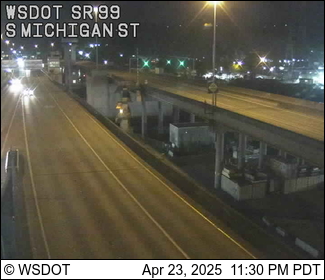 Highway 99: Here's the northbound side at Lander. All functional city traffic cams can be seen here, most with video options; West Seattle and vicinity-relevant cameras are also on this WSB page … Are movable city bridges opening for vessels? Check the @SDOTBridges Twitter feed.
If you see trouble on the roads/paths/water, please text or call us (when you can do so safely) – 206-293-6302.