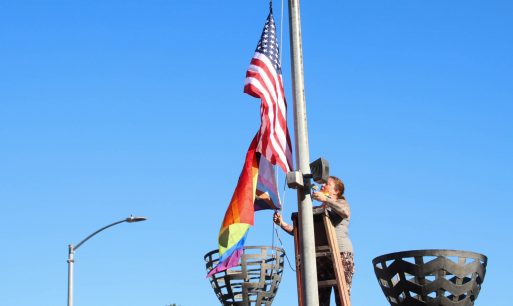 (WSB/WCN photo, 2021)
This year's first major Pride celebrations start tomorrow. White Center Pride is raising the flag at 6:30 pm Thursday in the mini-park outside Mac's Triangle Pub (Delridge/Roxbury/16th). Immediately afterward, three local schools are co-presenting a youth-led mini-parade walking through the heart of the WC business district – here's the announcement:
Community School of West Seattle, White Center Pride, Explorer West Middle School, and The Bridge School are coming together to put on a Youth Pride Mini-Parade following the 6:30 PM White Center Pride Flag Raising at Triangle Park on June 1, 2023. All are welcome to join the celebration!
See the mini-parade route here. White Center Pride's other events include a street festival on Saturday (June 3rd), 11 am-11 pm, with part of 16th SW closed to vehicle traffic; see the schedule here. And there's a pre-funk tonight at Southgate Roller Rink (9646 17th SW) – drag cabaret and Pride skate; details here.