Dozens of questions, answers, comments @ Sound Transit's West Seattle light rail public hearing
(Rendering of potential SW Genesee guideway, from page 126 in DEIS Appendix N-2)
By Tracy Record
West Seattle Blog editor
You have four weeks left to officially comment on the Draft Environmental Impact Statement for the West Seattle (and Ballard) light-rail extensions – basically, one last major chance to speak up before its final routing and station locations are settled.
As part of that process, Sound Transit held an online public hearing tonight, this one geared toward the West Seattle segment, currently expected to open in 2032. The DEIS contains results of studies of the possible alternatives for routing and station locations, and the comments will be taken into consideration by ST board members – including King County Councilmember Joe McDermott, who spoke briefly at the start of the meeting – at their next major decision point, likely this June.
Three-quarters of the meeting was devoted to Q&A and comments; 22 people offered the latter, half of them advocating for ST to study the gondola system whose advocates have pitched it as an option to West Seattle light rail.
As the meeting began, ST's Cathal Ridge began with a recap of the project plan, going back to the ST3 vote in 2016. Design starts in 2023; construction of the West Seattle line is scheduled to start in 2026. The official comment period for the DEIS began January 28th, and after it's over, the board "will confirm or modify the preferred alternative." He also recapped the alternatives that are being studied while noted that some of them would "require third-party funding."
OVERVIEW: For an overview of what's been studied, Ridge turned it over to Jason Hampton, who's leading the West Seattle segment planning. For context on what's in the DEIS, here are the focus topics:
WEST SEATTLE WEATHER: Rainbow sightings, and what's ahead
(Photo by Jerry Simmons)
Thanks for the rainbow photos! The sightings happened during an afternoon of unsettled weather – rainshowers mixing with sun at least twice.
(Texted photo, Riverview Playfield)
Again tomorrow, we might see some sun, might see some rain. The forecast for the days ahead appears to be spanning all possibilities, typical for Seattle springtime.
CRIME WATCH FOLLOWUP: Charges filed in Andover shooting
The King County Prosecuting Attorney's Office has filed two felony charges against the suspect in last Thursday morning's shooting near 26th/Andover. 38-year-old Justin A. Weiland is charged with second-degree assault, with a firearm enhancement, and unlawful gun possession. The charging documents note that his criminal record goes back 25 years; in that time, prosecutors say, he's been the subject of 50 warrants. As reported here last week, he was arrested hours after the shooting, leaving the Junction apartment of a woman who was reported to be with him when it happened. Prosecutors now say she factored indirectly into the shooting – though the victim is reported to have told police he didn't know who shot him, the woman told police the victim is her former boyfriend, and that he and Weiland had been "feuding." The entire incident was recorded by a security camera at the nearby West Seattle Health Club, and that's how police identified Weiland as the suspect; an officer wrote that he and a partner "patrol the area of that encampment regularly and make a habit of getting to know the subjects that frequent that area. Justin Weiland is extremely recognizable to us as we have spoken to him on many occasions. Furthermore Justin Weiland's signature look is a black jacket, blue jeans, a flat billed ball cap worn forward, and almost always fancy tennis shoes." The 41-year-old victim suffered a gunshot wound to his calf. Weiland remains in the King County Jail, bail set at $300,000. (We obtained his photo from the state Department of Corrections, the only area agency that releases photos on request, provided the person has been in their system.)
VACCINATION: Clinic for Seattle Public Schools students, staff Saturday at Roxhill Elementary
There'll be another pop-up COVID-19 vaccine clinic in West Seattle this weekend: This one is for Seattle Public Schools students and staff, 1-4 pm Saturday (April 2nd) at Roxhill Elementary (7740 34th SW). You can make an appointment by going here, though the announcement also says walk-ins will be welcome.
About the SFD response in The Junction
Just in case you're in The Junction and wondering – four SFD units were sent to Pizzeria Credo (4520 California SW) but are reporting the problem was just "smoke from a pizza oven," so they're downsizing the response.
GOT PLANTS? Arbor Heights Elementary's school garden wants them!
Gardening season is here – and if you have surplus plants, here's a garden whose tenders would be happy to give them a new home: The Arbor Heights Elementary School Garden! Here's the request – with an invitation – sent to us so we can share it with you:
Do you have any plants or herbs to donate to the Arbor Heights Elementary school garden? The students and garden volunteers are looking for plants (especially pollinators) to hold down the new soil and prevent erosion for the new berms (raised beds) they will be building at the upcoming garden work party on Sunday, April 3.

Spring is a good time to divide and move perennials, so if you have any divisions to share from your home garden, we'd love to have them. You can bring any plants to Arbor Heights Elementary during school hours (7:30 a.m.–3:30 p.m.) and leave them by the front entrance — or stop by on Sunday, April 3, from 10–11:30 a.m. for the garden work party. If you'd like to join the party, bring a pair of gloves and weeding tools. The more, the merrier!

If you have any questions, please reach out to Amy West, 3rd-grade teacher, and school garden fairy, at akwest@seattleschools.org.
The school is at 3701 SW 104th.
BIZNOTE: Antique Mall of West Seattle will reopen
(WSB photo, March 2020)
After two years of pandemic closure, some have wondered if the Antique Mall of West Seattle was ever going to reopen. Today, we have an answer – yes! Antique Mall management announced last night that the longtime Junction business at 4516 California SW will reopen in April. No specifics yet, but they're promised "soon." And if you're in The Junction on Sundays, look for their sidewalk sales!
BIZNOTE: Duke's Seafood Alki seeking four nonprofits to help with 'Countdown to the Bridge' benefits
In addition to the community planning effort looking ahead to the reopening of the West Seattle Bridge (as updated here last night), some businesses and organizations have special events in the works too. Duke's Seafood Alki (WSB sponsor) plans four dine-out benefits in the months ahead and is looking for nonprofits interested in being considered. Here's the announcement:
Duke's Seafood Alki today launched a search for nonprofit organizations to highlight and honor as part of its "Countdown to the Bridge" campaign. Duke's Seafood designed the campaign to celebrate the hardworking people of West Seattle as they battle the challenges imposed by the closing of the West Seattle bridge. Nonprofits are encouraged to share their story at our website by end of April 2022.

"With the opening in sight, we want to thank the nonprofit organizations that continued to work tirelessly during the hard months when the bridge was closed," says Duke Moscrip, founder of Duke's Seafood. "We know those challenges firsthand. The transportation difficulties and their resulting consequences to Alki Beach due to the bridge closure has hit all of us hard. So, as we count down to the opening, we want to recognize four nonprofit organizations in West Seattle, one per month, where we donate a percentage of our sales for that evening."

Duke's Seafood seeks nonprofits in the West Seattle area and has set up a webpage to apply for this partnership: dukesseafood.com/locations/alki. "Duke's Seafood values sustainability and honesty in everything we do," says Moscrip. "We seek to align with nonprofits that share those values. We encourage any nonprofit in the area to tell us your story, how you serve the community and the challenges you have faced due to the bridge closure. We know it's been tough, and we hope our small gesture will make a difference."

Duke's Seafood Alki opened in 2001 at 2516 Alki Ave SW, West Seattle. It is open for lunch and dinner from 11 am-10 pm Sunday through Thursday, and 11 am-11 pm Friday and Saturday, with Happy Hour daily from 3-6 pm and 9 pm-close on the deck and in the bar.
Duke's plans to announce the beneficiary organizations by April 30th, so best to apply sooner rather than later.
From light rail to live music, what's ahead for your West Seattle Wednesday
(Ghost flower, photographed by Machel Spence)
Here are the midweek highlights, from the WSB West Seattle Event Calendar:
COVID-19 BRIEFING: State health officials plan one of their periodic briefings this morning, live online at 10 am – you can watch the stream by going here.
PICKLEBALL: People who play pickleball and/or tennis are invited to come talk about it at Seattle Parks' online meeting, 4:30 pm. Our calendar listing has information on how to attend/participate.
LIGHT RAIL: As part of the comment period for the Draft Environmental Impact Statement on West Seattle light rail, Sound Transit's official public meeting is tonight, online, 5:30 pm. Our preview has information on how to attend/participate.
LIVE MUSIC: 6 pm at Locöl Barley & Vine (7902 35th SW), Jonathan Kimball & Gillian Dockins perform. No cover. 21+.
SKYLARK OPEN MIC: 7:30 pm signups @ West Seattle's longest-running open mic – no cover to watch. (3803 Delridge Way SW)
TRIVIA: Larry's Tavern (3405 California SW) hosts Wednesday-night trivia starting at 8 pm.
Something for our calendar? Email info to westseattleblog@gmail.com – thank you!
TRAFFIC, TRANSIT, WEATHER: Wednesday notes
6:01 AM: Good morning. It's Wednesday, March 30th.
WEATHER
Cloudy and cooler, some rain, high in the 50s.
BUSES, WATER TAXI, FERRIES TODAY
Metro is on its regular weekday schedule. Watch @kcmetrobus for word of reroutes/cancellations.
Water Taxi's on its regular schedule. Shuttle service is now back to serving all runs – here's the announcement.
Ferries: WSF is still using the two-boat schedule for Fauntleroy-Vashon-Southworth. Check here for alerts/updates.
BRIDGES AND DETOUR ROUTES
736th morning without the West Seattle Bridge.
Low Bridge: Automated enforcement cameras remain in use; restrictions are in effect 5 am-9 pm daily – except weekends; the bridge is open to all until 8 am Saturday and Sunday mornings. (Access applications are available here for some categories of drivers.)
NOTE: SDOT WAS STILL HAVING CAMERA TROUBLE AS OF EARLY TODAY, SO WE ONLY HAVE THIS WSDOT CAM:
1st Avenue South Bridge: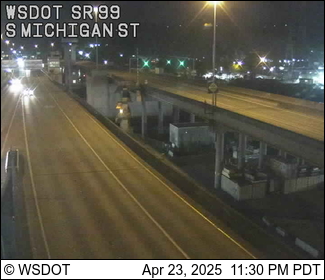 Are movable bridges opening for vessels? Check the @SDOTBridges Twitter feed; 1st Ave. S. Bridge openings are also tweeted by @wsdot_traffic.
Trouble on the roads/paths/water? Text or call us (when you can do so safely) – 206-293-6302.