12:15 PM: The snow is here. Afternoon updates start now:
(West Seattle Junction – photo by Jason Grotelueschen)
LATEST FORECAST/ALERTS: National Weather Service's Seattle site
METRO UPDATES: Here's the winter-weather page; snow routing @ 2 pm
METRO ROUTE 55: no 3:56 run from downtown; 4:28 & 5:12 pm runs canceled
METRO ROUTE 56: 4:54 pm run from downtown canceled, also 5:31 pm
METRO ROUTE 57: 4:15 run from downtown canceled
METRO ROUTE 113: 5:07 pm run from downtown canceled
WATER TAXI: Some changes.
RIDE2: Canceled for the rest of the day
SOUND TRANSIT ALERT: See left side of this page
SDOT WINTER-RESPONSE MAP: Here's where SDOT has treated/plowed.
SCHOOL CHANGES: The Friday list of early dismissals (etc.)..
TRAFFIC CAMS PAGE: Our compilation of local cameras.
SDOT CITYWIDE CAMS ETC. PAGE: The year-round "travelers" map with cams/more.
SEATTLE PUBLIC LIBRARIES: Closing at 1 pm.
SEATTLE PARKS & RECREATION: Friday weather-impact updates here; Saturday plan here
BUSINESS NOTES: Open, closed, changed – adding as received
If you have changes/closures/etc. to report, 206-293-6302 text or voice – thanks!
1:03 PM: Steady snow for going on an hour now. Just added to our school-changes list for today: Our Lady of Guadalupe, which is near the highest-elevation point in the city, is closing early – but, the school stresses, don't rush to get there, be safe. Meantime, a live look at 35th/Fauntleroy, followed by the high bridge at midspan: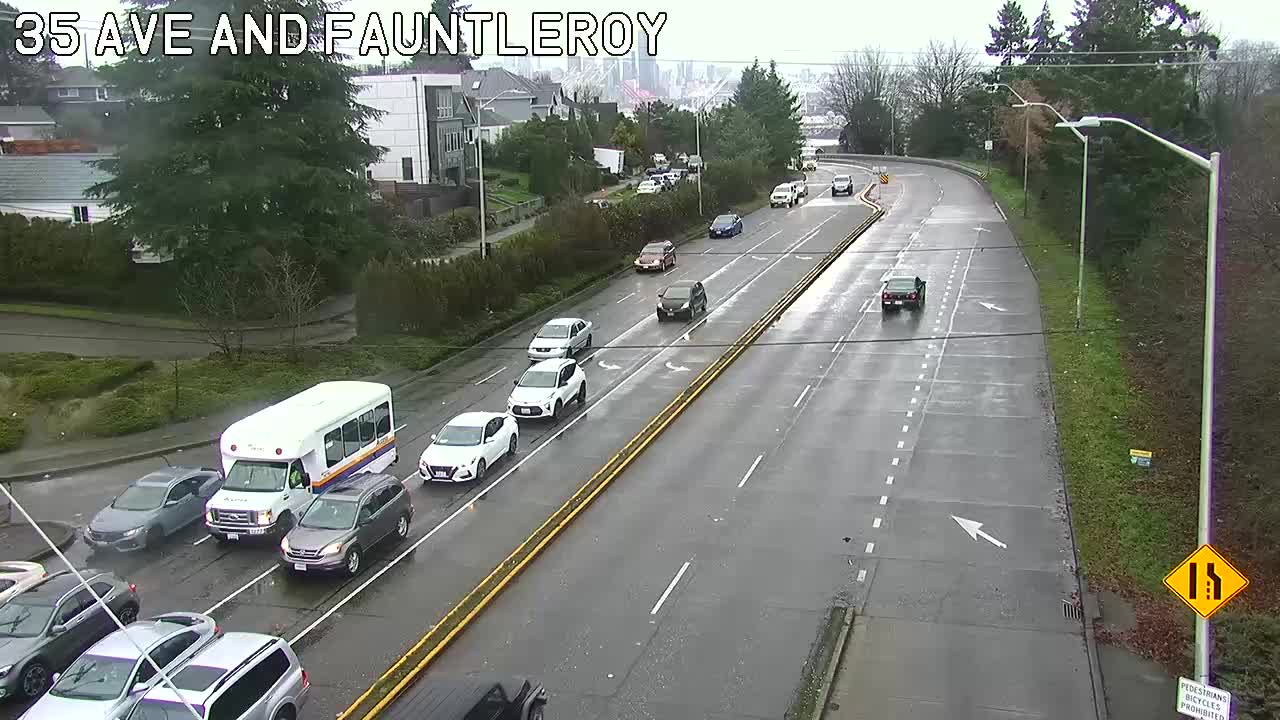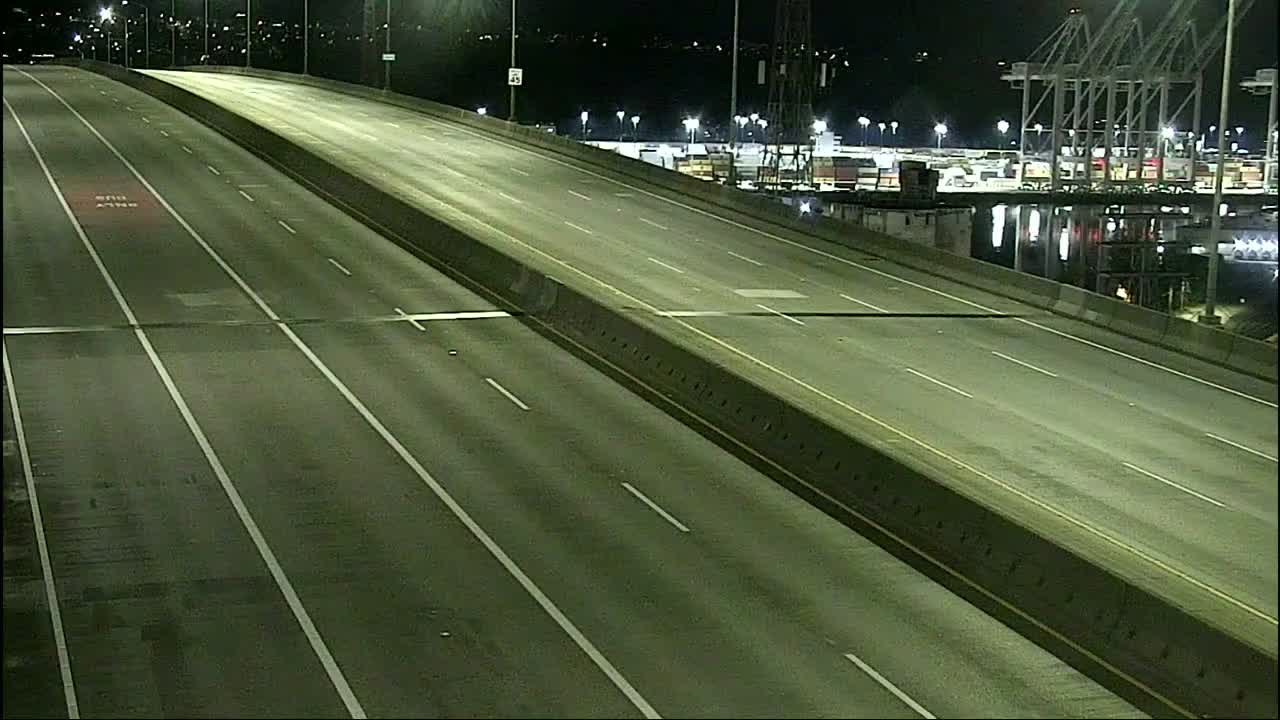 1:29 PM: In comments and via email, we're hearing that traffic on streets around West Seattle is slow going, so please be safe and patient! Also a commenter reminds us that the East Marginal/Nevada scene – now in its 8th hour – hasn't fully cleared yet. … Just heard via scanner, tree down at Highland Park Way/West Marginal Way …
1:57 PM: As discussed in comments – King County is stepping up Water Taxi frequency for "the next hour or so" due to high demand for getting back to WS. (Added) Doc Maynard is temporarily out for maintenance, we're told, and that's why smaller Spirit of Kingston is running along with Doc Maynard.
2:05 PM: Metro is now on snow routes, and just sent the map above – here's a PDF version – saying, "We heard from West Seattle customers who were seeking a better map for C line snow routing … this map better shows the stops. We hope this makes it easier for people who absolutely must ride transit during this snowstorm, but we'd feel better if most folks could ride this one out warm and safe at home."
2:25 PM: Per scanner – jackknifed semitruck on SW Genesee just east of Avalon. … SDOT says (updated 2:37 pm) TWO southbound lanes are now open at scene of 5:50 am truck-vs.-wires incident at East Marginal/Nevada … Metro has just announced Ride2 is canceled for the rest of today.
2:43 PM: SFD fireboat is out looking for a possible paddleboarder in distress off Alki, per scanner … If you're waiting for somebody to come home, be aware that many city streets are gridlocked or close to it (even some WS arterials – see the red lines on the city map) … Gov. Inslee has just declared a statewide state of emergency because of the storm.
3:01 PM: Thanks to Robert Duffy for that photo of the truck stuck on SW Genesee east of Avalon. Nancy tweets that the hill is now closed. … As specific bus-route alerts come in, we're adding to the list above, next to the transit links already there…
3:50 PM: Sitting next to a window, we've been able to observe the ebb and flow of the storm. The snow lightened up for a while but now it's intensified again. Here's a "live" look at Admiral/California: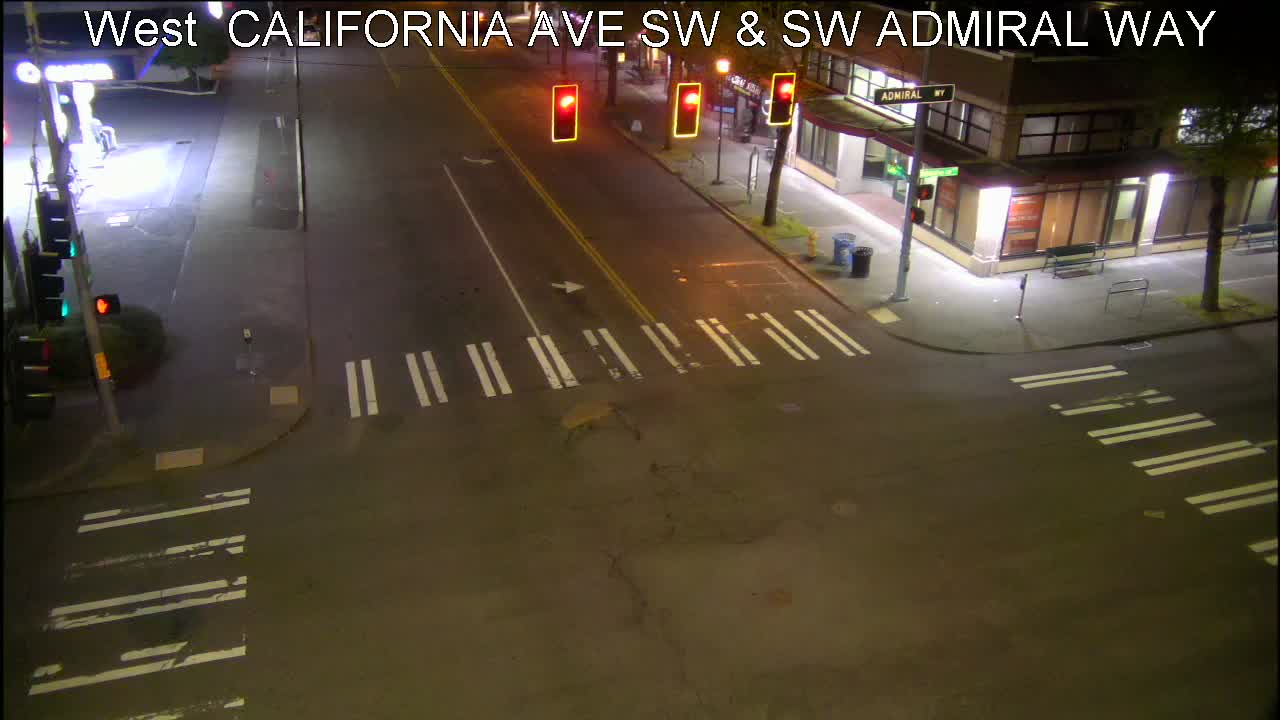 We've started the business-info page here, linked in the list above too. … Traffic note: Stalled vehicle blocking a SB lane on 1st Ave. S. at Spokane.
4:44 PM: That's clear. Plus, all but one NB lane now reopened at the East Marginal/Nevada truck-vs.-wires scene (11 hours later). Monitoring regional reports, the general consensus is that everyone's finally gotten out of downtown.
5:11 PM: Just in from Metro – they'll activate the Emergency Snow Network starting tomorrow morning:
The Emergency Snow Network (ESN) will be effective at 4 a.m. Saturday, Feb. 9, until further notice.

Customers will be able to board service only on 60 core bus routes and shuttles primarily serving key arterials and transit centers. The network was prioritized based on high ridership routes and to serve areas to avoid steep hills. The routes were developed in coordination and collaboration with jurisdictions and taking advantage of designated snow plow plans, including the City of Seattle.

Routes operating as part of the ESN will serve core centers around King County, via routes 3, 4, 5, 7, 10, 21, 24, 24 shuttle, 31, 32, 36, 40, 41, 44, 45, 48, 62, 62 shuttle, 65, 70, 75, 90 shuttle, 101, 102 shuttle, 106, 106 shuttle, 120, 124, 128, 150, 166, 168, 169, 180, 181, 235, 245, 248, 252/255 shuttle, 255, 255 shuttle, 271, 331, 345, 348, 348 shuttle, 372 Woodinville and 372 Lake City, ST 522, ST 545, ST 550, ST 554, ST 554 shuttle, RapidRide A, B, C, D, E and F lines.

Metro will be monitoring performance of this network and make adjustments as needed to improve operations. Customers in outlying areas and neighborhoods should prepare for reduced or temporarily unavailable bus service on Saturday and for several days due to inclement weather, difficult travel conditions and topography.
More details on the ESN here.
5:28 PM: Power outage near 42nd/Andover, where a texter describes what sounds like a transformer problem preceding it. Not on the map yet but the texter says it seems to be a small neighborhood pocket.
6:10 PM: 6 customers affected by that outage, according to the SCL map … Update on the stuck truck on SW Genesee, it's been towed after almost four hours:
Thanks to Regina for the update and photo. … Also thanks to Al, for this pre-dusk photo of California Way:
And a note from C & P Coffee (WSB sponsor) – tonight's songwriter showcase is canceled.
6:41 PM: The 42nd/Andover outage is down to 1 customer. Meanwhile, Seattle Parks is out with its plan for tomorrow – also adding to the list above.
7:32 PM: Thanks to the person who mentioned that the comment function on this story had broken – unfortunately a glitch we have had every so often with too many updates on the same story. Time to start an evening update anyway; stand by for that link.