(UPDATED THURSDAY NIGHT with garage-sale dates/times, Saturday and Sunday 10-4)
By Linda Ball
Reporting for West Seattle Blog & White Center Now
Case Justham says he doesn't sleep very well, so he stays up and reads cookbooks all night. His mom Linda Justham says her son looks at the science of food, down to the molecular properties of a dish. Case is quick to point out that he's not a scientist, but he likes to try non-traditional cooking methods.
Case (photo at right), a self-taught chef, is presently the sous chef and butcher at The Swinery in West Seattle. With mom Linda, sister Piper Carscadden, brother Drew Justham, and wife Amy Justham, they are partnering to open the family's first restaurant, Brass Knuckle Bistro in White Center. Case will be the chef, Carscadden will work the front end and social media and Linda will do the books, eventually turning them over to Carscadden. The others will be mostly silent partners, although Drew has extensive front-end experience and will probably be present in the first few weeks.
The entire family lives in West Seattle but they chose what was until three months ago the location of 3.14 Bakery at 9602 16th SW, just south of Roxbury, for the bistro (and are having a "garage sale" there later this week Saturday and Sunday – more on that below).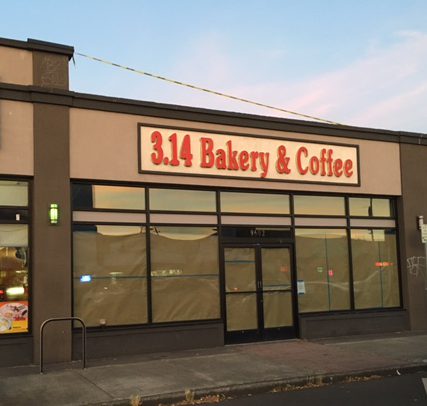 (WSB/WCN photo, August 20th)
It's close to home for Case, who resides in the Westwood neighborhood and worked in White Center in the early 2000s; Linda said it's a place where they were able to find affordable rent. They came close to opening a restaurant on Bainbridge Island, where they all lived at one time, but decided against it when they all moved into Seattle. Case worked at Bene Pizza on Bainbridge before coming to The Swinery, where he's been for three and one-half years. He appreciates the freedom he was given to be creative at The Swinery. "I wear a lot of hats there," Case said.
So, where did the name Brass Knuckle Bistro come from? "White Center still has a tough-guy characteristic," Case said. "It evolved from knuckle sandwich to brass knuckle to Brass Knuckle Bistro."
It will be a casual restaurant, geared toward lunch and early dinner. He found it frustrating on Bainbridge to find a good Mexican or Thai restaurant so he wants to do things differently, for example, putting his own spin on Caribbean pulled pork. He said his Philly is an "anchor sandwich" which he's perfected at The Swinery, but the Philly he has planned for White Center will "knock people's socks off."
Brass Knuckle Bistro will also offer salads and vegetarian and vegan sandwiches. Instead of gluten-free sandwiches, he's planning dishes that would be presented like sandwich fillings atop, for example, ribs, cole slaw, or gourmet fries. He said the reason is that he hasn't found gluten-free bread that he finds suitable. Case said he plans a small fixed menu and a large rotating cast of specials, which he said are where he shines. "I like the idea of a secret menu."
Keeping the price points affordable is very important to the partners – they want everyone to be able to afford to eat there. They have applied for a beer and wine permit, and have a great deal of build-out to do, so opening isn't anticipated until sometime in November. Expecting a rush in the beginning days, Case plans to call on some of his industry pals to jump in; then, he will gauge what sort of permanent help he will need.
This coming weekend (UPDATE), Saturday and Sunday, September 2-3, the Justhams will be having a farewell-to-3.14 sale, like a garage sale, to get rid of fixtures and items they don't need – espresso machines, a pastry cabinet, and so forth – from 10 a.m. -4 p.m. each day, so stop by if any of that appeals to you. They want the space empty by early next week, so the remodel can begin in earnest.
The Justhams do have a website started up, though not complete, at brassknucklebistro.com. Tentative hours when they open will be 11 a.m. to 8 p.m. daily, closed Mondays.