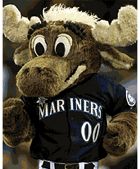 Just got word from King County Councilmember Dow Constantine's office that not only will there be free coffee and donuts on the final morning of the Elliott Bay Water Taxi's 2008 season tomorrow (6:30-9:30 am), you also have a chance to ride the Water Taxi with the ever-popular (no matter how the team's doing) Mariner Moose. On the 11 am Water Taxi run tomorrow, the Moose will become this year's recordbreaking 182,000th Water Taxi passenger by accompanying Councilmember Constantine on a WT ride from Seacrest to Pier 55, where the trip will be followed by a media event celebrating the WT's big year and looking ahead. They'd love to have company onboard, so if you're able to ride the WT at 11 am tomorrow, join the fun.
Meantime, the invitation is also renewed for you to come speak to the King County Council on Monday at its public hearing about the King County Ferry District.
That's the agency created last year to oversee the Water Taxi, the Vashon passenger ferry, and an exploration of more water-transit routes around the metro area. Its money comes from a countywide levy that totals about $22 a year for the owner of a home worth $400,000, but that levy has to be renewed each year, and there are some in county government who are interested in scaling that back or even eliminating it – so if the Water Taxi is important to you, this is the time to speak up, because the reauthorization vote is just a few weeks away. Monday's public hearing is at 1:30 pm in the County Council chambers on the 10th floor of the courthouse (map) downtown (more information on this flyer, which also notes that if you cannot be there in person, you can e-mail your opinion on reauthorizing the KCFD to info@kingcountyferries.org).