March 1, 2013 at 7:00 am | In
West Seattle news
,
West Seattle traffic alerts
|
7 Comments
(Live view from the east-facing WS Bridge camera; see other cameras on the WSB Traffic page)
7 AM: Good morning. Here are the West Seattle Bridge (above) and 99 (below) cams: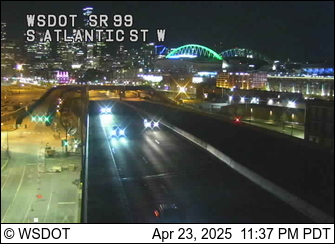 THREE CLOSURES THIS WEEKEND:
*Delridge/Trenton intersection closure starting 7 pm tonight (here's the weekend Route 120 transit alert for this work)
*Viaduct/99 closed 6 am-5 pm Saturday, plus 6 am-noon Sunday – details here
*Ramp to southbound I-5 from eastbound West Seattle Bridge closed, starting late tonight; part of WSDOT's Spokane St. Interchange Special Bridge Repair Project
8:30 AM TRAFFIC UPDATE: "Coffee" reports in comments that there's a bus broken down in the southbound lanes at Delridge/Andover and a "mess" has ensued.
7 Comments
Sorry, comment time is over.
All contents copyright 2013, A Drink of Water and a Story Interactive. Here's how to contact us.
Header image by Nick Adams. ABSOLUTELY NO WSB PHOTO REUSE WITHOUT SITE OWNERS' PERMISSION.
Entries and comments feeds. ^Top^