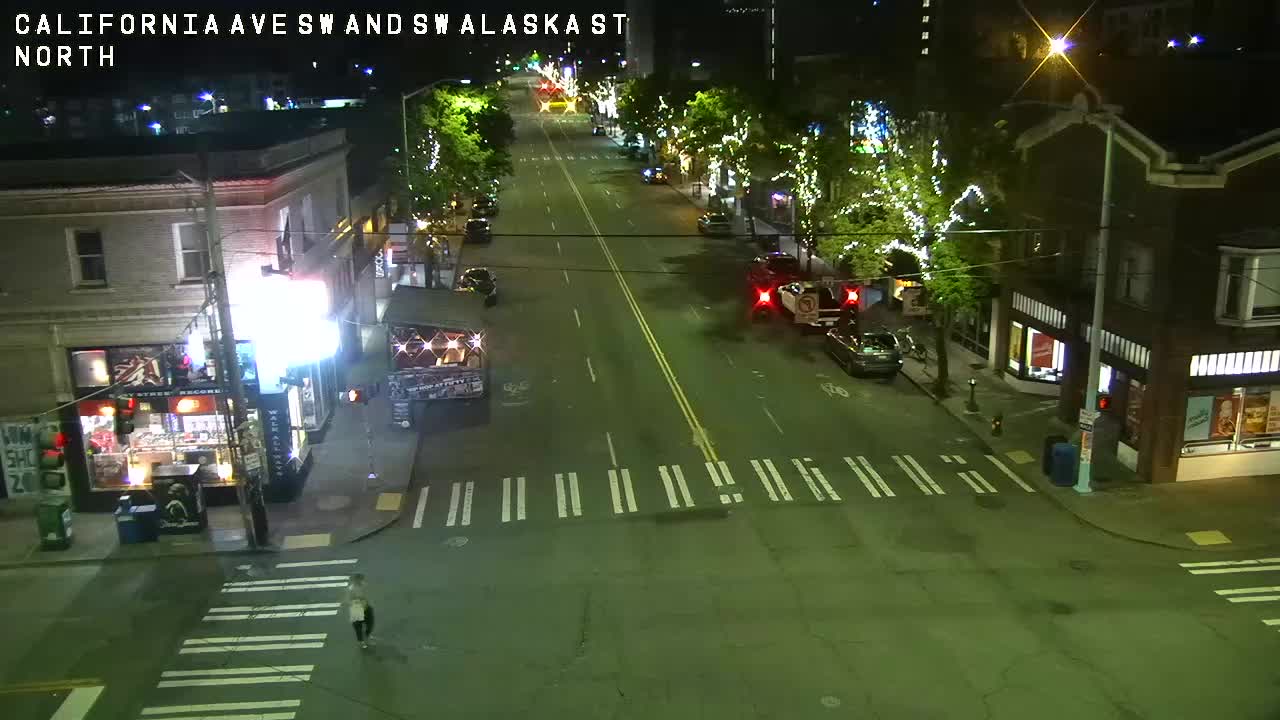 That's a "live" SDOT view of California/Alaska, part of the route for the two big events that start the day with road-closure and parking-restriction alerts, the West Seattle Grand Parade and, just before it, the Float Dodger 5K. California SW will be closed starting at ~7 am at SW Admiral Way, and the rest of the way south to SW Edmunds by ~9 am, with restrictions on streets to the west and east, especially toward the north end of the route, for staging. When you see those no-parking signs and barricades, take them seriously! (Find bus reroutes here.) As for what else you need to know about those events and what else is happening today:
FLOAT DODGER 5K: Before the West Seattle Grand Parade, run/walk the route, in the Float Dodger 5K, presented by West Seattle Runner (WSB sponsor)! Last-minute registration starts at 8 am; kids' dash on the track at 8:45 am; race starts at 9:30 am. Hiawatha Playfield and on to the parade route. More info here. (2700 California SW)
WEST SEATTLE GRAND PARADE: The Seattle and Vancouver Police Motorcycle Drill Teams start ~10:30 am from California/Lander, rest of the parade 11 am, heading south on California to Edmunds in The Junction. Our two most-recent previews of this year's parade are here and here. This year's Orville Rummel Trophy winner is Keith Hughes; grand marshal is City Councilmember Lisa Herbold; come cheer hundreds of your neighbors as they roll, walk, ride, dance, etc. down the parade route. (California SW between The Admiral District and The Junction)
ALKI ART FAIR: Celebrating its 20th year! First of two days with dozens of artists/vendors lining the Alki Beach boardwalk near, and west of, the Bathhouse. 10 am-6 pm today, with music continuing until 9 pm – see the lineup here. Free shuttle running continuously from the park-and-ride area under the West Seattle Bridge, near Harbor/Avalon/Spokane. Go inside the Bathhouse for silent auctions – closing at 1 and 4 pm – and festival history. Here's our preview. (60th/Alki)
LOW-LOW TIDE, INCLUDING SIGN-LANGUAGE INTERPRETATION: 9:30 am-1 pm today, Seattle Aquarium beach naturalists are at Lincoln and Constellation parks, with a low-low tide of -3.0 at 10:35 am. Also at Lincoln Park, today only, sign-language interpretation available 10 am-1 pm.
WHITE CENTER JUBILEE DAYS: Street fair and more, 10 am-6 pm today, expanded this year to 16th SW as well as 17th SW between Roxbury and SW 100th; car show 11 am-5 pm. See the music lineup here; see the map here.
WADING POOLS AND SPRAYPARK: Lincoln Park wading pool and Highland Park spraypark are both open 11 am-8 pm today; Delridge and Hiawatha wading pools are open noon-6:30 pm. (Find addresses here)
ALKI POINT LIGHTHOUSE TOURS: The US Coast Guard Auxiliary presents free tours today, 1-4 pm – last tour group at 3:40 pm – but NOT tomorrow, so enjoy the historic lighthouse today! (3201 Alki SW)
SHAKESPEARE @ ROXHILL PARK: Young Shakespeare Workshop presents "As You Like It," 2 pm at Roxhill Park. Free. (2850 SW Roxbury)
TREVOR RAS AT C & P: Performing at C & P Coffee Company (WSB sponsor) – 4-5 pm, kids' singalong; 5-6 pm, "soulful Americana." (5612 California SW)
WEST SEATTLE OUTDOOR MOVIES: First of this season's six movies is "Rogue One: A Star Wars Story." Remember that West Seattle Outdoor Movies are now in the "festival street" south of the West Seattle YMCA (WSB sponsor) headquarters. Bring your own chair/blanket. Free admission; bring $ for nonprofit-benefiting raffles, concessions, and food truck (Macho Burgers this week). Open at 6:30; preshow "Star Wars" trivia, selfies with stormtroopers, School of Rock performances, movie at dusk – no earlier than 9 pm this week. (36th SW/SW Snoqualmie)
OF SEA AND STONE: Folk-pop/alt-country at C & P Coffee Company (WSB sponsor), 7-9 pm. (5612 California SW)
MARKET STREET DIXIELAND JAZZ BAND: 7:30 pm at Kenyon Hall, with "hot New Orleans style traditional jazz, Dixieland and 1920's tunes." Ticket info in our calendar listing. All ages. (7904 35th SW)
WEST END GIRLS: Cookie Couture hosts a drag extravaganza at The Skylark, doors at 8, show at 9, performers and other info in our calendar listing. (3803 Delridge Way SW)
THAT'S NOT ALL … see all the listings for today/tonight on our complete-calendar page! That's also where you can find out how to get your event listed on WSB.