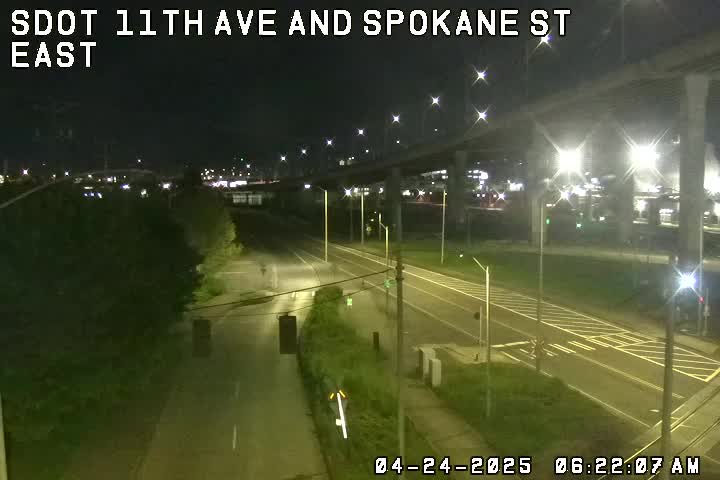 (HERE'S THE REVAMPED SDOT MAP with travel times/video links; is the 'low bridge' closed? LOOK HERE)
7:06 AM: Good morning! The high-bridge cameras are down again, so we have just the low-bridge and Highway 99 views above. A few notes: Yes, the West Seattle Summer Fest breakdown did finish very early today and the streets in The Junction are open again. … No incidents reported in or from West Seattle so far … Reminder that it's the second week of the sidewalk project on eastbound Roxbury between 28th and 30th SW.
LOOKING AHEAD: The West Seattle Grand Parade is next Saturday (July 22nd), 11 am-1 pm or so, on California between SW Lander in Admiral and SW Edmunds in The Junction, preceded by the Float Dodger 5K along most of the same route. Streets will close relatively early in the morning, including some side streets near the start, for staging. We'll have updates throughout the week.
8:05 AM: A texter reports a two-car crash on the eastbound bridge "cleared to the gore point on 99." There's no 911 or SDOT mention, so, just FYI.
8:35 AM: The M/V Sealth needs steering repairs so Washington State Ferries says the Fauntleroy-Vashon-Southworth run is down to two boats – "Cancels Fauntleroy: 8:25, 9:30, 11:15, & 12:20; Vashon: 9:00, 10:35, & 11:50. Southworth: 10:15" per Twitter.
8:50 AM: If you use the West Seattle Water Taxi and usually pair it with another transportation service to get between downtown and the dock, you might be interested in a new private shuttle that's launching today, according to a news release we received – its downtown loop includes Colman Dock. "Seattle Connex" is starting a three-month test; details here.
1:39 PM: The Sealth is returning to service with the 1:40 pm departure from Fauntleroy, WSF announced.