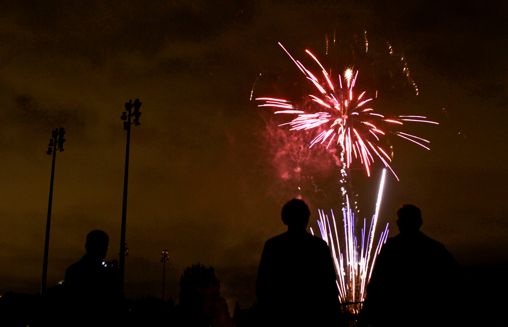 (July 2012 Jubilee Days fireworks; White Center Now photo by Nick Adams)
Just want to make sure you know about two fireworks shows coming up in the area later this week – maybe you'll want to go see one or both, or maybe you'll just want the heads-up on what the "booms" are. Tomorrow night (Wednesday, July 17th), the White Center Jubilee Days fireworks start at dusk at Steve Cox Memorial Park (where the WCJD carnival begins at 3 pm and continues through Sunday, by the way).
Then Saturday night, it's the fireworks show first mentioned here July 1st – at 10 pm that night (July 20th), about 10 minutes of fireworks will be fired from a barge off the 4500 block of Beach Drive, related to a private celebration on Genesee Hill (though it will of course be publicly visible).