By Tracy Record
West Seattle Blog editor
It's the name behind some of the biggest nonprofit projects in West Seattle in the past decade:
*Transforming historic Cooper Elementary School into Youngstown Cultural Arts Center.
*Creating the only mixed-use building to house a Seattle Public Library branch.
*Co-developing the new home of the West Seattle Food Bank and other nonprofits adjacent to the residential units of One Community Commons.
Yet for all those high-profile projects, Delridge Neighborhoods Development Association executive director Derek Birnie admits DNDA may have a little bit of a community disconnect:
He acknowledges you probably don't know enough about what else DNDA does, serving the neighborhoods of eastern West Seattle (and beyond), and why it needs your support now, more than ever, because the economy's difficulties have brought challenges to their bottom line too.
Earlier this month, e-mail from DNDA landed in 4,000 mailboxes around the area – not just West Seattle, a broad spectrum of people and organizations with which they've dealt – saying in part:
As is the case with so many non-profits in this difficult economic climate, our resources are spread terribly thin, and our programs under constant threat. We need to raise at least $140,000 from our donors by December 31, 2010 to ensure the continuation of our vital programs.
Birnie describes it in somewhat-less-dire terms, as "a donor drive to end the year with as close to a balanced budget as possible." In other words – this is not money for some added project, but money to cover what they have been doing.
If you're not sure exactly what that involves, Birnie gave an overview at a recent Delridge Neighborhoods District Council meeting, and we captured it on video:
Put another way: Here are some of the highlights from events and programs with which DNDA has played a major role recently. Did you attend workshops, watch performances, or meet vendors and community advocates at ReFRESH Southwest at Delridge Community Center in June?
Did you explore the community resources whose representatives came together for Gathering of Neighbors at Chief Sealth International High School last month?
(That's Birnie at right, checking out the GON table for the Nature Consortium, which is based at Youngstown.) Did you hear about – or try – the new healthy-food offerings at the Super 24?
Have you sent a teen to an All-Access afterschool program or creative-arts workshop?
Even all those samples still don't cover everything DNDA facilitates. Assessing its value for potential supporters, board chair Tyler McKenzie puts it bluntly, that organizations like this one "are integral to the success and health of any community."
As Birnie explains, DNDA is one of several community-development corporations (CDCs) in the Seattle area; the others include White Center Community Development Association, which along with Capitol Hill Housing is partnered with DNDA for the just-broke-ground Strength of Place Initiative Village [SOPI] project):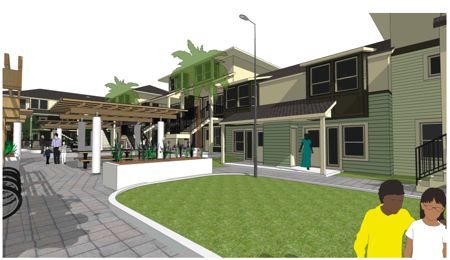 He's proud that theirs was one of a handful of developments of this kind to get "stimulus" funding. But housing developments are not likely to sustain such organizations as well in the years ahead: "With the economic shift, nobody knows what the affordable-housing industry is going to look like," Birnie explains.
So on one hand, it's good that DNDA has diversified. But there's a catch: What DNDA has found itself doing in the community – responding to needs as they arise – has cost more than their existing funding sources allowed for. Set, funded projects like SOPI and the King County Food and Fitness Initiative have funding for the people needed to execute the projects, like a project manager for SOPI – but Youngstown's acclaimed All-Access afterschool arts classes, KCFFI-goal-supporting extras like Delridge Night Market, and others, do not; "surplus" funding that has helped in the past is scarcer now. "We have a pretty broad mission," Birnie observes – while also observing that grants for general operations are not easy to come by.
Even for the funded projects, it's not what it seems – King County Food and Fitness Initiative, for example, is a "spend first, get reimbursed later" program, he explains.
So, some might say, don't spend money you don't have – if a program doesn't have funding, drop it. They have already cut back, according to Birnie – some vacant jobs left unfilled, some staffers' hours cut, and staffers who were in a separate office in Brandon Court are now in Youngstown, to increase efficiency. But how about the big picture – what would eastern West Seattle be without Delridge Neighborhoods Development Association projects? we ask.
To answer, Birnie looks back into history. "I don't think the U.S. is going to go back to the days before the Community Reinvestment Act. This community was underinvested. That's why you see the substandard housing, the higher diabetes rate and mortality." He sees DNDA's work as helping the people who are already in eastern West Seattle achieve better lives, rather than leaving them neglected, or turning the area into a target for the kind of development that would push out those who are there now. It's a fine line, of course – real-estate values in the area have improved since the years when Youngstown was the abandoned, boarded-up original Cooper School.
For projects like the arts classes and collectives that renovated building now hosts as Youngstown, Birnie says he's heard youth refer to them in some cases as meaning so much to them that they can be construed as the difference between life and death – "'A place that values me as a person'," he summarizes.
If you've been to Youngstown Cultural Arts Center, you may have noticed a variety of organizations are based there, like Nature Consortium and Arts Corps. But it's owned by DNDA and staffed by DNDA. While some uses bring in rental income, its operation provides a collaborative environment that Birnie says goes uncompensated – such as, teaching groups that use the facilities how to use the equipment, knowledge they in turn can pass on, or use elsewhere.
He also mentions the "vibrant leadership culture" that DNDA works to nurture – planting seeds through what they're calling Seeds Of Innovative Leadership (SOIL). A small city grant for a pilot project helped facilitate aspects of Gathering of Neighbors last month, including workshops (WSB volunteered to present one about "social media").
DNDA has also been a silent but important partner in work around the peninsula. As a 501(c)(3), it has served as fiscal sponsor for some other organizations – which doesn't require spending money, but does require credibility and trustworthiness, as well as stability.
Its own finances and operations are more complex than you might realize, with the types of work DNDA is facilitating. According to Birnie, it's managing partner for five LLCs.
But that's all way behind the scenes. There's enough of DNDA putting on a public face – once you realize it's work that involves DNDA and its community partners – for you to judge, in deciding whether you can lend support. The request they're making as the year draws to a close is "any gift you can make" – last year's donations ranged from $5 to $10,000, according to Birnie. "Think about the value of what we do," he said, "and give a little more."
If you can't give money, he adds, maybe you can give time: Volunteers are always welcome. "Whether you're an architect, a dancer, a seamstress, or …" he says, "we can find a way to incorporate your skills." He also envisions DNDA moving toward more often "calling on people as voters and citizens."
But right now, next year's budget is still in flux, depending on what they receive to work with. If the request for support is met with "resounding silence" – Birnie pauses – "we'd have to rethink." As in, rethink a lot.
He's not dwelling on that possibility, though. The man who's spent almost four years steering DNDA sees progress – as new businesses open in Delridge, as hopes continue to percolate for an even-more robust Delridge retail core in the future – "the real challenge is to spur new investment" – and to see it continue to blossom.