(SDOT MAP with camera/incident links; OFFICIAL #99CLOSURE INFOSITE; 'low bridge' closed? LOOK HERE)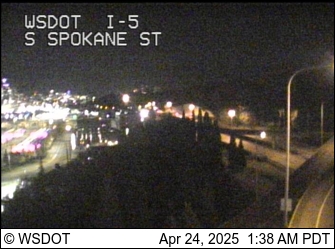 (Click any view for a close-up; more cameras on the WSB Traffic page)
5 AM: Good morning! We're on traffic/transit watch early for Day 1 of the Alaskan Way Viaduct closure, and will be updating what's happening in/from West Seattle, including the Water Taxi dock at Seacrest. No incidents so far.
5:30 AM: Still quiet. We have a crew headed to the Water Taxi dock now; remember, extra parking, bigger shuttles (here's the special info brochure). First run to downtown is at 6:15; here's the schedule.
5:57 AM: The West Seattle "low bridge" is closing to surface traffic for the first time this morning. We'll update when it reopens. We also have a direct link to the @SDOTbridges Twitter account (which tweets other bridge openings around the city) atop this story.
6:10 AM: "Low bridge" closure over, available to land-based users again. Meantime, we've just heard from our crew at the Water Taxi dock, as the first run from West Seattle gets ready to go. There's a line but not the 270+-passenger capacity, so if you're WT-bound, there should be room. Meantime, a commenter says early-morning towing shows the city is serious about those overnight parking restrictions on Harbor to save space for WT parking.
6:25 AM: As you can see in the "live" camera views above (refresh the page for newest images), the high bridge is busier than usual for this time of day. Meantime, the official passenger count for the 1st Water Taxi run out, 78 – we're told that's more than triple the usual ridership for the 6:15 run.
6:48 AM: Todd Orwig reports that the high bridge is definitely "slower than usual." The cameras are showing that too. We've added the I-5/Spokane webcam above, because WSDOT has it pointed west toward the bridge, so you can see the volume headed for 5. … Water Taxi update – 124 for the 6:45 am run. Just under half full. (Here's our Instagram video of the line.) Street parking near Seacrest looks maxed; we're checking on the temp lot across from the 7-11 at Florida. (Update: LOTS of room in that lot. Single-digit usage so far; has 200 spaces.)
7:02 AM: High bridge is wall-to-wall. No incidents in the corridor or on the peninsula, so this is 100 percent just people trying to get where they need to go.
7:19 AM: Low bridge is looking busy too (remember, we have a view of that above, too). And keep in mind some alternatives are new since the infamous 2011 "Viadoom" closure. For example, the South Park Bridge – see the live eastbound view here.
7:26 AM: 180 passengers on the 7:15 Water Taxi run – still room for almost 100 more. Both the high and low bridges are very busy – remember that the high bridge is two lanes outbound since the 99-bound lane is coned off (see the top-right camera). Only incident in the area is a truck stall on *southbound* 1st at Atlantic near the stadiums; police are working to get the truck off 1st and onto Atlantic. Also a note – we are tweeting some photos and observations in addition to this narrative – even if you don't have a Twitter account, you can see our tweets here (also on the right sidebar of WSB in desktop/laptop/tablet-landscape views).
7:42 AM: Scanner has word of a crash at Delridge and Dakota – no other details. Meantime, though there's no traffic cam showing the Admiral approach to the bridge, the southbound hill is gridlock, WSB's Christopher Boffoli tells us.
7:52 AM: Deb reports in comments that 4th Avenue S. is backed up bigtime (she's on the 37 outbound from WS). Meantime, the 7:45 am Water Taxi had 180 passengers – which, again, means there's room for almost 100 more.
8:01 AM: Via Twitter, @voght reports the Delridge/Dakota crash is on the southbound side, and traffic is getting by both ways, on the shoulder on the southbound side. Weather report from co-publisher Patrick Sand at Seacrest – "It's starting to rain." And from Mike Jensen via Twitter (@mjtwit): "Took 40 minutes from West Seattle to I-90 via First Avenue."
8:23 AM: Looks like the Water Taxi peaked last hour – 135, half capacity, on the 8:15 run from Seacrest to downtown (added: photo of line @ pier). The temp lot at Pier 2 also has lots of room for more usage – we asked and as of 8 am, it had only about 20 vehicles, one-tenth capacity. Meantime, the roads and bridges are still status-quo, now rain-enhanced. (Monday is supposed to be sunny and warm.) See comments as well as Twitter for bus riders' firsthand reports – some rave reviews for the temp stop at 4th/Lander if you want to connect to light rail. Update from Christopher, who as mentioned above was outbound from Admiral – the low bridge was moving fairly well, if you're looking for an alternative. (We've only had one bridge opening for vessel traffic this morning, the one way back at 6 am, mentioned above. Don't know if that's because of the tides or the city's request for voluntary "compliance" in rush hours, as reported yesterday.)
8:38 AM: Another Delridge crash, per scanner – actually two at Delridge/Thistle. First was reported to not be affecting traffic, not sure about the second, so avoid if you can.
8:50 AM: 119 passengers for the Water Taxi run that just left. Among them, Junction-residing City Councilmember Lorena González [tweeted photo here]. Also, WT riders were given a survey to fill out – Kathleen tweeted a photo. Rain's intensifying. Also, we have a suggestion from local community advocate and transit user Amanda Kay Helmick via Twitter: Try the Route 113 bus from 20th/Roxbury or Olsen/Myers park-and-rides.
9:02 AM: We've left the Water Taxi dock but are continuing to watch the commute. We'll also have an afternoon narrative going later today, something that, unlike morning traffic coverage, we DON'T usually do, but this calls for it. And of course we'll cover major incidents between am and pm commutes. Once we start adding more news for the day, this will still be linked from the ticker atop our site, and from our "spotlight" boxes atop the home page. Meantime, another WS crash – 48th/Spokane.
9:32 AM: Bridge is still busy but for example, no longer backed up all the way to 35th/Fauntleroy, on that end. So if you're leaving later than usual, things are getting better. However, when you're looking for where to exit – "4th Avenue is the real problem now," we are hearing via the scanner. "Very problematic at this time."
9:45 AM: Crash on the northbound 1st Avenue S. Bridge – see an image in SDOT's tweet.
10:26 AM: First bridge crash today – eastbound West Seattle (high) Bridge at Delridge. Medic unit being called, per scanner, for person who thinks they might be having a heart attack, post-crash.
10:35 AM: The 35th/Fauntleroy entrance to the eastbound bridge is being temporarily closed because of the crash.
11:15 AM: Traffic is now getting by in one lane at the crash scene. We believe that means the onramp is open again but are going over to check in person to be sure.
11:27 AM: Before we could get there, SDOT tweeted that the crash scene is clear, so everything's open again.