(East-facing camera on the West Seattle Bridge; see other cams on the WSB Traffic page)
Nothing major on the routes out of West Seattle so far this morning. If you travel to/through Capitol Hill, two routes are affected by an overnight incident involving someone believed to have been hit and killed by a Metro bus.
HOPING FOR WEST SEATTLE LIGHT RAIL SOMEDAY? TELL SOUND TRANSIT NOW Sound Transit is advertising with WSB (among other media outlets) to let people know about its upcoming "scoping" hearing in Seattle, looking at where its service might expand after "current voter-approved projects are complete in 2023." Whether or not you can go to the November 12th hearing (full details here), you can take an online survey NOW to share your thoughts with ST – go here.
8:51 AM UPDATE: Two-car crash, no injuries on the 1st Avenue South Bridge northbound, just before Michigan: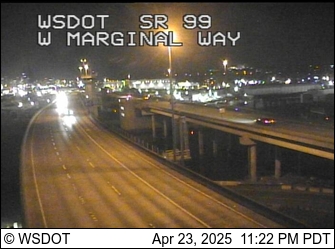 9:08 AM UPDATE: This crash was quickly down to just one lane and not expected to be a traffic-affecting problem for long.
WEST SEATTLE WATER TAXI NOW ON WINTER SCHEDULE: Yet another reminder, today marks the start of the Water Taxi's winter schedule – morning and afternoon/evening commute, weekdays only, through April 6th.
10:05 AM UPDATE: Crash on the Alaskan Way Viaduct, northbound 99 parallel with University. Thanks to reader KD for early tip on this one, before we heard the dispatch on the scanner; police are on the way now. KD says traffic is starting to back up (and shared the following photo):
There's now a medic dispatch to NB 99/Western – not sure if it's this or something else.