(Live view from the east-facing WS Bridge camera; see other cameras on the WSB Traffic page)
6:32 AM: Rainy but otherwise no trouble as the morning commute gets going. Same traffic alert for tonight as last night – another 10 pm-5 am closure of southbound 99 between the Battery Street Tunnel and West Seattle Bridge (Wednesday and Thursday nights too).
7:04 AM: If you use the 1st Avenue South Bridge, this note from WSDOT via Twitter: "On SR 509 northbound just south of SR 99, there is a collision blocking the left center lane."
6:35 PM: As also noted in a separate story, there's a problem with the southbound 1st Avenue South Bridge: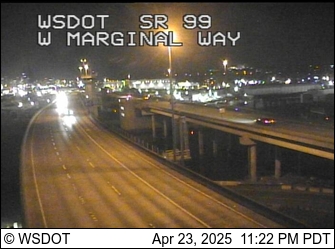 Its drawspan is stuck in the open position. WSDOT says crews are working to fix it.