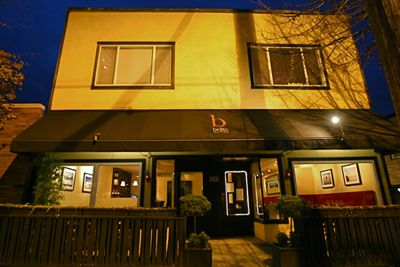 (Photo by WSB contributing photojournalist Christopher Boffoli)
When we published that photo from WSB photojournalist Christopher Boffoli last November, as part of coverage of Beato's closure, little did we know it would wind up in court – where he just won a victory on behalf of intellectual-property rights. We strongly believe in those rights and protections here at WSB — for example, when we are asked for permission to use a photo, if it's not a photo that was taken by one of us co-publishers, we tell the requester that we do not have the rights to the photo, and we forward the request to the person who provided us with it, whether amateur or pro. Same goes for written work – if we link to someone else's story, unless there are unusual circumstances (and involving permission), we don't pull a chunk of the story; we provide the link because we believe you should go read it on the writer's own site. And we have a notice at the bottom of our pages pointing out that photos cannot be used without permission. Sometimes, though, either we, or someone who has contributed photography, discovers a picture used without permission, as happened with the one you see above. Read on for the full story of what happened and how the small-claims court case turned out:
Christopher discovered this past May that his photo had been repurposed, without his permission, without a request even having been made to us; it turned up on a real-estate listing for Beato. It was marked as copyrighted by the listing service. Christopher started investigating and says the listing service told him that they had received it from the listing agent, Laura Miller of Catalyst Commercial Partners, and that she had verified image ownership.
He says: "By now I have become accustomed to the occasional unauthorized use of my images on the web. And I'm satisfied that such situations can usually be remedied by a polite take-down notice as long as the violator apologizes and complies. But it is something altogether different when a commercial interest uses my image without my authorization or knowledge for a six-figure commercial real estate listing. This situation was made more odious by the fact that, when I discovered my image online, it was being used with a Commercial Broker's Association (CBA) copyright flag on it."
CBA, he says, took the photo down within 24 hours. Christopher says he then tried repeatedly to contact Miller, and that she never responded. "And when she failed to take responsibility I decided that I felt it was right to defend my copyright .. I have worked too hard, honing my skills for decades, to just sit back and have my work be exploited. It was my choice to go out into the cold and dark with thousands of dollars of camera equipment to photograph Beato for the benefit of the WSB (in this case as a volunteer without compensation). It was not my choice to just have some commercial entity presumptuously and thoughtlessly steal my image for their own benefit." (Editor's note: Much of Christopher's recent work for WSB has been compensated, as we have become able to pay professional freelance reporters, photographers and technical workers, but he has done an amazing amount of volunteer work for WSB, which we appreciate tremendously.)
Christopher's attempts at getting some acknowledgment from the agent eventually included an invoice. That, too, he says, was ignored. So he filed a case in small-claims court, and a hearing was scheduled yesterday afternoon.
He says the judge, Judith Eiler, first asked if both parties would work with a court-appointed mediator from the King County Dispute Resolution Center. He and Miller agreed, and off they went.
He says he laid out his case, while her dispute "was simply that her assistant uploaded the image … and she didn't know where it had come from. She said they use all kinds of images all the time and have no idea where they come from. … In response to her statement that she was not responsible, I reminded her that it was careless to use an image when she wasn't clear about the origin. When she (or her assistant) made the choice to upload that image to a third party (in this case the Commercial Broker's Association website) and signed a statement claiming to have ownership of the image, that act was a willful violation of Federal copyright law and that to continue to do business that way was to expose her business to considerable liability."
After both sides made their cases and rebutted, Christopher says, they could not agree on compensation, so "we went back into the courtroom to see the judge." Here's his account of what happened next:
She came out of chambers and swore us in. Then she just asked me a couple of simple questions: She asked if I was the copyright holder of the image. I said I was and showed her the copyright certificate. She asked where the image was published. I told her it appeared on the WSB and showed her a print-out of the coverage. She asked if the WSB clearly identified the picture as my own. I said it did. A credit under the image read (Photo by WSB contributing photojournalist Christopher Boffoli). With that she turned to Ms. Miller and asked for her defense. But the judge quickly shot down the "I used it but I didn't know where it came from" excuse. She told Ms. Miller that just because things are on the Web it doesn't mean they're free. The judge then asked Ms. Miller why she thought she wasn't responsible for paying me for the image she used. Ms. Miller answered simply that they never pay for images but just get them for free. The rest of the conversation was the judge asking me how I arrived at the dollar figure. I provided copies of invoices for stock photographs I had sold to graphic design houses where the type and duration of use were similar. I also provided comparable information from Getty Images and Corbis. The judge ruled in my favor for the amount I was asking, $1,000 plus court costs.
The agent has the right to appeal; we have asked her for comment, including whether she plans to appeal, but have not heard back. (In this account of Christopher's case, published earlier today, the writer says she told him she did not want to discuss the case. *8:50 PM UPDATE* Just received a short reply: "No comment. Thank you for your message.")
So when IS it OK to use a photo you find online, if you do not have express permission directly from its owner? There are a few circumstances. Photographers can identify their images, especially on photo-sharing services, as available for public use. Photos from government websites, taken by government employees, are generally considered to be in the public domain. There is a much larger body of discussion regarding so-called "fair use" that some might argue makes even more copyrighted material available in certain contexts; the debate, in and out of court, goes on, and you can read about it in myriad places online including here.