November 26, 2012 at 12:48 pm | In
West Seattle fires
,
West Seattle news
,
White Center
|
3 Comments
(Cross-posted from partner site White Center Now)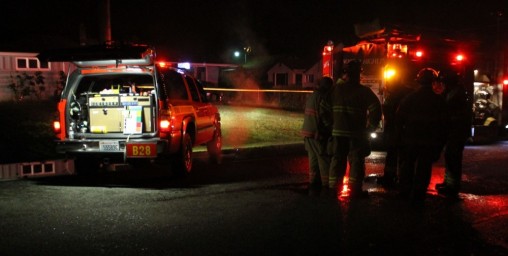 (WSB/WCN photo from Saturday night)
Two updates today on Saturday night's deadly fire on 28th SW, just south of Roxbury: First, according to King County Sheriff's Office spokesperson Sgt. Cindi West, it's been ruled an accidental electrical fire. (Though no crime was believed to be involved, Sgt. West was dispatched to the scene to help coordinate communication.) Second, the sister of the home's resident, 71-year-old Peggy Munsen, has spoken with WCN news partner The Seattle Times and confirmed that Ms. Munsen is the woman who died in the fire. That's the same information given to us that night by a friend, but WSB policy is to withhold names until officials and/or family confirmed it. Ms. Munsen's sister is former West Seattleite, now Bremerton resident, Kay Trepanier, long known for her business Cruises By Kay. As she told The Times, her sister went into the cruise business too. There is no word yet of memorial plans.
3 Comments
My sincerest condolences to the Munsen/Trepanier family.

.

Mike Stahl
Student of Margaret Munsen's (their Mother) 1st Grade Class at Lafayette, 1964-'65.

Comment by miws — 2:23 pm November 26, 2012 #

Another student of Mrs. Munsen Lafayette 1967-68. Wishing her family well. May her daughter Peggy rest in peace.

Gina T.

Comment by gina — 2:41 pm November 26, 2012 #

My heartfelt condolences to Kay. I'm so sorry for your loss.

Comment by Paula Tortorice — 6:43 pm November 26, 2012 #
Sorry, comment time is over.
All contents copyright 2005-2015, A Drink of Water and a Story Interactive. Here's how to contact us.
Header image by Nick Adams. ABSOLUTELY NO WSB PHOTO REUSE WITHOUT SITE OWNERS' PERMISSION.
Entries and comments feeds. ^Top^