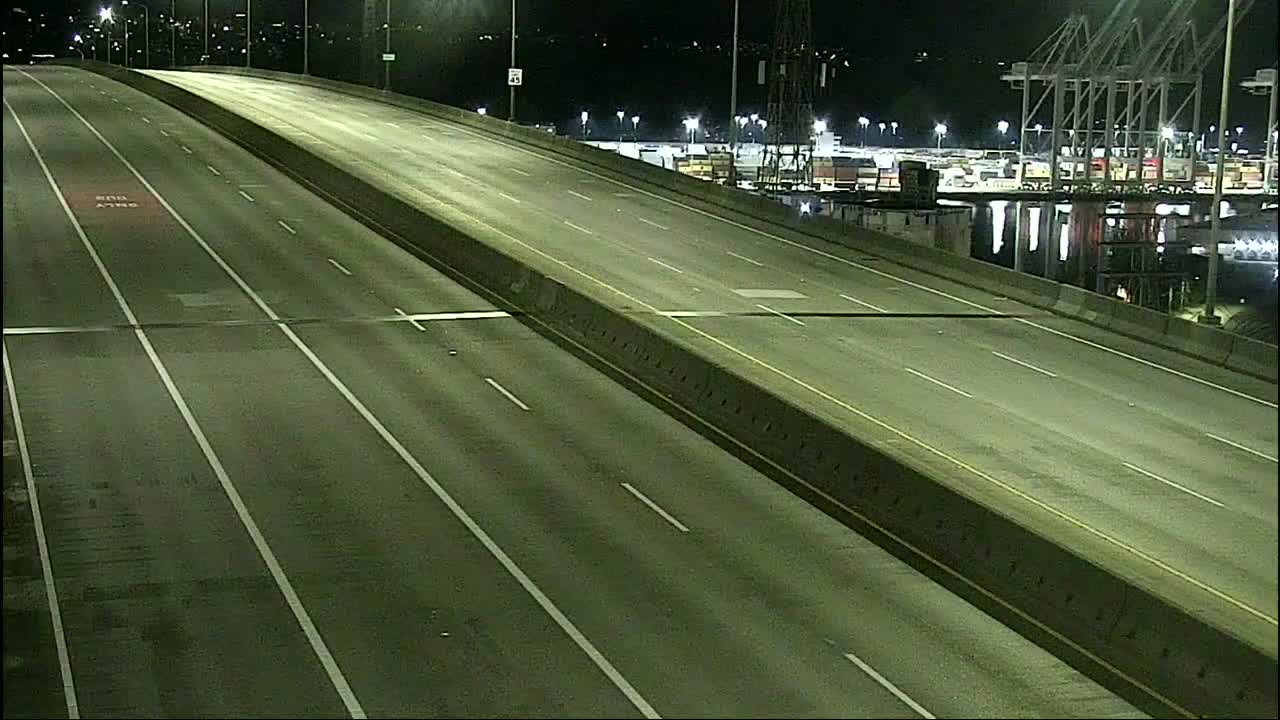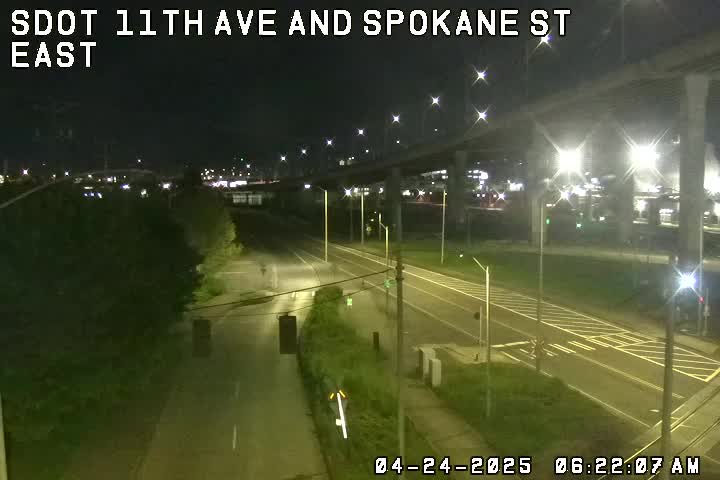 (SDOT MAP with travel times/video links; is the 'low bridge' closed? LOOK HERE)
6:35 AM: Thanks for the texts – the northbound Alaskan Way Viaduct is blocked, all lanes, by an incident near Seneca. More to come.
6:44 AM: The incident has been described both as a collision and as a vehicle fire. It already has NB 99 backed up all the way past the West Seattle Bridge.
7 AM: SDOT says one northbound lane is now open. Backups stretch to the 1st Avenue S. Bridge, though. Though Metro has not issued an official alert, some buses have rerouted, we're hearing via comments and Twitter.
7:14 AM: Commenter and texter say the vehicle involved was labeled as being from Cupcake Royale. We haven't heard whether anyone was hurt.
7:21 AM: If you're on Delridge, note that two Seattle Fire units are headed to Louisa Boren STEM K-8 school for an automatic fire alarm. **No** word of an actual fire, but just in case you see the response while stuck in bridge/Viaduct-bound traffic and wonder.
7:30 AM: Back on the NB Alaskan Way Viaduct, Seattle Fire has cleared the scene, and no medic unit was involved, so if anyone was hurt, it wasn't major. But the lane closures remain.
7:41 AM: The aforementioned fire-alarm call at STEM K-8 has closed, no fire, SFD units back in service. Meantime, on NB I-5 on the north side of downtown, an SFD aid response has blocked a lane, so I-5 as an alternative to 99 has one more challenge right now.
7:44 AM: Metro has now sent an alert about the reroutes that readers have been mentioning:
Transit Alert – Expect service delays on rts 21, 55, 56, 57, 113, 120, 121, 122, 123, 125 & the C Line due to a blockage on SR-99/Seneca St.

— King County Metro 🚌 (@kcmetrobus) October 2, 2017
7:50 AM: The NB I-5 incident has cleared.
8:12 AM: NB 99 has NOT cleared. Here's the camera we're watching.
8:20 AM: Looks like a tow truck has shown up at the 99 scene. (Added a few minutes later, screengrab from the SDOT webcam):
8:29 AM: Tow truck's taken it away. Waiting for word of reopening.
8:32 AM: And that word has just come – all lanes open again – with the caveat about "residual delays."
8:39 AM: Now that the incident is closed – a reminder that the Viaduct will be *deliberately* closed this weekend for its twice-yearly inspection closure as well as some other work – northbound all weekend (late Friday night to early Monday morning), southbound 5 am-6 pm Saturday and again Sunday (if needed).
9:18 AM: No further incidents. Thanks again to the first person who tipped us to the trouble in the early going – our breaking news hotline, text or voice, 24/7, is 206-293-6302.
9:30 AM: And now … word of a crash on the eastbound bridge, no injuries. Waiting for word on exactly where.
9:36 AM: Looks to be somewhere on the high-rise, per where SDOT is turning one of the bridge cameras.
9:41 AM: From SDOT:
There is a collision on the West Seattle Bridge mid span blocking the left EB lane. Use caution. pic.twitter.com/DdRJF3tyK9

— seattledot (@seattledot) October 2, 2017
9:49 AM: SDOT says the bridge crash has cleared.
10:14 AM: We're working on a Viaduct followup but in the meantime, via Twitter, we shared a photo by Brian, who was on scene right after the van fire erupted, and also, Cupcake Royale says its driver is OK.