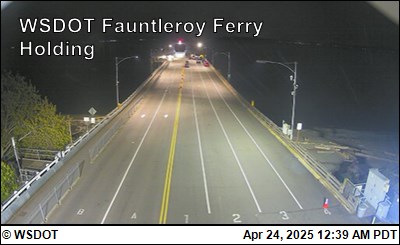 (WSF "live" view of Fauntleroy terminal loading zone)
3:01 PM: Washington State Ferries says the Fauntleroy-Vashon-Southworth route is down to 2 boats because the M/V Issaquah is having mechanical trouble. This is separate from the problem that canceled some M/V Kitsap runs this morning because of a crew shortage.
6:38 PM UPDATE: WSF says M/V Sealth will take the Issaquah's place at mid-evening, but it's still 2 boats until then:
The M/V Issaquah is out of service for the remainder of the day due to an issue with the clutch. This will cancel the following sailings:

Fauntleroy 7:10 pm and 8:15 pm
Vashon 6:35 pm and 7:45 pm
Southworth 6:15 pm

M/V Sealth will sail the remainder of the service day for the Issaquah beginning with the 8:45 pm departure from Vashon.

Please expect delays due to the service disruption on the route.
6:46 AM MONDAY: The Issaquah is repaired and back on the route, which has returned to full service, WSF says this morning.