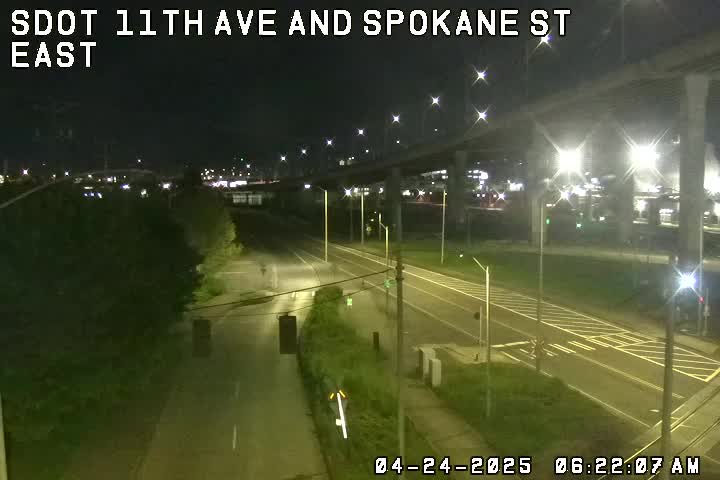 (HERE'S THE SDOT MAP with travel times/video links; is the 'low bridge' closed? LOOK HERE)
6:07 AM: Good morning! First, please note that SDOT's cameras for the "high bridge" are not working this morning, so that's why you don't see them above. Second: No incidents right now in/from West Seattle. Third, alerts:
FERRY ALERT: The Fauntleroy-Vashon-Southworth run is still down to two boats, since the Issaquah was taken out of service Sunday afternoon because of mechanical trouble.
ROXBURY SIDEWALK WORK: The two-month project to build sidewalks and replace road panels along the south (eastbound) side of SW Roxbury between 28th and 30th is scheduled to start today, according to the most-recent announcement from King County Roads. We'll be checking the area for signs of staging.
WEST SEATTLE SUMMER FEST: From Thursday night through Sunday night, California SW in The Junction, between Edmunds and Genesee, will be off-limits to motorized vehicle traffic, as will SW Alaska between 42nd and 44th, all for West Seattle Summer Fest – road closures start at 6 pm Thursday for setup and continue until late Sunday night for breakdown. Lots of fun stuff during those nights and days, too, and we'll be publishing more previews later today and right up until it all begins. This of course means bus reroutes too – Metro hasn't published them yet but they'll be part of our coverage too (and if you find yourself in The Junction during the festival, looking for where to catch a bus, come see us in the Info Booth at California/Alaska because we'll have the list).
9:29 AM: As pointed out in comments, Fauntleroy-Vashon-Southworth is back to all three boats.