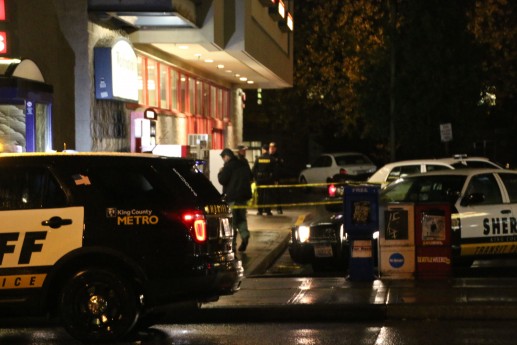 (White Center Now photo from Sunday night)
Two nights ago, on our partner site White Center Now, we reported on a stabbing at 15th and Roxbury in White Center, as King County Sheriff's Office deputies and detectives searched for three men who stabbed a 26-year-old after he got off a bus. What we didn't know until tonight is that the victim is an employee at two West Seattle restaurants. The co-proprietor of one, Ma'Ono's Marjorie Chang Fuller, forwarded us the YouCaring page that seeks help for the victim's recovery, with this update:
Ramon Aspeitia is a highly respected and extremely hard working employee at both Shadowland and Ma'ono in the West Seattle Junction neighborhood. He was viciously attacked by 3 men and brutally stabbed in the back on his commute home after work Sunday Oct 25th around 6:30 pm at his bus transfer in White Center. He is currently in Harborview Medical Center, fighting to be stabilized and to regain feeling in the lower half of his body. We are all hoping for a full recovery and he could use your thoughts and prayers at this time. This is gonna take a tremendous toll on his family and of course his 2 children. We're asking the community to help in any way they can. Every bit will help his family with the medical and monthly bills while he recovers. His family will greatly appreciate anything you can do to help..