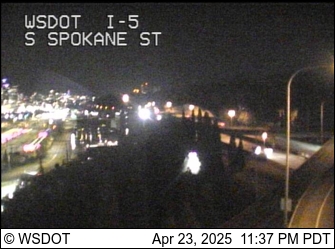 4:06 PM: Thought this one would be clear by peak pm commute, but it isn't yet, so: A crash is blocking the right lane of the westbound bridge, Spokane Street Viaduct section, right by the 1st Avenue South ramps and Harbor Island exit. Scanner-monitored discussion seems to indicate tow availability is an issue. So if you are heading this way sometime soon, southbound 99 might be a better bet than anything to the east of it.
4:51 PM UPDATE: The traffic camera has been turned, so we can't see the original scene, but checking other cameras, the westbound Spokane Street Viaduct seems to be moving OK. However, we've just heard police dispatched to the Marginal/Chelan/Delridge/etc. intersection for this afternoon's anti-Shell protest. Can't tell from the SDOT cameras what's happening there (except that police are just arriving, and then going out of frame); we're on the way to check it out.
5 PM: Also happening now: A mid-level SFD response on Bradford west of Avalon. They're handling a deck fire.
5:25 PM: The fire response is way uphill from Avalon toward the Bradford dead-end, not affecting traffic. We also have just passed the five-ways intersection; police and a few demonstrators, one with a megaphone, are visible, and westbound traffic on West Marginal is backed up to a block south of the bridges.
5:35 PM: Passing back westbound 10 minutes later – the demonstrators aren't there any more; a group of bicycle officers are under the flyover a short way north off the spur of West Marginal.
5:42 PM: TW pointed out in comments that RapidRide C Line is running slow; Metro has just texted to blame "traffic." No further elaboration.