(Live view from the east-facing WS Bridge camera; see other cameras on the WSB Traffic page)
Second-to-last day of February – here's a look at the West Seattle Bridge (above) and 99 (below) cams: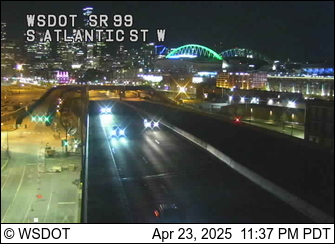 Thanks in advance for traffic updates if you encounter something your West Seattle neighbors should know about – 206-293-6302 if you are able to safely/legally text or call; Twitter works too – we're at @westseattleblog.
CLOSURES AHEAD: Quick reminders – the Viaduct/99 is closed all day Saturday plus Sunday morning (but open Saturday night so you can get to and from the Sounders game) – details here; the Delridge/Trenton weekend intersection closure will be preceded by a block of Trenton closing Thursday – details here.
P.S. We almost forgot – one more closure this weekend; mentioned it last week but haven't brought it up again this week. The ramp to southbound I-5 will be closed this weekend too, as part of the WSDOT repair project that's been closing various ramps at the Spokane St. Interchange on various weekends.