(***scroll down/refresh for frequent updates, in the main text below and in "comments"*** – INFO LINKS: WSB TRAFFIC PAGE WITH CAMERAS – METRO ROUTE STATUS LIST – SEA-TAC FLIGHT STATUS – COUNTY CLOSURES INCLUDING COURTS – OTHER NOTES: "PLAID TIDINGS" STILL ON – SATURDAY MAGIC SHOW AT ADMIRAL STILL ON – "ADMIRAL SINGS CHRISTMAS" FOR SUNDAY, POSTPONED TO 12/28 – WEST SEATTLE FARMERS MARKET FOR THIS SUNDAY HAS BEEN CANCELED – TODAY'S TRASH SERVICE CANCELED (DETAILS HERE ON WHAT'S NEXT – TOM RASMUSSEN'S VIADUCT CHAT STILL ON FOR 8:30-10:30 SAT MORNING AT JUNCTION UPTOWN – SAT. CHRISTMAS KEYBOARDS AT KENYON HALL POSTPONED TO 1/3/09 — please e-mail updates to editor@westseattleblog.com)
(Carryover photo from the morning – courtesy Dan – 18th/Brandon/Dawson 8″ water-main break, 50 homes without service; late-afternoon update from Dan, OPEN AGAIN)
Launching the afternoon update now. ALL MORNING INFO, INCLUDING EXCELLENT FIRSTHAND REPORTS IN THE COMMENTS SECTION, IS HERE.
1:26 PM UPDATE: From Illusions Hair Design (WSB sponsor), word that they're in till about 3:30 pm today – had hoped to be open Sunday but with the next storm, they have revised plans and will be open TOMORROW (Saturday 12/20), 11 am-5 pm. If you have appointments in the days ahead, call 24-our line 938-3675 "to let us know if they are able to get here safely, and to leave messages if they wish to schedule appointments. We will notify those with appointments already scheduled if they need to be adjusted," says Heather at Illusions, adding they still plan to be open 9 am-9 pm Mon-Tues, and Tues is the annual Open House with "goodies throughout the day and other fun stuff." Then they're closed for the holiday AFTER Tuesday 12/23, till 9 am 12/29.
Wondering about the forecast? Ricardo pointed out on partner site White Center Now that well-known meteorologist Cliff Mass has updated his prediction. And it still sounds … a bit scary. Be ready for possible power outages, in addition to the wintriness we're all used to after the past week.
And as the afternoon progresses, new photos of major arterials are helpful for those driving home from work — we'll start, looking north on Thistle from California:
We're taking the mobile newsroom on the road for a while so we'll have more road reports a bit later. Meantime, speaking of that next storm, a REALLY IMPORTANT reminder from King County Public Health:
High winds forecast this weekend may lead to power outages in some parts of King County . Given the cold temperatures, Public Health advises all residents to take steps to stay safe and warm and especially to avoid carbon monoxide poisoning.

"We can't predict which neighborhoods if any may lose power, so we want to encourage all residents of King County to have a plan about how to stay warm and safe during adverse weather," said Dr. David Fleming, Director and Health Officer for Public Health – Seattle & King County . "If possible today, stock up on supplies you may need during the weekend and think about how you will stay warm and safe during a possible outage."

Carbon monoxide poisoning

Carbon monoxide poisoning can kill you Avoid carbon monoxide poisoning by never using a gas or charcoal grill, hibachi, or portable propane heater to cook indoors or heat your home. Carbon monoxide gas comes from burning fuels such as gasoline, propane, oil, kerosene, natural gas, coal or wood and can cause injury or death.

· During a power outage or at any other time, do not operate fuel-powered machinery such as a generator indoors, including the garage
· Do not cook or heat with charcoal barbeques inside your home
· Avoid combustion "space heaters" unless there is an exhaust vent

Carbon monoxide poisoning can strike suddenly and without warning. In some cases, physical symptoms of carbon monoxide poisoning may include splitting headache, nausea and vomiting, and lethargy and fatigue. If you believe you could be experiencing carbon monoxide poisoning, get fresh air immediately. Call for medical help from a neighbor's home. The Fire Department will tell you when it is safe to reenter the home.

For a full list of carbon monoxide prevention tips and other safety and disaster information in English and other languages, visit www.kingcounty.gov/health/disaster.
2:10 PM UPDATE: From comments – a route that hadn't been reported much yet:
I can see Fauntleroy traffic just north of the Ferry Dock from my window. Traffic is moving north and south at a reduced speed, thankfully, but seems to be operating without problems.
We're in The Junction at the moment. Lots of people out. California's a little compact snow/ice/bumpy from the bottom of the Gatewood hill toward here, but certainly passable. Just one request – once you start moving, please be slow and steady. People are pulling over thinking they're doing the right thing, but that's actually more dangerous, and unsettles those driving past.
2:22 PM UPDATE: Thanks SO MUCH to Alice Enevoldsen, who has taken the info that people have provided and created an UNOFFICIAL Google Map to current state of West Seattle road quality:
View Larger Map
Here's the link to it directly if you want to see it in the Google environment. THANKS, ALICE! And thanks to Scott C for sending this photo of the Roxbury Safeway parking lot:
WJG also sends this potentially helpful anecdote:
My wife and I came downstairs this morning to find that the furnace had shut off and the thermostat was blank (no power). I assumed that the thermostats had gone bad and needed to be replaced. I started calling around to purchase one. I called and spoke with Murphy at Brennan Heating and Air Conditioning. He suggested that I check the condensate line for the furnace. (The condensate or water is the result of combustion and may be set up to drain on the exterior of your home). Murphy explained that the condensate would freeze in the line and the backup of condensate/water would activate a sensor or switch which prevented the furnace from entering the heating cycle. After checking the line at his suggestion and spending 30 seconds with my wife's hair dryer blowing warm air into the line, my furnace was back up and running. Again, while I hope no one else is having this problem, Murphy did say that a large number of their service calls during this cold snap could be attributed to this. He probably saved us the money I would have spent on the
thermostat and a service call.
2:39 PM UPDATE: Brief flurry here at The Junction. Meantime, SDOT says "refreezing" tonight may require "refocusing on primary roads." And WestSide Baby needs help. This just in from Nancy Woodland:
The weather has impacted our operations this week to a near standstill.
This is especially concerning timing with orders waiting for children
expecting warm clothes and toys for Christmas. We need extra hands to help
us sort the many donations we've received (yeah!) and to fill orders for
pick up by our agency partners on Monday. We've been closed for most of
this week but will be open on Saturday from 10am to 3pm for volunteers,
donations and pick-ups. Although our parking lot can be treacherous we're
inviting people to make their way to White Center to help out if they are
comfortable driving. Because of the volume, we'd love to have adult or
experienced volunteers only so that we can make the most of the time we'll
have tomorrow before the snow hits again. Even an hour or two makes a huge
difference.

Because of this week's unpredictability, please call our phone in the
morning or check our website if there is concerning weather between this
afternoon and tomorrow. Of course, today our voicemail outgoing message
isn't working properly so we hope that will be a good tool for communication
tomorrow.

We also plan to be open Monday 9-3 (weather permitting) and possibly on
Tuesday too. Thanks so much to everyone who supports WestSide Baby!
Photo from Ann – 16th SW, looking south from SW Henderson: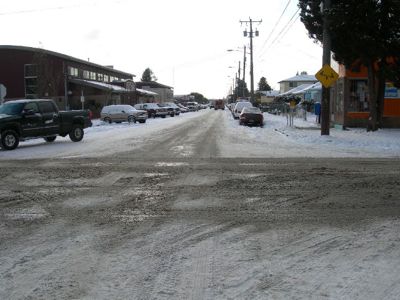 3:54 PM UPDATE: Back online after a while in transit. Some updates from the road in a moment. First, the latest from Jessie at Skylark Cafe and Club (WSB sponsor) – they're open:
We are back in business today, all employees made it in…ElodieO from NY is rescheduled from last night and is now playing tonight at 8:00 pm in addition to the scheduled acts, so if we don't get any cancellations from other bands we will have at least two, and likely more acts tonight (up to 4). Send anyone going stir-crazy in the Delridge neighborhood our way for hearty meals and warming beverages!
Also, 18th at Brandon is open again, reports Dan, who had originally reported its closure (see photo above). Meantime, if you're going to Westwood Village (the other 2/3 of the team are headed there now and promised to bring back a pre-dusk photo), Todd has this alert:
Just wanted to get the word out that a possible scam artist was making rounds at the Westwood QFC earlier today. A petite Asian woman with an empty shopping cart and a QFC gift card was approaching people (my fiancee included) and in very broken English asking people to pay for her groceries in exchange for her gift card. My girlfriend very politely told her that the gift card should be usable here and we went on our way, but she tried to persuade us at least two more times. It could be an actual case of the language barrier causing this woman some confusion, but it seemed really weird and not at all reasonable, especially when she became more aggressive.
Via "lasagnahog" on Twitter, an important reminder, if you haven't thought of it already: Charge EVERYTHING today and tomorrow in case that next storm really DOES bring outages. (We have extra laptop batteries plus extra Internet access so we'll be online – yes, we know, you might not be able to get to your computer, but even during the '06 windstorm when comparatively few people knew about WSB, some folks called out-of-area friends/relatives and had them read the latest updates. Or you can call us – write our number down, 206-293-6302.)
4:14 PM UPDATE: Adding some photos from our recent travels. First, Thriftway/Tully's lot in Morgan Junction has its own snow-clearing going on:
South of there, here's the California SW hill looking south from right about Caffe Ladro:
Same hill, looking north from ABOVE Morgan Junction:
For some reason, we liked this picture of the pigeons huddled for warmth (?) over the Junction 7-11 sign:
Just noticed the old Corner Inn awnings are finally off the future Zeeks Pizza at California/Fauntleroy:
Here's the tricorner at Erskine/Edmunds/California in The Junction (by the way, probably too late to matter now, but we discovered the WaMuJPMorganEtc drive-through had a weather closure today – walk-in bank at Cali/Oregon was open):
And here are the Icicles of Doom over Matador:
Kelly Johnston sent this one:
Not that you were likely to be traveling that far south, but we just heard via Twitter that Zoolights is canceled tonight at Point Defiance (one of our seasonal faves but we haven't been yet).
4:33 PM WEATHER ALERT UPDATE: Now we're up to a Winter Storm WARNING for 4 pm Saturday to 4 pm Sunday. Newest forecast here. See the official National Weather Service briefing presentation here.
Commute reminder: West Seattle-relevant traffic cameras (including I-5, 99, 1st So. bridge) on the WSB Traffic page.
5:31 PM UPDATE: A few more road-conditions photos before they are too outdated – they're all predusk but in some cases that's as little as an hour or so ago. First, our trip east on SW Trenton from 35th to Westwood Village:
Minoru photographed SW Holden and says, "This is what Holden and 28th looked like about an hour ago (looking east on Holden) — they have the "closed" sign at this intersection and at the bottom of the hill by Delridge, but a lot of people were ignoring the sign (mostly SUVs). The only cars I saw spinning wheels were front-wheel drive sedans."
From SDOT on Twitter (twitter.com/sdotsnow, their first experiment with this increasingly popular service): "As of 5:30 p.m., major roads remain passable across the city. SDOT keeping a close eye on temps and possible refreezing."
5:59 PM UPDATE: Another pre-dusk road-condition photo – from Arbor Heights, Julie sends this shot of SW 106th, looking toward California (map):
We'll start the evening post within the hour, after a few more "other news" notes in separate posts.
6:37 PM UPDATE: But first, a bus-related update from the Washington State Ferries service bulletins:
Riders of Metro bus #54 which stops at the Fauntleroy terminal are advised of a 2 bus schedule now in effect due to inclement driving conditions. There is only one bus in each direction at this time. Passengers are advised to plan for long waits at stops along bus route 54. Smaller buses are being used for better handling and control.
TV says Puget Sound Blood Center really needs donations. Can you help? psbc.org
7:43 PM UPDATE: Since not much is happening, we'll just keep this update going through the evening. Working on a "pre-windstorm essentials" separate writeup right now, so look for that later (as well as a couple of other standalone weather-related items). New forecast should be out in the 9 pm hour, so that's when we'll get the next assessment of how things are shaping up for the weekend. (It'll be here … [added later] still on the same track as predicted earlier, snow/wind arriving late tomorrow.)
8:47 PM NOTE: Kenyon Hall has postponed tomorrow night's Christmas Keyboards show till 8 pm Jan. 3. We are continuing to update the Holidays and Events calendars as we hear of postponements or changes, but we've also made notations when we know events ARE STILL HAPPENING – like tomorrow morning's Holiday Magic show at the Admiral Theater (11 am).
10:06 PM NOTE: In the WSB Forums, a discussion's under way about where to go if the power goes out. We're continuing to research but have contributed a few resources. Do you have advice to share from 2006, or any other major outage? Join the conversation!
10:52 PM NOTE: Sounds like police may be checking out Charlestown hill (west of California SW) — just heard scanner chat about people possibly out there with beer and maybe even fireworks. And yes, there's now another callout to 46th and Charlestown. By the way, as steep as that section is, it's not the steepest – one of the top three steepest streets in Seattle is the section of Charlestown between 59th and 60th, 20 percent slope (full steepness list here). Update – fire engine there too, something about a burn barrel.
11:46 PM UPDATE: And ATV's, too (again, per scanner). Wow, must be SOME scene over there. 46th SW/SW Charlestown seems to be the epicenter.