(QUICK LINKS: Bus reroutes … music lineups … vendor & sidewalk-sale lists)
10:57 AM: Lots of people already here in The Junction as the second day of West Seattle Summer Fest begins: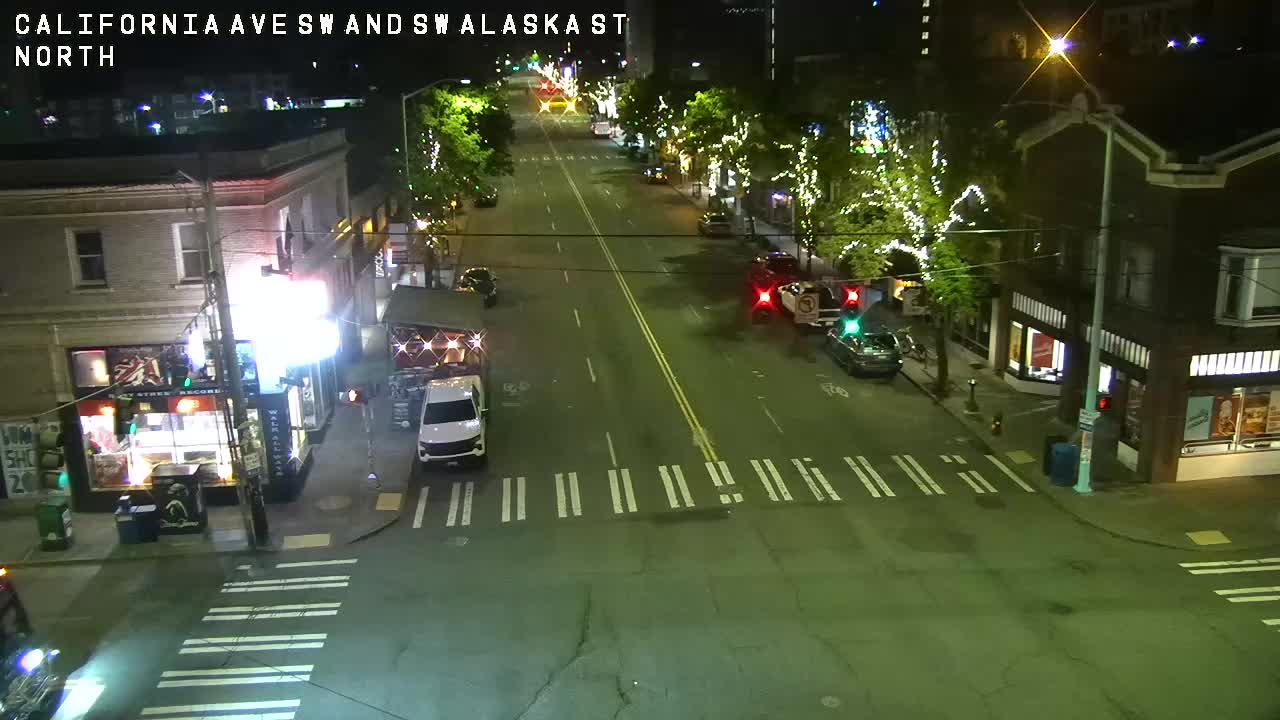 That's the latest view from the city traffic cam right over Walk All Ways, where we're in the Info Booth all festival long. Besides info, this is also where you'll find festival merch, and local organizations:
Left to right above, from SPD, community-service officers Phil and Janice with crime-prevention coordinator Jennifer. Find out what CSOs can help with, and/or talk with Jennifer about Night Out (coming up August 1st). And if you're accompanied by a young festivalgoer, ask about Emery the Emergency Penguin … In Junction Plaza Park, the West Side Stage has performances today and tomorrow, starting with New Age Flamenco at 11 am, a few minutes away; the Main Stage, on California north of Oregon (by the post office), gets going at noon with a showcase by Mode Music (WSB sponsor). … Assisting with the Kids' Area today is Hope Lutheran School – go say hi to Melanie and Sally:

11:39 AM: Here's a sample of New Age Flamenco's West Side Stage performance:
Some questions already at the Info Booth about upcoming events:
—Farmers' Market. Regular hours tomorrow, 10 am-2 pm Sunday, but NOT the regular space – like last year, it'll be on California north of Oregon (where the main stage and beer garden are until late tonight)
—West Seattle Grand Parade – California will be closed again for part of next Saturday (July 22nd) for the parade and the Float Dodger 5K that precedes it. … Back to what's happening right now. Yes, dogs are allowed at Summer Fest, and we're seeing more today than Friday – even dogs in backpacks. There's a pet zone by Next-to-Nature on the west side of California a short distance north of Alaska. … We're continuing to feature candidates who stop by the Info Booth – first one today is Seattle Public Schools Board of Directors candidate Maryanne Wood, one of three people vying for the West Seattle/South Park seat that Leslie Harris is leaving:
Your ballot should be arriving shortly if you didn't get it already; here's our election preview.
12:36 PM: Main Stage music has begun with the Mode Music student showcase:
That's the band 4-Inch Devil Horns. We also photographed musicians waiting to go onstage – meet Phoebe and Archie of Velvet Photograph:
Archie comes from a musical family – his dad is Easy Street Records proprietor Matt Vaughan. … Yet another way to experience music at Summer Fest – West Seattle Community Orchestras' "instrument petting zoo" and demos inside ArtsWest (on the west side of California a few doors south of SW Alaska) – continuing until about 2 pm. Rob and Dawn were playing outside:
1:44 PM: If you have a question for SPD's crime-prevention coordinator or community-service officers, they're handing off the community space in the Info Booth shortly – Seal Sitters Marine Mammal Stranding Network will be here. Meantime, we're just back from a walkabout on the block of California south of Alaska. When you're wandering the festival, be sure to look toward the sidewalk too – most of the year-round Junction merchants are having sales:
There are also local businesses that you might not normally see – such as the Himalayan chai stand that's usually inside Puerto Vallarta, now out on the sidewalk for the festival:
Almost 2 pm – music continues on both stages, with new performers at the top of every hour.
2:22 PM: Seal Sitters is fully set up – with three hands-on exhibits:
Gray-whale baleen, sea otter pelt, harbor-seal pelt. One more note about the Info Booth – if you lose or find something, you can turn it in here to volunteers with the West Seattle Junction Association (which presents Summer Fest) – earlier today, for example, a festivalgoer and his lost phone were reunited. … Another festival logistics datapoint: Restrooms – two places to find the portables are in the alley off Alaska between California and 42nd, and along the west side of California just north of Edmunds.
2:53 PM: Did you see DancePowered here Summer Fest Eve? They're scheduled to dance here in Walk All Ways at 3 pm.
3:07 PM: The dancers are finally about to start. Meantime, we've had another candidate sighting – Teresa Mosqueda, the at-large City Councilmember who's running for the King County Council District 8 seat that Joe McDermott is leaving.
With her is daughter Camila. (Again, we take photos of all the candidates who stop by the Info Booth – where we're on the north side – so if you're running for something, stop by.)
3:55 PM: Since this is the longest day of Summer Fest, we break the day's coverage into two – so our second as-it-happened report will start shortly!
–