5:17 PM: Since multiple factors might affect your homeward drive/ride, we're on pm traffic/transit watch. So far: The protest march isn't a march yet – it's gathering first at Cal Anderson Park on Capitol Hill. (CapitolHillSeattle.com is tracking it on Twitter.) When protesters do march, the route is expected to be west on Pine to 2nd, then southbound to the Federal Building. Some buses are rerouting, per Metro.
Meantime, as mentioned in this morning's traffic/transit watch, the stadium zone will be busy tonight with the Sounders' 7:30 pm playoff match vs. Portland.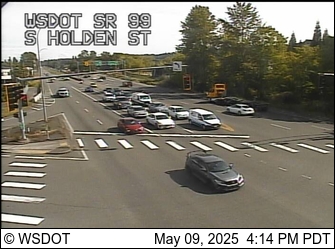 And not related to either, but a crash in the West Marginal Way S/Holden area – by the South Transfer Station – is causing trouble between West Seattle and South Park.
5:50 PM: The march from Capitol Hill to downtown started a few minutes ago, CHS's Justin Carder reports.
Thousands headed to 2nd Ave where mayor will speak pic.twitter.com/c2846vXCsd

— jseattle (@jseattle) November 9, 2018
6:07 PM: Scanner indicates protesters are still on Pine, westbound between 3rd and 9th.
6:14 PM: If you're outbound from West Seattle – a crash is reported on the eastbound bridge by the Delridge onramp.
6:24 PM: The marchers are reaching their destination on 2nd; here's the city camera at 2nd and Marion: 6:31 PM: SDOT says that West Marginal/Holden situation has finally cleared.
7:35 PM: 2nd Avenue is clear; the downtown march/rally ended peacefully; the soccer match has begun.