(SCROLL DOWN for latest – as of 6:15 pm, most of the closed freeway stretches have reopened)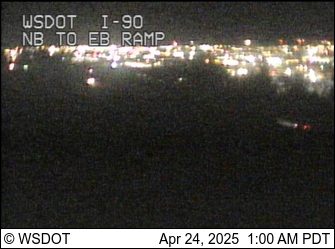 (WSDOT traffic cam closest to the truck wreck – refresh page for newest view)
2:38 PM: I-5 is still shut down both ways north of the West Seattle Bridge, four hours after a tanker truck went sideways on the southbound side near I-90 (see our earlier coverage here). This is affecting vehicle traffic just about everywhere. But the process of offloading the wrecked tanker's cargo to another truck is getting going, so we're launching this afternoon report and will keep you updated here.
2:50 PM: As tweeted by SDOT, here's the current closure list:
Meantime…
Loud snow. Covering the street fast. pic.twitter.com/thTOozDRIS

— West Seattle Blog (@westseattleblog) February 27, 2017
3:43 PM: Complicating things, the snow's back, after thunder/lightning. There's an alert for wintry showers until mid-evening. And it's covering the street FAST.
Definitely heavier than the snow showers we covered just at morning light, 9+ hours ago.
4:18 PM: The snow's finally easing, here and elsewhere in the city. Meantime, the tanker-truck offloading continues. We're adding traffic cameras here by request shortly, to help (if that's even possible) with the pm attempts to get home. But first:
That's a 4:15 pm look at the Water Taxi line at Pier 50 – thanks to Christian Buhagiar for the photo. Here's the WT schedule.
4:39 PM: State Patrol says what's now described as propane (earlier, they said butane) is still being offloaded. And that's just the prelude to pulling up the truck, and likely some cleanup and other followups after that, so don't expect I-5 to reopen any time soon.
5:06 PM: To check the cameras on potential alternate routes, see our traffic-info page. Meantime, commenters say the 4:45 pm Water Taxi to West Seattle left at capacity and there's a big line for 5:15 pm. We're getting bus-delay reports too. No easy way to get back home today.
5:33 PM: Water taxi's 5:15 pm run is reported to have been at capacity too:
@westseattleblog the line waiting for the 5:15 run now goes all the way back under the viaduct pic.twitter.com/K4VUJXK9R3

— Steve Voght (@voght) February 28, 2017
5:43 PM: And as for the wreck itself:
Two Class – C tow trucks working alongside Seattle FD to slowly lift the tanker onto it's wheels. We are getting closer to opening I-5 pic.twitter.com/ep9cJERafA

— Trooper Rick Johnson (@wspd2pio) February 28, 2017
5:59 PM: Thanks to ACG for pointing out that South Seattle College (WSB sponsor) has announced both its campuses are closed tonight because of the weather.
6:12 PM: The reopenings have begun …
Rejoice! EB I-90 at the stadiums is back open! Take it slow & use caution. A lot of collisions happen after closures pic.twitter.com/2rlaISsQs4

— WSDOT Traffic (@wsdot_traffic) February 28, 2017
And a moment later, WSP tweeted that southbound AND northbound I-5 are reopening – only the collector-distributor lanes (where the crash happened) will remain closed for now.
8:30 PM: Everything is open again, including the collector-distributor lanes.