(Six WS-relevant views; more cams on the WSB Traffic page)
5:59 AM: Good morning! So far, the weather challenges are all OUTSIDE Seattle – just checked outside, and it's a chilly, light rain, too warm for snow (if you see any in your neighborhood, let us know – 206-293-6302, voice or text). Be mindful of schools reopening today after two weeks' vacation, so buses are back on the road, students are walking and riding, etc.
6:09 AM: If you use the 1st Avenue South Bridge – SFD and SPD units are headed to a reported crash on northbound Highway 509 just south of the bridge. "Minor injuries" per dispatch.
6:15 AM: It's a one-car crash, on the bridge, according to the arriving SFD units, inside northbound lane.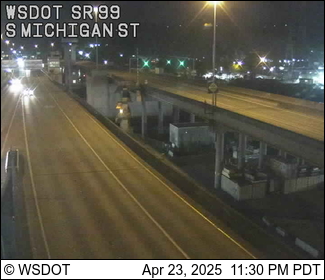 6:27 AM: Two lanes are blocked while up to three people are checked for injuries, so it's slow going. If this is your route, consider an alternative, or delay your departure.
6:43 AM: Another SFD unit's been sent, so it doesn't appear the 1st Avenue Bridge situation will be clearing any time soon. Still the only incident in routes through/from our area.
6:51 AM: 5-mile backup on northbound 509, per WSDOT.
7:06 AM: Crash scene now clear (see the "live" view a few lines up) after an hour – but the backup, of course, will take a while to dissipate. Meantime, SDOT says there's a stalled vehicle on NB Highway 99 in the stadium zone. Only blocking the shoulder, but could be a distraction.
7:43 AM: Thanks to Adam for the comment re: the stall situation. SDOT also just tweeted that the shoulder's now clear at Atlantic.
8:33 AM: Still no new incidents in/from West Seattle and vicinity. So here's a reminder: Delridge-Highland Park Neighborhood Greenway work starts a new phase as soon as today, according to our most recent update from SDOT.