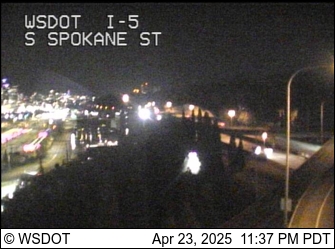 ORIGINAL 7:07 AM REPORT: It's on the 911 log and WSDOT confirms it via Twitter – "part of the N/B I-5 on-ramp from the W. Seattle (Bridge) is partially blocked due to a collision." We'll monitor that (and any other traffic challenges ahead) with updates as we get them.
7:30 AM UPDATE: Added the "live" image from the WSDOT camera pointed that way. The truck's still there but the fire/medic crews have cleared out.
7:39 AM UPDATE: WSDOT says the scene is now completely clear. However, residual backups take a while to clear, especially in peak traffic, so your commute might still take extra time at this point.