(photos by WSB contributing photojournalist Christopher Boffoli)
Thanks to everyone who's e-mailed us with a tip about this – major police activity in the Belvidere/Admiral area (map). Police there tell us there's a possible burglary suspect in a house there. More to come. P.S. That's also why you are hearing/seeing helicopters – there's at least one news chopper in the area. 11:43 AM UPDATE: This is breaking up now – two suspects have just been arrested. ADDED 12:28 PM: Here's Christopher's photo of one suspect – we are not showing his face because at this point, he is not formally charged (that would come later and be up to prosecutors):
Click ahead for one more photo PLUS a brief update on the Sunday morning burglary arrest in Fauntleroy (Southwest Precinct police have been busy!!!!):
First, here's Christopher's other photo from today's arrest: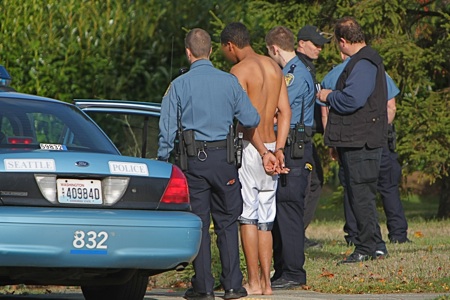 Second, we just checked with the King County Prosecuting Attorney's Office: The man arrested in Fauntleroy after two burglaries late Saturday night/early Sunday morning (WSB original coverage here, followup here – don't miss the comments, which include the victim's firsthand story) is expected in court for a bail hearing this afternoon. We're planning to cover that to find out what happens – given he not only has a long record, he also is a registered Level 3 sex offender living in West Seattle (past rape conviction). We'll publish an update from the courthouse.