February 1, 2014 at 8:23 pm | In
Environment
,
Utilities
,
West Seattle news
|
3 Comments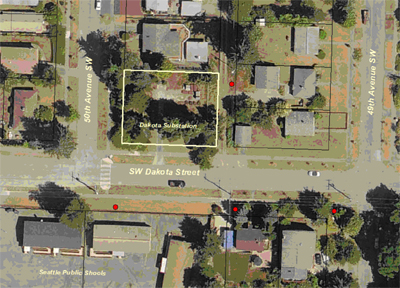 Before (or while) sporting Seahawks blue and green tomorrow, you're invited to join the West Seattle Green Space Coalition in a rally.
On Sunday at noon (before the Super Bowl game), according to coalition leader Mary Fleck, "neighbors at 50th Ave SW & Dakota will be tying ribbons around the trees at the Dakota St. surplus substation to express the neighbors' love for the wooded, green space."
According to a detailed announcement on the Genesee-Schmitz Neighborhood Council mailing list, it's feared that Seattle City Light will remove the trees and shrubbery from the site soon as it continues what it says are cleanup operations at surplus ex-substations around the area – though it has not yet presented the City Council with its recommendations of what to do with the sites, 6 of which are in West Seattle. The sites in Pigeon Point and Highland Park already have had vegetation removed, and Fleck has filed complaints with the city saying it was done without permits/reviews.
Most other ex-substation sites around the city sold in recent years have gone to residential developers; the Genesee Hill site that's the focus of tomorrow's rally is just under 10,000 square feet and is zoned residential, SF (single-family) 5000. The WSGSC wants the utility to slow the disposition process to increase the possibility some sites might be preserved as greenspace.
3 Comments
If the neighbors love the space so much, they should pony up to buy it through a realtor in a competitive bid process. Why should the rest of the ratepayers in the city have to subsidize this neighborhood? Electric rates are too high already without sweetheart deals being cut.

Comment by Fair's fair — 2:39 pm February 2, 2014 #

and Mary seems to gloss over the fact (yes, science here) that these sites are toxic. Agree with Fair's fair. buy the properties if you want them.

Comment by rf — 6:23 pm February 2, 2014 #

Schmitz Park is blocks away, Genesee Hill school has trees and open space, east end of Me Kwa Mooks park is a few blocks away, Ecrolini park, Dakota and California Ave., plenty of parks and trees in short walking distances. No need for another greenspace.
I'd rather any toxins are removed, and if the overgrown and crowded trees need to go, have at them. If the new owner wishes to plant trees or not, great.
Sorry, comment time is over.
All contents copyright 2005-2015, A Drink of Water and a Story Interactive. Here's how to contact us.
Header image by Nick Adams. ABSOLUTELY NO WSB PHOTO REUSE WITHOUT SITE OWNERS' PERMISSION.
Entries and comments feeds. ^Top^