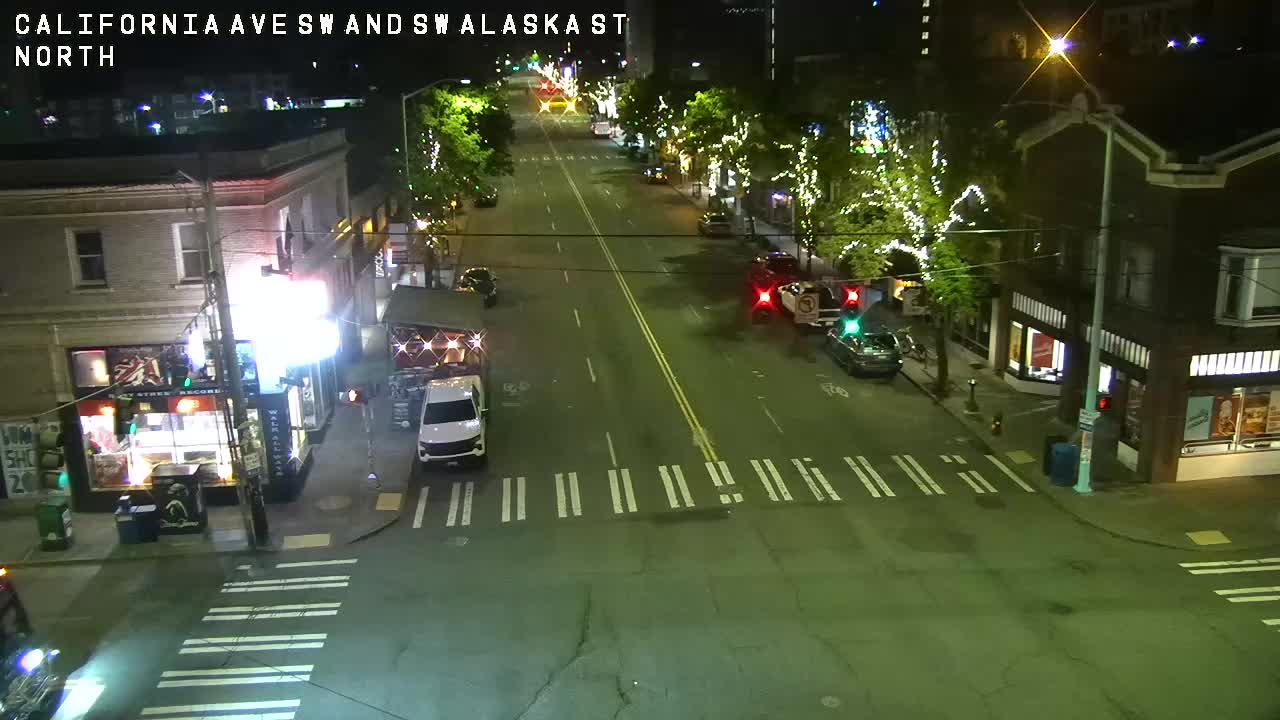 ('Live' SDOT camera over Walk-All-Ways)
Here are highlights of what's scheduled today – if we get word of any weather-related changes, we're updating as the day goes on (and if you have updates to share, please text 206-293-6302):
ORIGINAL BAKERY'S LAST DAY: As we've been noting, the bakery at 9253 45th SW in Fauntleroy is closing its doors after today. It's scheduled to be open 7:30 am-3 pm.
(8:53 am – canceled) COVID VACCINATIONS: 9 am-2 pm, free vaccinations for ages 5 and up at Our Lady of Guadalupe's Walmesley Center (35th & Myrtle) – no appointments needed.
ONLINE RELIGIOUS SERVICES: We're continuing to update these – see today's lineup here.
ANIMATED CAFE STORY TIME: 9:30 am in the building next to the coffee stand's lot at 4518 Fauntleroy Way SW. Sign up in advance here.
CHIEF SEALTH DINE-OUT FUNDRAISER: 10 am-8 pm, a portion of proceeds – dine-in, take-out, gift cards, meat shop – at Lady Jaye (4523 California SW) will go to the Chief Sealth International High School boys' soccer team.
WEST SEATTLE FARMERS' MARKET: 10 am-2 pm, the market offers late-winter produce as well as flowers, cheese, fish, meat, baked goods, condiments, fresh-cooked food, beverages (from kombucha to beer/wine), nuts, more. Here's today's vendor list. (California SW between Oregon and Alaska) P.S. Look for TLC of West Seattle with a challah-braiding booth today!
ADOPTABLE DOGS: Meet-and-greet with Forgotten Dogs Rescue, 11:30 am-2 pm at Mud Bay (2611 California SW).
WEST SEATTLE CLASSIC NOVELS (& MOVIES) BOOK CLUB: Monthly gathering at C & P Coffee (5612 California SW; WSB sponsor), 3 pm – see our calendar listing for info on this month's discussion topic.
'AN ENDLESS SHIFT': The one-woman play at ArtsWest (4711 California SW; WSB sponsor) has its last performance today, 3 pm. Get your ticket(s) here.
NEED FOOD? White Center Community Dinner Church serves a free meal (take-away available) at 5 pm Sundays at the Salvation Army Center in South Delridge (9050 16th SW).
YOGA, MEDITATION, GONG BATH: Presented by Inner Alchemy, 7 pm at Move2Center (3618 SW Alaska), $35.
SUNDAY NIGHT JAZZ: Triangular Jazztet at The Alley (4509 California SW), 8 pm and 9 pm sets.
LATIN SUNDAYS: DJ at The Benbow Room (4210 SW Admiral Way), starting at 9 pm.
SUNDAY NIGHT KARAOKE: 9 pm to 1:30 am at Admiral Pub (2306 California SW).
Have an event to add to our calendar? Please email westseattleblog@gmail.com – thank you!