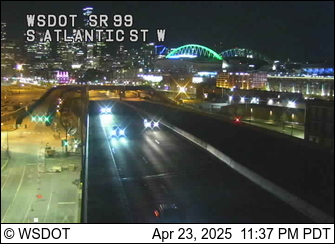 (WS bridge and Highway 99 views; more cams on the WSB Traffic page)
Up to six days of clear weather, starting now, the forecast says, so don't forget to take the sunglasses along today. Routes through/from West Seattle are OK so far. Tonight, one last round of Highway 99 lane closures, including the ramp from the eastbound bridge.
SUNDAY REMINDER: California will close to traffic early Sunday morning until late afternoon for the 7th annual West Seattle Car Show in The Junction – that includes bus reroutes, which are now listed here. Here's our latest update on the show, open to all vehicle years/types for the first time.