West Seattle Soccer Club: Fall registration kicks off; board members win statewide honors
Two notes tonight from the West Seattle Soccer Club
FALL REGISTRATION OPEN: Spring season's not over yet – the final games are next weekend – but it's already time for WSSC to sign up players for fall. Registration is open until the end of June, but don't wait too long – last fall, WSSC board member Tim McMonigle tells WSB, the league had almost 2,000 players! Details are on the WSSC website.
WSSC BOARD MEMBERS HONORED: Dennis Lapchis, also from the WSSC board, shares the news:
Two of our West Seattle Soccer Club Board Members have received state honors for their service to the kids of our community. Bill Fry received the Washington Youth Soccer "Administrator of the Year" Award and Clydene Evans-Wenzel received the Washington Youth Soccer "Volunteer of the Year" Award. The Of The Year Awards are Washington Youth Soccer's annual awards to recognize outstanding members of our soccer community. … We couldn't be more proud of these two outstanding soccer promoters, who have worked collectively for close to 30 years serving our local community and helping our kids have fun, stay healthy, and participate in one of the greatest sports in the world! Congrats to Bill and Clydene!
New Arbor Heights Elementary: 2-phase construction; no size decision yet
By Tracy Record
West Seattle Blog editor
The new Arbor Heights Elementary School will be built in two phases, project managers told community members last night, and remains on track for welcoming students on the first day of school in September 2016.
Not that long ago, principal Christy Collins reminded the ~40 attendees as the meeting began, the new school wasn't slated to open until 2019. She's been principal for three years, and that's how long the discussion about a replacement school has been under way.
West Seattle Crime Watch: Police raid in North Delridge
Even though marijuana is legal in our state, that doesn't mean every use is legal, or that every plant is legal. This afternoon, a tip about a police raid in North Delridge led us to this scene near Yancy/28th, where police say they have found an allegedly illegal marijuana-growing operation. It generated so many complaints, they told us at the scene, they obtained a search warrant. Seattle City Light also arrived to cut off power. We're expecting more details later.
Upgrading Terminal 5: Port Commission approves $5 million first step
The Port of Seattle's westernmost cargo terminal is one step closer to a possible quarter-billion-dollar modernization project. The first step toward upgrading half-century-old Terminal 5 in West Seattle was taken by the Port Commission at its meeting this afternoon – authorizing $4.7 million to be spent on planning, designing, reviewing, and almost everything short of building the project. As laid out in this slide deck prepared for the commission meeting (source of the image above), key elements of the proposal include:
• Crane Rails
• Fender System
• Structural Rehabilitation
• Power Supply
• Berth Deepening
Ships just keep getting bigger, the port points out, and most of its West Coast competitors (not to mention the East Coast) have upgrade projects under way to handle the changes. "If we don't stay competitive, we go out of business," observed commissioner John Creighton at today's meeting. Though construction is not likely to start for two years, Terminal 5 will be closed starting this summer, with its cargo operations (via Eagle) moving east to Terminal 18, as reported by KING 5 last week and explained in a Port announcement. Another major point, included in this memo prepared for today's meeting: The port has not figured out where the $180 million to $250 million for the full project would come from. But with today's vote, design and planning begins.
P.S. We'll be following up on a few side points of this – including what the almost-immediate closure of Terminal 5 means for local truck traffic.
West Seattle traffic alert: 'Jersey to Arkansas' paving on Alki Ave.
On Sunday, we checked out road-work-warning signs on Alki that used the names of long-ago streets (Jersey and Arkansas) that don't currently exist. (Thanks again to Peter for the tip and for the photo you see above.) Today, the project is under way, and while SDOT is still checking for us on how those names wound up on the sign, they've first issued an official notice – it's a two-part project lasting the rest of this week (added – photo shared by Suzanne this afternoon):
Paving crews from the Seattle Department of Transportation are paving two blocks of Alki Avenue Southwest this week. They are paving in the 1300 block of Alki Avenue SW (southwest of Duwamish Head) on June 3 and 4, and in the 2200 block (between Bonair Drive SW and 53rd Avenue SW) on June 5 and 6. They will work from 7 a.m. to 7 p.m. One lane in each direction will remain open, but on-street parking will be restricted.

For information on bus service, look for Rider Alert notices at bus stops, see Metro Online, www.kingcounty.gov/metro, or call (206) 553-3000.
P.S. If you missed the original story, don't miss the comments – thanks to Greg and Moose2 for the historic-map research!
5:40 PM UPDATE: SDOT's Marybeth Turner got back to us about the "Jersey to Arkansas" sign-verbiage question:
Here is what happened:

Street Maintenance is indeed doing work in the 1300 block of Alki on 6/3 and 6/4. When we drew up the traffic control plan, we used old channelization maps that still have the old street names on them.

Staff included those old street names on the message board. Once the problem was highlighted, we switched the message board to note that the 1300 block of Alki was being repaved.
West Seattle development: Demolition at 3239 California
Just spotted demolition in progress at the former U-Frame-It/Amante Pizza storefronts (3239 California SW). No, this is NOT related to the mixed-use/apartment buildings planned on both sides of the street a bit to the north. As first reported here in December, live-work units and single-family homes are going in – two of the former, facing California; four of the latter, behind them; six parking spaces on the alley. The developer is Dwell. As also noted previously, the two businesses have moved to other West Seattle locations.
West Seattle Crime Watch: Teens arrested after early-a.m. burglary
Police arrested two teenage girls after a Westwood resident reported chasing burglars out of his home early this morning.
According to the report we just obtained from police – thanks to the neighbors who told us about the early-morning search – the resident had arrived home at 3:50 am, walked in through his carport, but didn't lock the door behind him. After about 15 minutes, he went downstairs and found two intruders in a "study area" off the carport. He yelled; they "giggled and ran out the door" – with four laptops, a wallet containing cash and cards, and an iPod. A K-9 team joining the search found the suspects – girls, 15 and 16 years old – "hiding under a porch a couple blocks away" near SW Elmgrove and 30th SW (map), with "an empty wallet … at their feet" – identified by the victim as his. Police then found the stolen laptops and cards in a backpack "hidden in a container (with) some rocks piled on top of it" in a nearby yard. The backpack also contained a purple iPod that didn't belong to the burglary victim, whose gray iPod remained missing. After the suspects were taken to the precinct, the report says, they were searched; one had $87 in cash in her sock. One suspect also was found to have a "no bail" warrant out for her arrest in a theft case; both were booked into the Youth Services Center for investigation of burglary.
TRAFFIC/TRANSIT TODAY: Tuesday updates; 16th/Dawson crash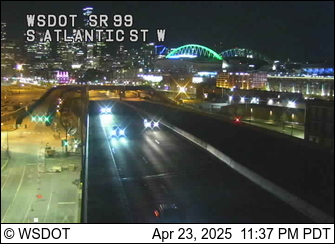 (WS Bridge and Highway 99 views; more cams on the WSB Traffic page)
7:44 AM: Heading into the heart of the commute so far, two notes: There's a crash response at 16th/Dawson. Also, if you are headed this way from points north, WSDOT reports: "There's a disabled vehicle blocking the right lane of the ramp from SB I-5 to the West Seattle Bridge."
8:12 AM: The 16th/Dawson crash involved a car hitting a parked car that then flipped onto its side.
Nobody hurt, but traffic through that area is slowed; a tow truck is on the scene. There was an initial "heavy rescue" response – if you live in the area, you might have seen/heard it – but that was canceled once those first on the scene found no one was hurt/trapped.
Update: Log House Museum readies for totem-pole celebration Friday
(UPDATED early Tuesday afternoon with totem pole's arrival)
ORIGINAL REPORT, 2:01 AM: Later today, the former Admiral Way totem pole will arrive at its new home outside the Log House Museum, where we photographed site preparations on Monday. It will arrive under cover and will stay that way, so you won't see it until Friday, when the renovated pole will be unveiled in a celebration with so many guests, the street will be closed to make room for them! The dignitaries' list alone is long enough for a street closure; see it on the Log House Museum's website. One of them is Diane Morgan, whose husband Michael Morgan was one of the pole's carvers almost half a century ago. Looking ahead to the event, she shared some memories:
Now, after renovation work at Artech – which also restored the Rotary Viewpoint Park totem pole four years ago – the pole is ready for its new home. You're invited to be part of the event launching the pole into its future, including a group photo, at 10:30 am Friday (June 6th), 61st and Stevens.
12:35 PM TUESDAY: The totem pole has arrived and has been installed – still covered up! – on its base on the east side of the Log House Museum's lot. Here's a quick video clip as the painstaking job of raising it concluded (go here if you don't see it below):
Shortly, it'll get a different, temporary cover so the protective blankets from the move can be removed. After that, we'll have a full update on the installation and more on the plans for Friday. (Trivia point: The pole was carved from a tree that grew in nearby Schmitz Park.)