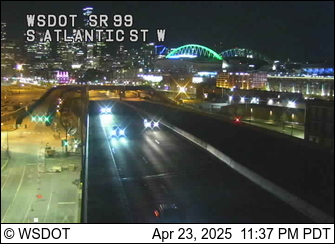 (WS high/low bridges and Highway 99 views; more cams on the WSB Traffic page)
7:10 AM: No incidents reported in or on the major routes from West Seattle so far. In the road-work department, this is the final announced day of SDOT "seasonal maintenance of landscaping under the (low bridge) along the bike trail. Bicyclists will be required to dismount and walk through areas where the crews are working."
10:28 AM: The eastbound bridge has been backed up, per several tipsters, and Lindsay explains via Twitter (thank you!) that a vehicle is stalled and blocking a lane under the 99 overpass.