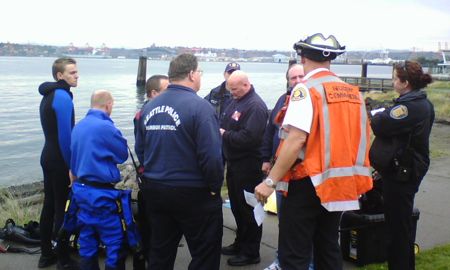 (photo added 12:01 pm — investigators from multiple agencies including SPD Harbor Patrol)
ORIGINAL 11:28 AM REPORT: Major fire/medic response for a "water rescue" in the 1700 block of Harbor, just west of Seacrest. Scanner says a diver is being brought to the hospital. On our way to the scene to find out more about what happened. 11:52 AM UPDATE: Co-publisher Patrick is at the scene and reports the Fire Department incident commander on the scene says three divers were brought to the surface by fellow divers because of some kind of trouble. What went wrong, and what condition they're in, we don't know yet – a public-information officer is on the way and we expect more information then. This happened between Seacrest and Salty's. Will update when info comes in. (Side note – Our archives show the last major incidents involving divers in the Seacrest area were the death of Joshua Magee last January, five months after 43-year-old Wayne Hernandez died in July 2007. 12:26 PM UPDATE: An update from Seattle Fire spokesperson Dana Vander Houwen: They got a call around 11 about a missing diver. When a fireboat arrived, two divers had brought that "missing diver" – a 25-year-old man – to the surface. Firefighters began CPR and took the 25-year-old to shore. He was taken to Harborview Medical Center. The other two were transported as a "precautionary measure" because of possible effects of making a rapid ascent. Vander Houwen says they were diving about 100 feet from shore and about 100 feet down. Another source at the scene tells WSB these three were part of a group of six diving in and around a "wreck" (here's a dive map of that general area). 2:49 PM UPDATE: The Police Department has not updated its report on the investigation — divers returned to the scene to see what they could find out; we shot this video as they went into the water from the patrol boat:
However, we just checked with the King County Medical Examiner's Office to see if they had been called in (which would be the case if anyone had died) – they say no. That's the closest we can come right now to finding out any information on the condition of the rescued diver, since privacy laws have long since made it impossible for media to call a hospital and inquire about someone if you don't have their name. We'll keep checking with authorities for updates.