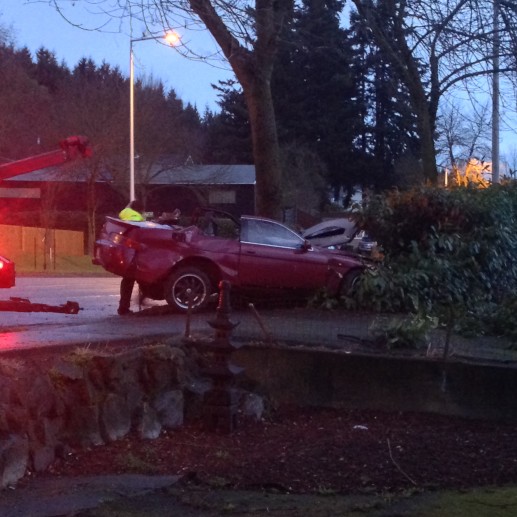 (Sunday morning photo courtesy Jason)
Since information was scant when we checked out the Roxbury/Olson one-car crash early Sunday (original report here), leaving multiple questions unanswered, we just followed up with media liaisons for Seattle Police and Fire. Police do believe the driver fled the scene, through a window; the three people found in the car were in the front-passenger and rear seats. All are described by Seattle Fire as men in their late teens/early 20s; though they were taken to the hospital, none had serious injuries. The report also notes that while police tried to talk with them at the hospital to find out more about the crash and the apparent hit-run driver, none would respond. The ownership of the crashed red Lexus wasn't clear, either; the report says the person on record as its registered owner had sold it to "a presumed auto dealer" a month ago. It was totaled, and impounded; other damage involved the shrubbery into which the car crashed – the officer writing the report noted, "It appears as if the vehicle was traveling in a northeasterly direction on Olson Place when it drove up over the curb and struck a tree on (a) planting strip. The car continued across the sidewalk, where it struck the shrubbery in (a) front yard."
P.S. That intersection is West Seattle's top spot for collisions, according to an SDOT presentation covered here last fall.