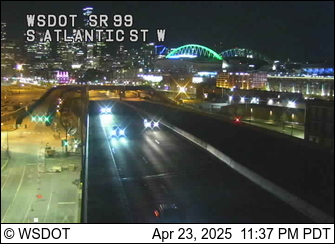 (WS bridge and Highway 99 views; more cams on the WSB Traffic page)
Another quiet start to the commute. Rainy weather is forecast tonight, though, so tomorrow might be a little trickier.
ROAD WORK: Today is the first of two days scheduled for East Marginal Way paving north of the bridge. … We just double-confirmed with WSDOT that tonight's Highway 99 closure is CANCELED, though as of this writing it's still on their website. (Thanks to Metro for noting the cancellation in a general text alert yesterday.)
TRANSPORTATION NEWS NOTES: 10 am today, Metro/county officials plan a media briefing about what'll be in County Executive Dow Constantine's budget proposal next week regarding transit. … 7 pm tonight, the monthly Delridge District Council meeting at Youngstown Cultural Arts Center includes three transportation-related guests – Port Commissioner Courtney Gregoire, City Councilmember Tom Rasmussen, newly confirmed SDOT director Scott Kubly.