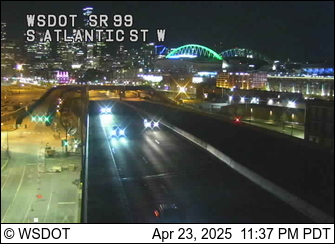 (WS bridge and Highway 99 views; more cams on the WSB Traffic page)
We're headed into the last weekend of what's still technically summer.
PARKing DAY TODAY: As we've been reporting, it's PARKing Day, and two of the 50 temporary in-the-street mini-parks in the city will be in West Seattle, one in front of Husky Deli and Mashiko in The Junction, one in front of Wyatt's Jewelers (WSB sponsor) in Westwood Village, both 9 am-3 pm. See the citywide map here.
CITYWIDE WEEKEND ALERTS: From the Susan G. Komen 3-Day leaving Memorial Stadium downtown early this morning (good luck, everybody!) to the Seahawks game on Sunday, citywide notes are in this roundup from SDOT.
TRANSPORTATION NEWS: Published here since the last traffic watch – Transportation triple bill @ Delridge District Council … WSB's Christopher Boffoli on the tunnel tour … Murray CSO excavation followup – where IS all that dirt being taken (etc.)?