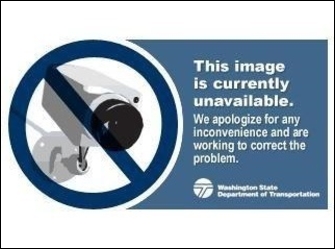 ("Live" traffic-cam image from the spill site)
2:21 PM: This one is likely to have a West Seattle Bridge domino effect, so beware – a haz-mat spill involving a truck has closed all lanes of northbound I-5 at I-90, and there's no estimate yet as to how long the cleanup will take. Our partners at the Times are tracking it here.
3:28 PM: Two lanes are now open.
4:41 PM: The warnings about surface streets are true. We are in a jam on SB 4th and NB looks worse.
8:47 PM NOTE: The final State Patrol media report on this says I-5 was fully reopened before 7 pm. The spill totaled two gallons of what WSP described as "sodium borohydride and sodium hydroxide solution." No injuries were reported.