(SDOT MAP with travel times/video links; is the 'low bridge' closed? LOOK HERE)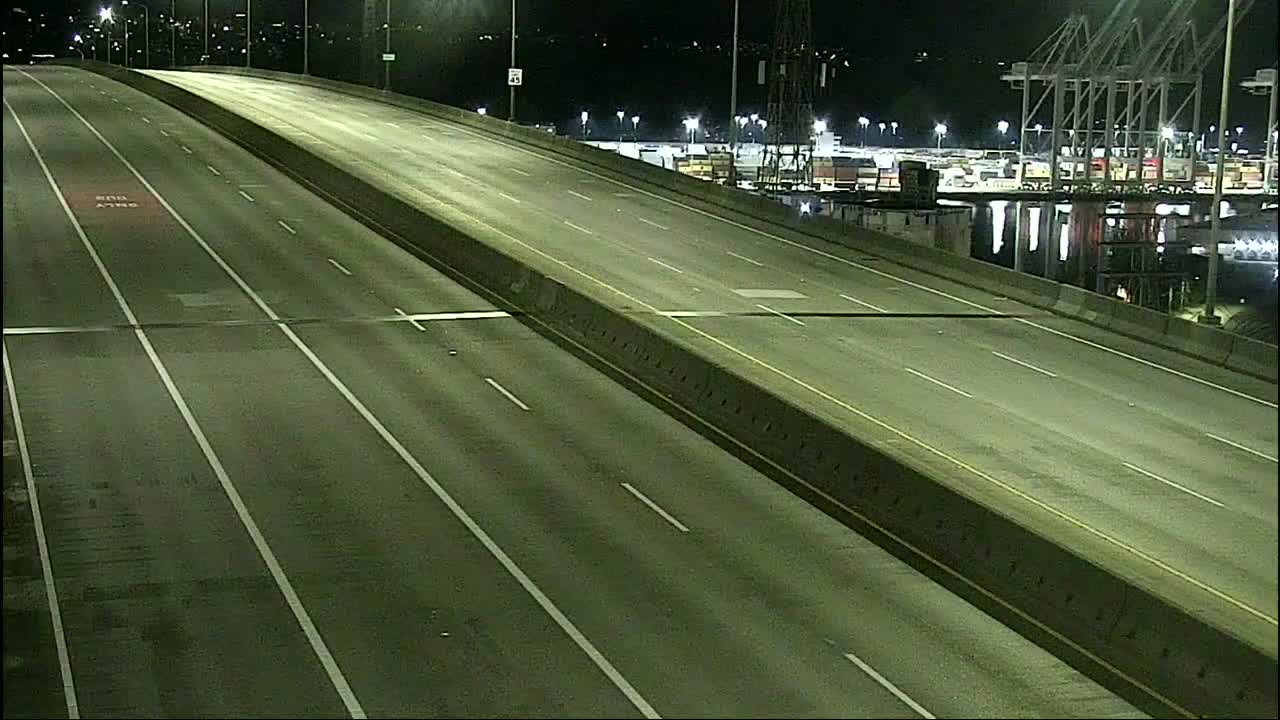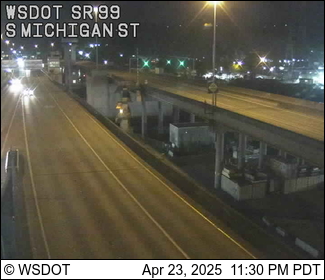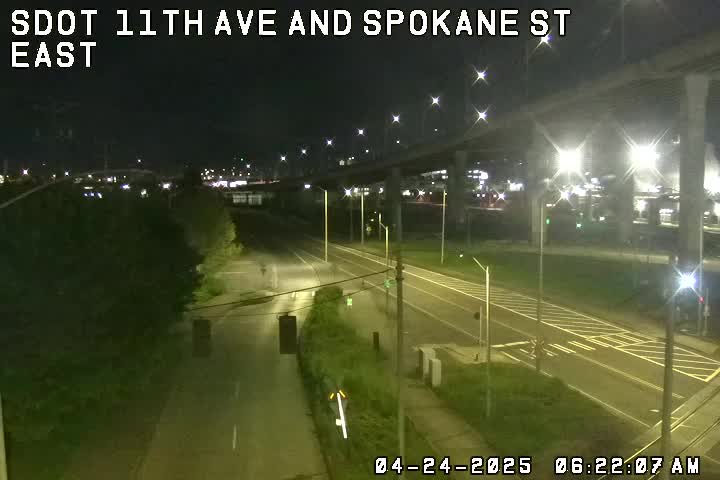 (Click any view for a close-up; more cameras on the WSB Traffic page)
6:30 AM: Good morning! It's been busy already. First, as reported here, 2,000+ homes/businesses from Puget Ridge to White Center lost power for at least an hour starting around 4:30. Right now, the last remaining pocket is in the Greenbridge area of WC, southwest of 8th/Roxbury. Weather also is a factor this morning – some of the higher areas have seen snow/sleet/mix showers, though nothing major is expected.
Reminders: Seattle Public Schools are back in session today after the weeklong mid-winter break … The Alaskan Way Viaduct has inspection closures next weekend (March 4-5).
Otherwise – no incidents reported currently, in or from West Seattle.
6:47 AM: We went out to make sure the 8th/Roxbury light is working (it IS) and encountered a serious snow shower.
In Greenbridge, some's on the road and sidewalks. Be extra-careful!
7:11 AM: We've just been through Arbor Heights and Sunrise Heights. Bit of snow on the ground in spots but roads are just damp.
7:19 AM Some traffic disruption on 35th at Graham – tower crane is arriving at Upton Flats. More on that later.
7:33 AM Now in South Admiral. Slush on sidewalks, some on streets.
8 AM: Alki sea level – nothing. But as commenters point out, suburbs have been hit too. So allow yourself extra time if you have yet to head out.
8:30 AM: Another shower is moving through – slushy rain back at HQ, where we're about 300 feet up, east of Lincoln Park. No snow on the ground here. The National Weather Service promises this won't be an all-day thing:
For #Seattle – a few more snow showers this AM. Temps warming: 34-37 degrees. Limits accumulations, allows for melting. #wasnow

— NWS Seattle (@NWSSeattle) February 27, 2017
10:23 AM: If you are headed back this way from downtown or points north, avoid SB I-5. There's a rescue response right now involving a tanker truck that's reported to be on its side in the I-5/I-90 area. The driver, a 60-year-old man, is reported to be OK, but trapped in the truck, so they're working to get him out.
10:44 AM: Authorities were seeking to close I-5 both ways because of this, after detecting a leak, but we have not seen formal confirmation of that yet from WSDOT. Nonetheless, we'd advise avoiding I-5 through downtown, either way, TFN. The driver, meantime, is reported to have been rescued from the truck.
Heads up #Seattle drivers. Rollover collision is blocking all lanes of the SB I-5 c/d just south of I-90. SB I-5 mainline is still open. pic.twitter.com/x8npxBJhbf

— WSDOT Traffic (@wsdot_traffic) February 27, 2017
11:48 AM: We're covering the aforementioned situation separately here. Meantime, a crash is causing some trouble at Admiral/Spokane beneath the bridge:
Meanwhile, some trouble at the bottom of south/eastbound Admiral Way hill. No major injuries. Tow trucks en route. pic.twitter.com/zaZt4V5SBl

— West Seattle Blog (@westseattleblog) February 27, 2017