12:24 PM: Just happening now: Police are closing Highland Park Way hill, both ways, because of another slide. "Just like last week," one officer radioed in. Last week, you'll recall, a slide closed that stretch of the crucial detour route for a day and a half.
12:34 PM: Thanks to the texter who sent that photo taken before the road was closed. Unlike last week, the power lines do not appear to have been affected this time. (added) Here's the traffic camera at the bottom of the hill: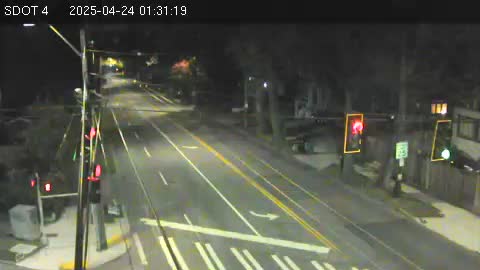 2:04 PM: Complicating matters on one detour-route-detour, SPD and SFD are responding to word of a 4-vehicle crash at Delridge/Roxbury, reported to be blocking southbound lanes.
2:36 PM: Just checked with SDOT, which tells us, "the current status is that we have a crew on site performing cleanup and they are planning to place ecology blocks. TBD on when the roads will reopen." (We also flagged them that the traffic cameras are down again.)
3:48 PM: Cameras are working now. (Here's the direct link to the one at the top of the hill, currently looking west of Holden.)
4:48 PM: Just went to the top of the hill and walked part of the way down to get a glimpse of the cleanup.
A backhoe was at work, and there's a lot to scoop up – we've just received additional images from earlier – Kay Kirkpatrick says about 100 feet of slope slid:
5:11 PM: And just tweeted by SDOT:
UPDATE: Our crews are hard at work installing ecology blocks and clearing the roadway of debris. The NB & SB lanes on Highland Park Way SW remain closed between SW Holden St and W Marginal Way SW. Use alternate routes. pic.twitter.com/pzeesSufA5

— SDOT Traffic (@SDOTtraffic) January 12, 2022
5:43 PM: One lane has reopened each way, SDOT just announced, after 5 1/2 hours.
6:07 PM: Metro Route 131 has resumed service on the hill, too.
6:26 PM: SDOT adds in a news release, "Additional lanes of the road and sidewalk may be reopened once geological experts verify that the area is safe to travel through."