Another followup to the Fauntleroy arrest early Sunday, following one break-in, another attempt, and a helicopter search: Court documents obtained from the King County Prosecuting Attorney's Office list the charges now filed against 41-year-old Richard Lovejoy, the convicted rapist caught after that search. Read on for details of the charges, including more information about the evidence prosecutors say they have against him: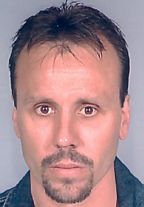 Lovejoy is charged with residential burglary, for allegedly breaking into a home just east of Lincoln Park, and with second-degree burglary for allegedly trying to break into the Colman Pool building in the park. (The photo at left is from his listing in the statewide sex-offender database, in which he was registered to an Arbor Heights address.)
The newly filed charging documents, which are public records, say that a laptop, iPod, camera, and camcorder were found on Lovejoy when he was arrested outside a house on the south end of the park, and that the burglary victim said those items had been taken from her house.
Near the Colman Pool break-in attempt, which happened around 10:30 pm last Saturday, an hour and 45 minutes before the other incident, the court documents say "sexually related items (were found) on a nearby park table."
Toward the end of the charging papers, there is another summary of Lovejoy's record, described this way:
The defendant has multiple prior felony convictions, including Harassment (2004), Harassment (1999), PSP 2nd degree (1999), VUCSA (1999), Unlawful Possession of Firearm (1994), Rape 2nd degree (1989), Rape 2nd degree (1989), Escape 2nd degree (1986), DV Violation of Protection Order (2004), Obstruction (2004), Assault 4th degree (2003), Theft (1996), Possession of Marijuana (1995), Breach of Peace (1995), Resisting (1995), DWLS 3rd degree (1995), NOVOLOP (1994), DUI (1998), Liquor Control Sales (1988), Destruction of Property (1987), Menacing (1987), Assault (1987), Obstruction (1986) and Assault (1986).
PSP is "possession of stolen property"; VUCSA is a drug violation; DWLS is driving with a suspended license; DV is domestic violence; NOVOLOP, can't find that explained online. As for Lovejoy's current status, while bail was set at $75,000 for the burglary charges, he is being held without bail for alleged probation violation. He is due in court November 26 to answer the burglary charges; Prosecuting Attorney's Office spokesperson Dan Donohoe told us earlier this week (previous reports here and here) that a separate hearing will be set within a few weeks for the probation matter.