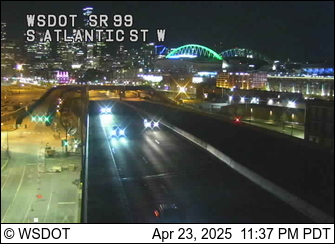 10:30 AM: If you're headed out, avoid NB 99. A two-vehicle crash on the Alaskan Way Viaduct – one vehicle on its side – is blocking the road and already resulting in backups, as the webcam above shows.
10:44 AM: Update from SDOT:
UPDATE: Collision now also blocking SB left lane on the Viaduct. Expect heavy delays. pic.twitter.com/noP7sBjUz0

— seattledot (@seattledot) November 1, 2016
10:50 AM: Metro just texted that the C Line and Routes 120/125 are routed off NB 99, and will be diverting onto 1st Avenue S. instead.
11:10 AM: Via scanner, it's confirmed that traffic is getting through, one lane NB, but that still means slow going.
11:59 AM UPDATE: Thanks for the photo, taken from Pike Place Market by an anonymous reader who says pieces of railing/siding fell away – which is why SDOT is still working at the scene, and one lane remains closed in each direction. No major injuries reported, by the way.
12:48 PM: Metro just texted to say the buses that use the NB Viaduct are all back on their regular routes.
2:38 PM: SDOT says the NB lanes are all open now; the left SB lane remains closed.
5 PM: Sorry, we had that backward; SDOT was working in the left NB lane – and still is, per this tweet a few minutes ago – while the SB lanes have all reopened.