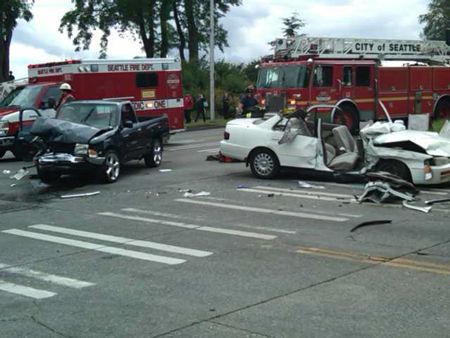 (Photo added 3:34 pm)
Big fire response for an "automobile rescue" call at 8th and Roxbury (map). We're on our way to find out more at the scene. Just heard on the scanner that three people were hurt. More to come. 3:18 PM: At the scene – the crash includes at least 2 vehicles, a truck and passenger car (as seen in photo since added) – someone has just been extricated from the car. Still trying to gauge the traffic effects, but for starters, 8th SW is inaccessible starting about a block north of Roxbury; westbound Roxbury is blocked off at 8th.
3:37 PM: We're now told three people have been taken to the hospital and a fourth soon will be – two transported in medic units, two by private ambulance. Yellow tape is going up to facilitate the investigation, so this intersection will have traffic trouble for at least a few more hours. 3:47 PM: One lane is open in each direction. But the investigation team has just arrived and, as is the case with major investigations, will be busy for a while. We're working now to see what more we can find out about the victims. EARLY SATURDAY NOTE: That information still hasn't been made available. The investigation, meantime, continued into the 7 pm hour.