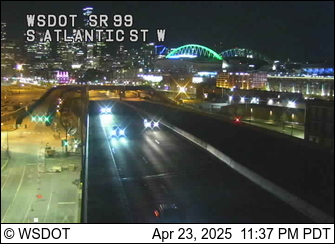 (WS Bridge and Highway 99 views; more cams on the WSB Traffic page)
7:44 AM: Heading into the heart of the commute so far, two notes: There's a crash response at 16th/Dawson. Also, if you are headed this way from points north, WSDOT reports: "There's a disabled vehicle blocking the right lane of the ramp from SB I-5 to the West Seattle Bridge."
8:12 AM: The 16th/Dawson crash involved a car hitting a parked car that then flipped onto its side.
Nobody hurt, but traffic through that area is slowed; a tow truck is on the scene. There was an initial "heavy rescue" response – if you live in the area, you might have seen/heard it – but that was canceled once those first on the scene found no one was hurt/trapped.