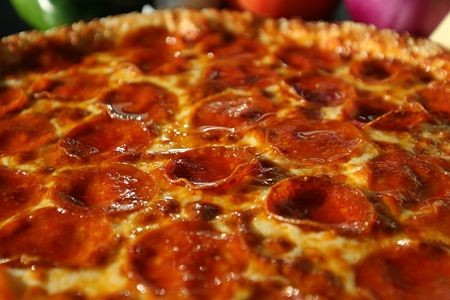 Ordering pizza tonight after a rough Monday? Tomorrow, as part of an Election Night event? You might find some info to savor in The 1st WSB West Seattle Pizza Taste Test, organized by WSB contributing photojournalist Christopher Boffoli, with volunteer help. They didn't hit every pizza place in West Seattle, but a good sampling – read on to learn more about this beloved food and to see which of the ones they tried came out on top(ping)!
By Christopher Boffoli
West Seattle Blog contributing journalist
West Seattle Blog readers, particularly those who post in the WSB Forums, are an opinionated bunch. When I posted recently about a bad pizza experience, I was not surprised when the responses were spirited.
Despite the simplicity of pizza – a food that at its most basic is comprised of flat bread, tomato sauce and cheese – feelings about this beloved food are complex. After all, pizza is food. And eating is a sensual experience that not only sustains us physically but also is inexorably tied to memory and emotion. The qualities people most appreciate can also be strongly influenced by the region in which they grew up or where they first had pizza. There is a surprising diversity of pizza-making methods in the US and, like salmon instinctively returning to home waters to spawn, people tend to go back to the flavors and textures of childhood. This can complicate efforts to calibrate opinions on what constitutes a great pizza.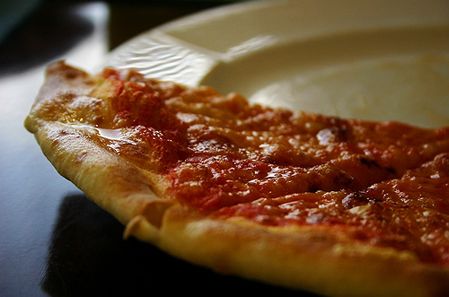 My own preference for pizza is informed by the experience of growing up in an Italian-American household in the Boston area and, later, from living in New York City. It would be impossible to tally the number of different pizzas I've tasted in my life — from limp, freezer-to-microwave pizzas, to slices grabbed at hockey games, to assembly line delivery pizzas from corporate chains, on up to pizzas handmade by my Naples-born great-aunts, pizzas baked in coal-fired ovens in New York's Greenwich Village, even pies I've eaten in Italy.
Spend five minutes with anyone discussing this simple, accessible food and you'll quickly learn how complicated the subject of pizza can be. It is fitting, then, that trying to distill the origin of pizza is a similar exercise in futility, as historians have widely divergent opinions about its provenance.
What experts do agree on is that pizza was probably born centuries ago around the Mediterranean. Records stretching back to the ancient Greeks, Romans and Persians contain references to flatbread on which oils and a herbs were cooked and eaten. Tomatoes – a completely New World food – were brought back to Europe sometime in the 16th century. But they didn't make it onto the flatbreads until years later, as their relation to the Nightshade family led many to consider them poisonous. (Thomas Jefferson is often credited for helping to dispel that myth.)
When bread, tomatoes, herbs and cheese were finally united, only then did pizza cement its place in culinary history. Today there is still great regional diversity in the interpretation of pizza, even in Italy, the relatively small country that gets the most credit for inventing it.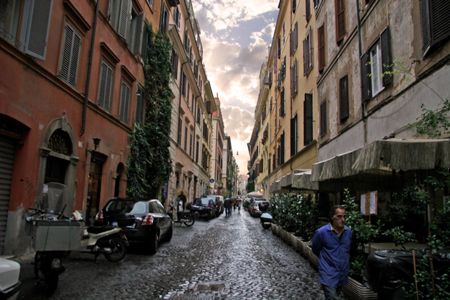 Our modern pizzas are probably most closely related to those that originated in Naples and made by Italians who immigrated to the Northeastern United States in the early 20th century. At its genesis, pizza was made simply with a few cheap, readily available ingredients. But as with most American food, pizza was quickly appropriated and then re-imagined. Its popularity exploded around the middle of the last century, especially when GI's returned from Italy after the war with a taste for what they had sampled abroad. Greek immigrants put their own spin on it and helped to spread its availability nationwide. Whereas Italian immigrants preferred a thin, stone-oven crust that could be folded, Greeks added more oil to the crust and baked their pizzas in pans.
As it proliferated, pizza was adapted regionally to suit local tastes. Some Rhode Islanders grilled their pizza crusts. In Philadelphia, a cheese-less version with only tomato and herbs became popular. Chicago came to be known for its deep-dish version. In the 1980s, California cuisine introduced Americans to Thai chicken pizza, taco pizza, BBQ chicken, and even a bacon-cheeseburger version. Multiculturalism brought together Canadian bacon with Hawaiian pineapple for a savory-sweet pizza that is now wildly popular in Australia. What took Europeans centuries to develop, the bounty of America advanced and amplified in only a few decades.
However, with reinterpretation and innovation also came commoditization. In order for corporate chains to get pizzas on every street corner and in supermarket freezers, the noble pizza had to compromise its flavor, quality and nutrition. What started in Italy as healthy thin-crust pizza, with fresh ingredients, low-fat mozzarella cheese, olive oil, and lycopene-rich tomatoes, eventually devolved into salt and fat0-laden monsters.
Fortunately, pizza has recently rediscovered its artisan roots, and Seattle has no shortage of pizzerias – places like Via Tribunali and Tutta Bella – which with wood-fired stone ovens have endeavored to celebrate the classic qualities of authentic Neapolitan pizzas.
When I recently lamented the shortage of Seattle pizzas that matched my New York City pizza experiences, many commenters on the WSB Forums eagerly recommended pizzerias tucked into obscure places all over the City. Still, some East Coast diehards seemed to harbor the fatalistic notion that Seattle did not have any pizzas that even came close to the best pizzas they've had in New York. They reason that the composition of the water prevents the crust from being right.
There may be something to this hypothesis. A recent article in New York Magazine chronicled the trails of chef Mario Batali, who is trying to perfect a NY-style pizza at his Pizzeria Mozza in Los Angeles. Much of his focus has been on the chemical composition of the water (read more about that here). His work has also analyzed the harder-to-quantify taste characteristics that are imparted to pizzas by coal-burning ovens in which pizzas have been baked for decades.
The extensive Forum discussions about pizza made me hungry and curious about the current state of pizza on the West Seattle peninsula. There were a number of places close to home that I had yet to try. But the pizzerias I had sampled were disappointments, despite those who raved about them. I thought I knew when I tasted a good pizza. But I was curious about some of my fellow West Seattle Blog readers and their disparate opinions. The experiences conveyed on the Forums seemed scattered. It didn't seem as though anyone had ever had the benefit of tasting a bunch of local pizzas side by side.
With the approval of the West Seattle Blog publishers, I decided to organize a group of WSB readers into a pizza tasting committee. Those who were approached were among the original posters in the Forums who seemed to have the strongest opinions about where to find good pizza in West Seattle. Fortunately, our pool of judges also reflected diverse regional backgrounds. I gathered the judges recently at a top secret West Seattle Blog tasting laboratory near The Junction. Pizzas were ordered from a selected group of West Seattle pizzerias and picked up (or delivered) as close as possible to the tasting so they would be hot and fresh when they were evaluated. We also used warming bags and a hot oven to maintain freshness.
Judges were given forms on which to evaluate the constituent parts of the pizzas: Crust, sauce, cheese and toppings. They then participated in a round-table discussion about what they liked or disliked about the pizzas. For consistency, and because it is statistically the most common, pepperoni was the only topping on the pizzas. The pizzerias chosen for this comparison were not told that their pizzas were being evaluated. Meet the judges – and then, the pizzas!
The Judges
Including myself (WSB handle: cjboffoli), the judges were: Dale and Joanne Brayden (JoB), Erik LaSeur (Erik), Sue Mariconda (Sue), Jan Seeley (JanS) and Shannah Striker (SMS).
Dale was born in Chicago and raised in Arizona. He has lived in the Pacific Northwest for 25 years. Joanne was born in Nebraska and has lived in many cities in both the East and West. She and Dale have lived in West Seattle for just over a year now.
Erik was born in Seattle and spent the first six years of his life in West Seattle before moving to Kent. He moved back to West Seattle five years ago and now works as a Feldenkrais teacher.
Sue was born and raised in New York City. She has lived in West Seattle for 3 years and works as a legal assistant.
Jan was born in Virginia but was raised in Pennsylvania. She has lived in West Seattle for almost 34 years and works as a massage therapist.
Shannah was born in Utah but was raised in the Seattle area and only recently decamped from Queen Anne and moved to West Seattle. She does financial reporting for an international investment management company.
The Pizzas
Abbondanza
6523 California SW
206/935-8989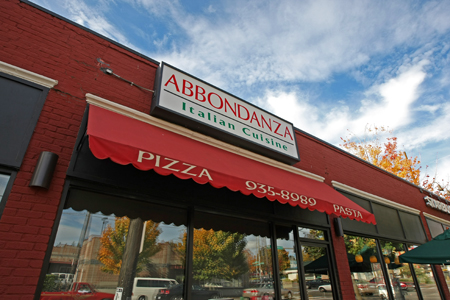 Morgan Junction's Abbondanza has garnered a fair bit of positive local media coverage for its hand-tossed crust (made from dough mixed daily) cooked in their gas slate Bari ovens. The owner's family apparently originated in Naples, Italy and was shown the ropes by a relative who ran pizzerias in New York City. While they seem to have a loyal following for their pizzas and other menu items, some online reviews seem to hint that the quality can be inconsistent. The restaurant sometimes has live music. Abbondanza is also one of the few places in Seattle that have cannolis on their dessert menu.
What Our Judges Thought: The opinions of our judges were similarly mixed. Everyone seemed to appreciate the texture and chewiness of the crust. But Jan thought there was not enough cheese and sauce, and Sue thought the pizza needed more flavor. Joanne compared it to a "little black dress" in that it "needed accessories." The other judges thought the pizza seemed average. "Just what you'd expect of a pizza," Shannah wrote, "but nothing special."
Amante
3239 California SW
206/933-7555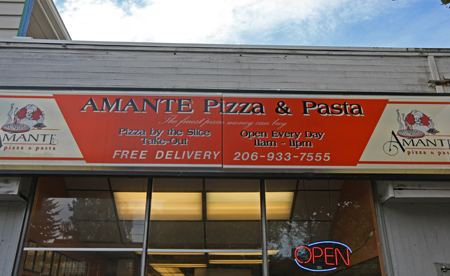 Amante Pizza delivers pizza from ten locations in the Seattle area and also has outlets outside of our region in Arizona and Maryland. Its West Seattle restaurant is near the corner of California SW and SW Hanford. Amante has extensive lunch and catering menus and — very much in the style of West Coast-influenced pizza — Thai, taco, BBQ chicken and even a salmon pizza.
What Our Judges Thought: Dale, Sue, and Shannah appreciated the spiciness of the pepperoni though Jan was bothered by the fact that there was a coating of cheese over the toppings which she felt should always be on top. Everyone seemed to have issues with the softness of the crust. These sentiments were echoed in a broader segment of online reviews in which some thought it was consistently undercooked. Sue thought it was "spongy" and Joanne said it reminded her of cake and lacking in flavor. Christopher, Shannah, and Dale noted the tastiness of the pepperoni. But Sue was the most critical of this entry, saying it tasted no better than "upscale frozen pizza."
Giannoni's
2600 SW Barton (Westwood Village)
206/935-1800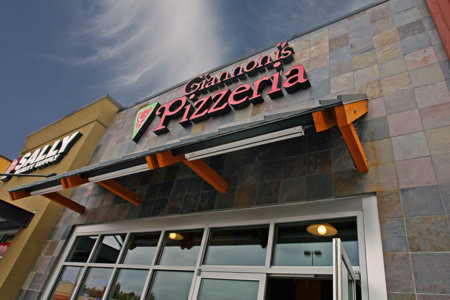 Named after the Italian grandmother of one of the owners, Giannoni's opened to rave reviews just last year. They have attracted a cult following among East Coast pizza lovers for their hand-tossed pies and made-to-order slices. Though some online reviews suggest that this start-up has had some issues with inconsistent service, many others proclaim it as the "holy grail" of New York-style pizza in West Seattle. Their fans might be surprised to learn that the owners are actually from the Bay Area and sought to replicate the pizzas they knew in Northern California. Their menu includes sandwiches and salads. They've also dabbled in pastas. But the owners say they prefer to focus on their original concept: pizza by the slice.
What Our Judges Thought: The praise was nearly universal for this one. Shannah thought it had an excellent balance of "bright" sauce and salty pepperoni. She also loved the thin, light crust. Erik agreed, praising its overall taste. Christopher and Sue both loved the crust, though Sue wished it offered more support towards the center to hold up during bending. All of the judges praised the pizza's flavor, with Dale noting its perfect parity of sweet and salty "umami" savoriness. Most of the judges thought it struck the ideal balance of crust, sauce and toppings. The only criticisms were from Dale, who thought the crust could have been crisper and Joanne thought it was too much like foccacia and not enough like pizza though she did note that the crust had a "nice back bite."
Luciano's
2341 California SW
206/933-1193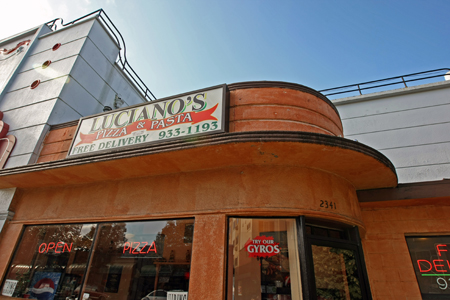 Luciano's has three Seattle-area locations. And even though its name and the Venetian photo on its menu immediately conjure a notion of Italy, the neon sign in its Admiral Junction store advertising "gyros" offer clues to a menu and ownership with Greek influences. In addition to a vast selection of pizzas, calzones, pastas, sandwiches and salads, Luciano's also delivers Greek specialities that include moussaka, dolmades, Greek lasagna and hummus. Like many of the pizzerias in our sample, they claim that their hand-tossed pizza is baked from dough that is made throughout the day and that their pizzas are topped with fresh, natural ingredients.
What Our Judges Thought: Christopher was intrigued to try this pizza again as it was an unpleasant pizza delivered from this restaurant that was the source of the original rant posted on the WSB Forum. The crust on that initial pizza seemed pre-made and frozen and the sausage pellets didn't help. But the crust on the test pizza was completely different. It was actually a hand-tossed crust with an interesting yeasty flavor. Sue liked the yeasty crust as well as the texture of the cheese. She thought it had a nice, home-made taste. Erik called the crust "lively," but Dale criticized its lack of crispiness, and Shannah thought it was too plain. Many of our judges enjoyed the pepperoni, which was of a large diameter and was thought to be both "tasty" and "crispy" though Dale disagreed, saying it was "basically ham."
Pagliacci
4449 California SW
206/726.1717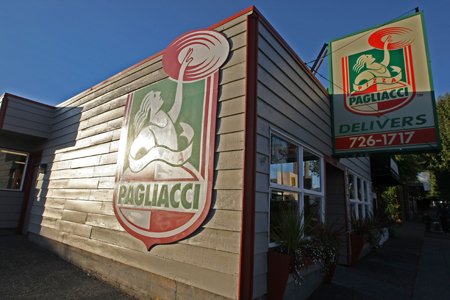 Pagliacci was founded by a group of Italian cousins in the University District in the late '70s. They now have more than twenty locations around Seattle, with a West Seattle restaurant in the Junction near the corner of California and Oregon. They offer a range of hand-tossed, brick oven pizzas, for delivery or eat-in (just a few tables, though). Standouts on their menu include their use of spicy artisan pepperoni from Salumi as well as seasonal offerings like fig and prosciutto.
What Our Judges Thought: Dale loved this pizza and immediately proclaimed it as his favorite of the competition. He praised its "fire-oven" taste, excellent sauce, and spicy pepperoni. Joanne liked it too, adding that she appreciated how the flavor of the sauce lingered. Shannah and Erik appreciated the thin, crispy crust. All of the judges appreciated the flavor and quantity of the pepperoni, though three judges noted that there didn't seem to be enough cheese. Jan thought there wasn't enough sauce. Christopher thought there was a strong saltiness to the pizza but liked it overall. Sue found fault with the overly chewy crust and took exception to the pepperoni, which she thought had an "odd aftertaste."
Spiro's
3401 California SW
206/932-5100
Owner Jim Voltsis serves Greek-influenced pizzas out of three Spiro's locations in the Seattle area. The West Seattle location is only a meatball's throw from Amante, near California and Hinds. In addition to pizza, Spiro's offers the usual selection of calzones, pastas, and subs.
What Our Judges Thought: No other pizza garnered unanimously strong opinions as much as this one did. This pizza seemed to use a combination of Jack and Cheddar cheese as opposed to the traditional mozzarella and it wasn't working. Our judges thought the color was "fluorescent" and "other worldly." There was a lot of it too. The sauce seemed too scant under such a thick layer of cheese which slid off at the first bite. All of the judges felt that the cheese overpowered an overly "doughy" and "bready" crust, sour-tasting sauce and flat tasting toppings. At least two of the judges proclaimed it "not even as good as frozen."
Talarico's
4718 California Ave SW
206/937-3463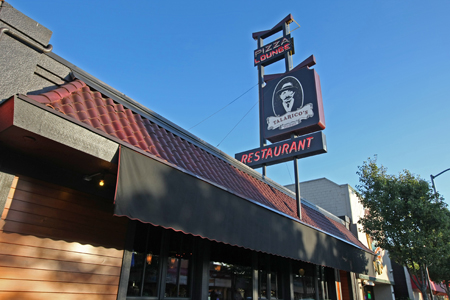 This Junction pizzeria has gained a loyal following since it opened in 2006. No other restaurant in our sample had such a profusion of online reviews. While most raved about Talarico's self-professed "East Coast Pizza Pies," some others had concerns about uneven service and their use of things like "canned mushrooms" on their pizzas. What is clear that, whether approaching them whole or by the slice, Talarico's pizza requires a commitment, as the servings are massive. They only make 28" pizzas. In fact, when one of our judges stepped out onto the sidewalk after picking up the pizza, the sheer size of the box drew peals of laughter from passersby who asked her if she was "planning to play ping pong" and warned her against "strong gusts of wind." Here's Shannah with the box and pizza: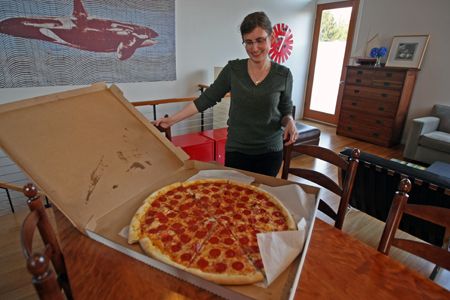 Some may give Talarico's extra points for their pizzas named in honor of notable Italian-Americans, such as the "Tarantino", the "Coppola," and the "Sinatra," as well as for the surly goombah on its sign, which gives The Junction its own little dose of bada-bing.
What Our Judges Thought: Joanne loved it for its "intriguing spice blend" and crisp crust. She thought the sauce perfectly balanced the pepperoni. She said it was her favorite of the competition. Dale enjoyed it too, comparing the crispiness of the crust to crackers. Most of the judges thought sauce was sweet and that the pizza overall had a good crispiness, with wide edges to the crust. A couple judges did note that they thought the sweetness worked against the overall balance of ingredients and that the pizza was a bit too oily.
And now – the winner!
The Winner: Giannoni's Pizzeria
After spending hours sampling pizza at our secret West Seattle Blog tasting laboratory, the judges tallied their scores and discussed their choices. Then the group was asked to first come up with their top three and then to proclaim a number one winner for their favorite among the pizzas sampled in this 1st WSB West Seattle Pizza Taste Test.
Though the judges were not unanimous in their conclusions, it was telling that all had the same pizzas in their top three. Dale nominated Pagliacci; Joanne liked Talarico's best. Indeed, all of the other judges included these two pizzerias on their short lists. But for five of the seven judges, Giannoni's Pizzeria in Westwood Village was number one and the overall winner of our competition. We will be profiling Giannoni's in a follow-up to this article, so stay tuned.
It should be noted in closing that pizza is a handmade product that often exists side by side with the astonishing uniformity of fast food. Hand-tossed dough, sauces, toppings and cheese can vary in quality; as such, the end product can be different on any given night. So personal tastes aside, it should be no surprise that experiences will differ. Even the pizzeria you love can have an off-night.
Though our efforts to evaluate this sampling West Seattle pizzas was designed to be fair and thorough, we know we didn't sample every pizzeria available. We'd love to hear from you in the comments section if there is a place we missed that WSB readers want to see in any potential sequel!