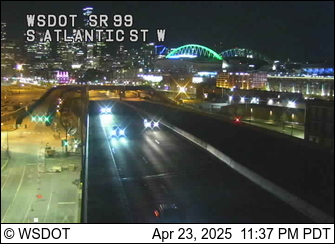 (WS bridge and Highway 99 views; more cams on the WSB Traffic page)
No trouble on the major roads through/from West Seattle so far. But 42nd/Dakota has an unusual sight, until it's towed:
See our coverage from the 6 am hour here (or if you're reading this on the main page, scroll down to the previous story).
WEST SEATTLE CAR SHOW ON SUNDAY: The 7th annual West Seattle Car Show is two days away and will close California to traffic between Oregon and Edmunds starting early Sunday morning and continuing until late afternoon. That includes Metro bus re-routes.
OVERNIGHT CLOSURES ON/NEAR HIGHWAY 99 NEXT WEEK: Listed in the new "Construction Lookahead," which says that, between the West Seattle Bridge and the stadium zone, Highway 99 will be closed northbound 10 pm Wednesday (September 17th) to 5 am Thursday (September 18th), and southbound 10 pm-5 am Thurs. night-Fri. morning (Sept. 18th-19th). The ramp from the eastbound bridge to NB 99 will be closed overnight Mon., Tues., Wed. (Sept. 15-16-17).