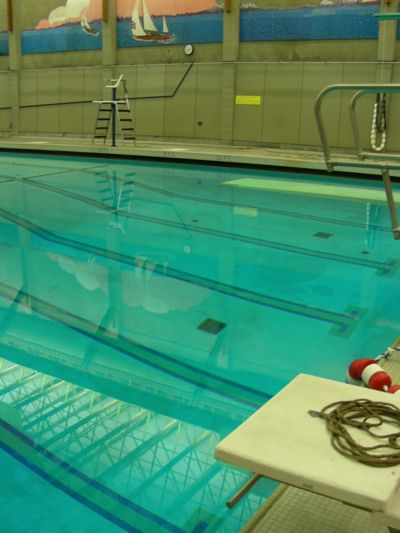 You'd probably have to be a real Southwest Pool devotee to notice what is NOT in that picture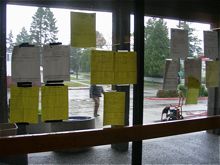 we took this afternoon, during a tour of the work that's been done since the pool closed — thanks to project manager Garrett Farrell, who gave us a guided preview tour just before the mid-June shutdown (see it here), then sent word today that he could squeeze in a pre-reopening tour if we were interested. That, despite his work zone still being a hive of activity, with contractors, pool staffers, painters, and inspectors – note all the permit paperwork on the front window, shown at left. (Give up on the top photo guess yet? The pool's old, stained waterslide is no more.) But there's a lot more you won't see which constitutes the infrastructure improvements and upgrades that the project was really all about. For example, take a look at the blue structure that's been added on to the northeast side of the pool building: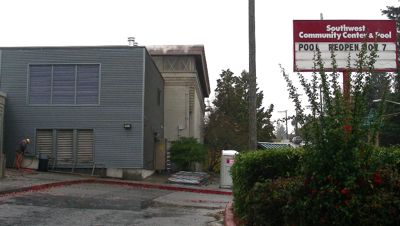 Unless you are a staffer or contractor, you'll never see the air-circulation equipment that's inside – but we got to climb a ladder for a sneak peek (that's Farrell, surveying the work):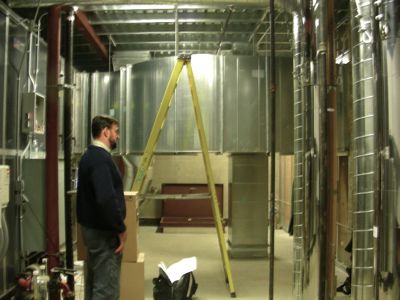 We're processing video and pix to add to this report, along with more information on the power, energy-saving, and water-treatment features that have been added (plus one effect poolgoers will notice from the new air-circulation system). But we wanted to get this first part out fast enough to let you know, it's confirmed — after a couple delays along the way, and what turned out to be almost five months of work, Southwest Pool — West Seattle's only city-run indoor pool — WILL reopen at noon tomorrow. ADDED THURSDAY EVENING: More on the improvements resulting from the months of work and installation of new equipment, including the energy-efficiency specifics:
David Broustis from Seattle Public Utilities was at Southwest Pool when we visited this afternoon – his focus has been energy-efficiency improvements, not just to save energy, but to save money. We asked him for some toplines:
He says Southwest Pool and Queen Anne are the first to get these kinds of improvements, and the city hopes to learn enough to roll them out to other sites. Later, he e-mailed WSB more details on the energy and water savings (some of which involves changes made last year, as well as the work this summer and fall):
Natural Gas Savings
"Condensing" boilers: Operate at super-high efficiency to heat the pool water, air and hot water in the building. 8,665 therms/year savings.

Heat Recovery Unit: New units for both the pool natatorium and locker room area capture over 60% of the "waste" heat. The heat from the air leaving the building is used to pre-heat fresh air entering the building. 13,734 therms/year savings.

Pool Covers: Are put on the pool at night to keep heat in the pool. The covers are automated to simplify putting the covers on the pool and taking them off. 7,958 therms/year savings.

Electricity Savings
Pool and community center lighting. Energy efficient lighting installed throughout the community center and pool areas. 279,534 kilowatthour/year savings.

Underwater lights: Light Emitting Diode (LED) lights that reduce electricity use by 90%, completed in 2006. 29,484 kWh/year savings.

Heat Recovery Unit Variable Frequency Drives: Adjustable-rate motors that can be ramped-down at night to reduce electricity use when the pool cover is on. 75,547 kWh/year savings.

Water Savings

High performance toilets: Toilets changed from 3.5 gallons per flush (gpf) to 1.6 gpf, completed in 2007. 219,000 gallons/year savings.

Pool cover: reduced evaporation from the pool cover being used at night. 52,685 gallons/year savings.

Combined, these projects were funded in part by $234,958 in rebates from Puget Sound Energy, Seattle City Light and Seattle Public Utilities. They are expected to reduce annual utility bills at the facility by $61,247 and reduce carbon dioxide emissions by 391 metric tons per year.

It is also worth mentioning the new Ultraviolet (UV) pool water treatment system that should be functioning within the next two weeks. The UV system will significantly reduce chloramine levels at the pool and provide a more pleasant environment for pool users and staff.

– David Broustis
Still more to add, including some more cool behind-the-scenes visuals in case you geek out on that sort of stuff like we do. Again, Southwest Pool reopens at noon Friday; here's the schedule (adult swim is first up at noon; family swim follows at 1:30; there's a public swim at 4:30 and we know at least one junior swimmer who just can't wait). Take note, the hot tub and sauna will not be reopening tomorrow – there's a little more that needs to be done before they can be brought back online.