September 2, 2014 at 6:56 am | In
West Seattle news
,
West Seattle traffic alerts
|
3 Comments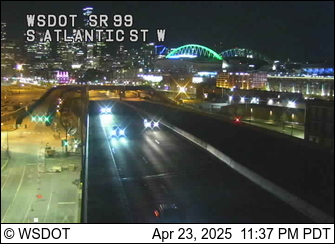 (WS bridge and Highway 99 views; more cams on the WSB Traffic page)
First day after summer's last holiday weekend, and the weather is certainly fall-ish. While tomorrow is the biggest back-to-school day, some start this morning:
WHO'S BACK TO SCHOOL TODAY: Some independent schools start the new year today, including Holy Rosary (noon dismissal), Hope Lutheran, Our Lady of Guadalupe. *Added* And via Twitter, @SudsyMaggie reminds us that Vashon Island schools are back today too – some WS kids commute to them via the Fauntleroy ferry.
REMINDER – NEW SPEEDING-TICKET CAMERAS ON ROXBURY: When you see flashing school-zone lights on Roxbury this week, that also will mean the new speeding-ticket cameras by Holy Family (20th/Roxbury) and Roxhill Elementary (30th/Roxbury) are in operation. (Added: HF zone is in effect today – Roxhill, not until tomorrow:)
The city has said the first month's tickets will be warnings, and then in October, the grace period's over.
OVERNIGHT LANE CLOSURES ON HIGHWAY 99: Announced late last week:
Tuesday, Sept. 2 to Friday, Sept. 5

· Crews will reduce southbound SR 99 to one lane between South Atlantic Street and South Spokane Street from 10 p.m. to 5 a.m. each night.

Tuesday, Sept. 2; Thursday, Sept. 4 – Friday, Sept. 5

· Crews will reduce northbound SR 99 to one lane between South Spokane Street and South Atlantic Street from 10 p.m. to 5 a.m. each night.
3 Comments
Clearly Our Lady of Guadalupe started school this morning by the looks of all the kids walking. However, the flashing lights were not flashing and cars were going 35 to 40 down 35th. Does it really take lights to see that kids are in school? I was going 20 and was honked at due to it. This from a minivan with kids in it and going into the lower parking lot at that school. Really?

Comment by An — 10:01 am September 2, 2014 #

Just wondering if any of you know for sure if the new speed cameras by Roxhill Elementary are just giving warnings this month (September)? I am frequent traveler on Roxbury and think I got flashed going eastbound on Roxbury before the Safeway. I agree that they should have a school zone/limit here for sure, but was confused with the End of School Zone sign attached to the 30 MPH sign. I think that just after that sign I got flashed by the camera. Any ideas if this is a "warning" month and October is when they issue the tickets for real?

Comment by Roxbury regular — 11:50 am September 8, 2014 #

Yes, Roxbury Regular, as reported here several times, the first month they are only supposed to be giving warnings. We covered meetings at which SDOT people reiterated this. Early October, "real" tickets begin. If you get even a "warning," would love to report on it, what it says, etc. – would not have to disclose your name – just curious what they look like and what they tell you to do. – TR
Sorry, comment time is over.
All contents copyright 2005-2015, A Drink of Water and a Story Interactive. Here's how to contact us.
Header image by Nick Adams. ABSOLUTELY NO WSB PHOTO REUSE WITHOUT SITE OWNERS' PERMISSION.
Entries and comments feeds. ^Top^